Here is another listing of AsiaTrust bank foreclosed properties updated as of October 2011.
They offer these foreclosed properties for sale through cash or installment terms. Installment terms will require a minimum 20% down payment, with the balance payable up to 10 years, at 12% interest rate per annum fixed for the whole term.
The list below is updated as of October 2011 and includes foreclosed properties from Metro Manila, CALABARZON, Northern and Central Luzon, and Mindanao areas.
Curiously, the list also includes Zoobic Safari Tickets, and one repossessed car (a 2010 Mitsubishi Lancer GLS 1.6). 🙂
Complete listing of AsiaTrust foreclosed properties for sale – October 2011
Just click on the below to download a copy of the complete listing of AsiaTrust foreclosed properties for sale in excel (.XLS) format. A copy in PDF format is also available below.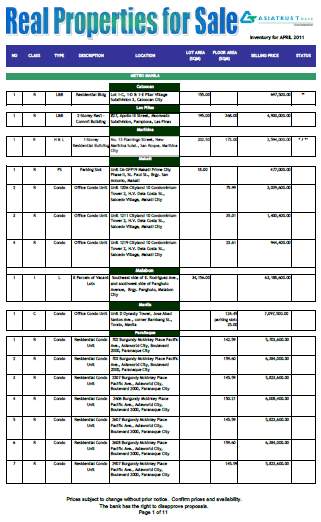 Happy hunting!
~~~
To our success and financial freedom!
Jay Castillo
Real Estate Investor
PRC Real Estate Broker Registration No. 3194
Blog: https://www.foreclosurephilippines.com
Follow me in Twitter: http://twitter.com/jay_castillo
Find us in Facebook: Foreclosure Investing Philippines Facebook Page
Text by Jay Castillo and Cherry Castillo. Copyright © 2011 All rights reserved.
Full disclosure: Nothing to disclose