Last March 11, 2013, we went to the Quezon City Registry of Deeds to request for a certified true copy of the TCT of a foreclosed property located in Quezon City, and we were surprised by a memorandum which prevented us from making the request.
The said memorandum stated that we should have proper authorization, along with proper identification of the authorizing party, in order for us to request for a certified true copy of the TCT (Transfer Certificate of Title).
Since they were distributing a copy of the memo to everyone like us, I scanned the said memo and posted a copy below for easy reference for everyone who would need certified true copies of titles of properties located in Quezon City.
If you can't read the memo above, I have pasted the full text of the contents below:
Republic of the Philippines

Department of Justice

LAND REGISTRATION AUTHORITY

REGISTRY OF DEEDS OF Quezon City

East Avenue cor. NIA Road

Quezon CIty

MEMORANDUM

To: ALL CONCERNED

FROM: ATTY. CARLO V. ALCANTARA

SUBJECT: PROPER IDENTIFICATION/AUTHORITY

DATE: FEBRUARY 28, 2013

You are hereby reminded that under "LRA Circular 05-2006" "Proper identification including written authority must be required of the presenter before issuing electronic certified true copies of all titles and documents". If requesting party has an adverse interest, his/her alleged interest must be supported by a document to prove same.

Violation of the subject circular shall be dealt with accordingly.

[SGD.]ATTY. CARLO V. ALCANTARA

Acting Register of Deeds
I hope this saves all concerned of the trouble of going to the Quezon City Registry of Deeds only to find out that they need to get proper authorization from the owner of a property.
With the memo above, you will have to get proper authorization, and a copy of their ID(s) BEFORE requesting for certified true copies at the Quezon City Registry of Deeds.
For someone like us who came all the way from Las Pinas City, think of the time, effort, and gasoline which we could have wasted. I'm just glad we also inspected a number of foreclosed properties in the area and the 1.5 hour trip from Las Pinas to Quezon City (that's one way and with minimal traffic!) did not go to waste, although this means we will have to go back to the Quezon City RD one of these days.
Keep in mind that after making a request for a certified true copy of a TCT/CCT, you will have to come back again after several days to pick it up… bummer!
LRA Circular 05-2006
By the way, I searched for a copy of LRA Circular 05-2006 but I couldn't find one. I only found an excerpt which states the following:
"that the Register of Deeds will only release the owner's duplicate of the title to the presentor of the transaction, who normally is the registered owner or a party to the instrument. If the owner's copy of the title is to be claimed by a person or party other than the presentor of the document, then he/she must have written authority from the registered owner or the party to the instrument. Only under such condition will the Register of Deeds release the owner's copy to that person other than the presentor."
This is totally understandable for the owner's duplicate of the title. But how about for certified true copies? What do you think?
What if the owner of a property does not wan't to give proper authorization/identification?
It's common knowledge that you have to get a certified true copy of a property's title as part of due diligence. But just in case the owner is reluctant to give you proper authorization and identification, what can you do?
I would suggest you show a copy of the memo above to the owner, and explain that you need the authorization to get a certified true copy of the title as as part of due diligence.
But what if they still do not want to give you authorization? Then I guess you have found a seller who does not really want to sell their property, and you can just walk away.
Heck, I've heard of private sellers who don't even want to show a photocopy of the title, pretty strange in my opinion… makes me ask "How the heck can they sell that property if they won't let you do your due diligence?!".
I'm just glad that this is not a problem with banks as they would readily give authorization and proper identification.
Anyway, if you are doing your due diligence for properties located in Quezon City, better keep this memo in mind and save yourself the hassle… get proper authorization/identification from the owner before making that trip to the QC RD!
How about other cities / municipalities?
I too wonder if other Registry of Deeds in other cities/municipalities have issued a similar memo. If you know of other RD's who have implemented something similar, please do let us all know by leaving a comment below. Thanks!
~~~
To our success and financial freedom!
Jay Castillo
Real Estate Investor
PRC Real Estate Broker License No. 3194 
Blog: https://www.foreclosurephilippines.com
Connect with us – Subscribe | Facebook | Twitter | Google +  
Text by Jay Castillo and Cherry Castillo. Copyright © 2008 – 2013 All rights reserved.
Full disclosure: Nothing to disclose.
---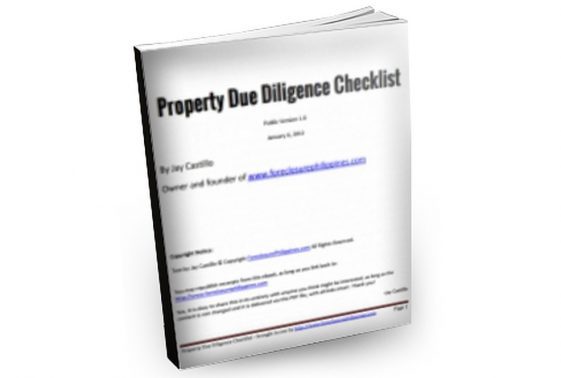 FREE CHECKLIST: IDENTIFY AND AVOID PROBLEMATIC FORECLOSED PROPERTIES BY DOING PROPER DUE DILIGENCE!
Avoid losing money, wasted time and effort caused by buying foreclosed properties that have too many problems, with our free 60-item Property Due Diligence Checklist. Grab your free copy now.
Related Posts