I originally wrote this last June 2, 2011, but it seems up to now, I still see people who are in danger of getting scammed. At the very least, please ensure you have asked question #5.
While there are so many real and legitimate opportunities out there, there are also a lot of scams. Sooner or later, you will encounter what may seem to be a very enticing investment opportunity, but you need to be prepared to discern what is real and what is not.
Be ready to ask the right questions, as part of due diligence.
Failure to do so can mean saying goodbye to your hard earned money… forever!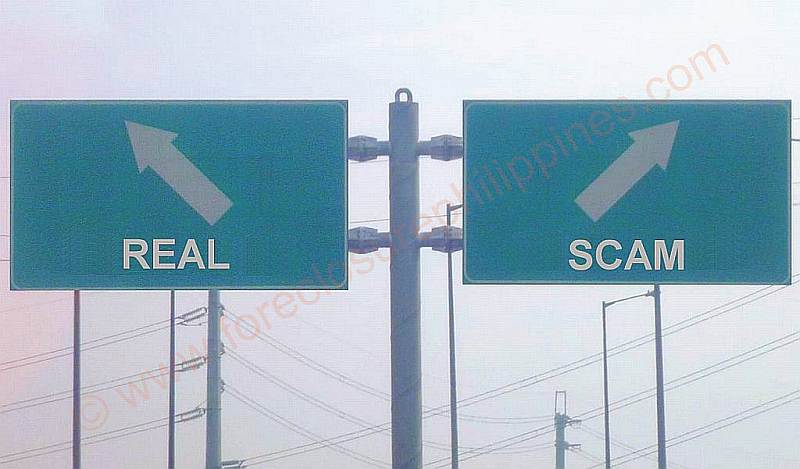 BEFORE you part with your hard earned money, be ready to ask the following 7 questions you need to ask to avoid real estate investment scams.
1. Who is offering the investment?
Do you really know the person or corporation offering the investment? If the one offering the investment is an individual, do you know him/her personally or do you know someone who can vouch for his/her integrity?
Ask for his/her NBI clearance. If the offeror is a corporation, get its Articles of Incorporation (AOI) and latest General Information Sheet (GIS) from the Securities and Exchange Commission (SEC) to check if the company is operating and to check who are behind the corporation. Check the track record of the persons involved, and trust your instincts.
Let me tell you a story.
Once upon a time, a bunch of people that included some friends of mine formed a team of real estate investors. One of those who joined the group, who looked like your average, harmless person, had apparently started inviting other members of the team to invest in her agency, and she promised the investment will give a 5% return of investment per week.
Thanks to some of the team members that confided to the rest, they all found out what this person was up to. Part of her modus operandi was to present the AOI of her company to would-be investors to make it appear as legit. Being very trusting people, some of them actually invested in her agency.
After comparing notes, they learned that at first, she was able to pay the return she stated. However, after some time, the payments stopped.
It appears she was just using the money from new investors to pay the old investors, and there was really no investment that would earn the promised interest, much like a ponzi scheme. When they learned about her scheme, they had her NBI records checked – Lo and behold, she had a BP 22 (Bouncing Checks Law) record that was filed several years back!
What is sadder is that some of the team members had already told their friends and family members about the "investment opportunity" and thus unwittingly helped the con artist perpetuate her scam! This was before they found out about her ponzi scheme.
It just goes to show that there are good people and there are bad people in this world, and there will always be people who will try to entice you to part with your hard-earned money. Scams and scammers come in many different, harmless-looking forms.
In the example above, the mess could have been avoided if an NBI clearance was asked at the very start. In addition, there is wisdom in not being too trusting. I also believe it would help to pray for guidance and discernment.
2. What are the supporting documents?
There should be supporting documents and you need to read them carefully to determine the nature of the transaction – whether it is an investment or a loan or some other contract. Read the document(s) carefully as you need to know what's in store for you. Remember that an investment may be lost completely – as in you get zero – but a loan needs to be repaid with interest.
3. If it is a loan, what is the collateral?
One example of a collateral is real estate. The collateral is what you will get in case the debtor defaults. That's where the real estate mortgage contract comes in. More on this later.
a. Is the collateral just post dated checks?
Post dated checks are simply not enough in terms of protection and there is a need to revisit the Bouncing Checks Law[footnote]Atty. Lorna Patajo-Kapunan. Revisiting Batas Pambansa Blg. 22 or the bouncing checks law. BusinessMirror.com. Last retrieved on February 27, 2018 [/footnote]  or BP 22[footnote]The LAWPHIL Project. BATAS PAMBANSA BLG. 22. LAWPHIL.net. Last retrieved on February 27, 2018 [/footnote]! Sure, a bouncing check will result in penalties, but you will have to enforce your rights through the courts, and as it is, the issuer can easily escape by going abroad. Thus, it will obviously be very hard for you to recover your money, if ever.
b. If the collateral is real estate, will it be mortgaged to you?
You need a deed of mortgage or a mortgage contract to ensure that you are holding on to something, just in case the loan becomes in default. Through the mortgage, the loan will be secured by real estate.
4. How exactly will your money earn the promised interest?
You have a right to know exactly how your hard-earned money will be used to earn more money. Will it be used to buy real estate, and then the real estate will be sold to buyers for a profit? If the proposed investment does not even say where your money will be invested in, how will you know if it will be capable of earning the interest you desire?
In the story above, my wife actually could not believe how a small agency will be able to earn more than enough to give 5%  interest per week. That point alone should have alerted the potential investors already. Being the good persons they are, however, they just assuaged themselves by probably saying, "Di naman siguro sya manloloko diba?" ("She can't possibly be a con artist right?!").
If the investment really has the capability to bring in the money, with a solid basis among other things, then that should be the only time for you to invest.
5. If the money will be invested in real estate, will the property to be purchased really be a worthy investment?
You need to see the property's prospectus so you can check the numbers. Do the numbers make any sense? To begin with, is there a specific property tied to your investment? If none, then how the heck are they going to make money? Hint: Refer back to question #4 above.
6. If it is an an investment contract, is it classified as a form of securities?
Section 3.1 of RA 8799 or the Securities Regulation Code (SRC)[footnote]SECURITIES REGULATION CODE – CHAN ROBLES VIRTUAL LAW LIBRARY.  Chanrobles.com. Last retrieved on February 27, 2018[/footnote]  defines "securities" as
"shares, participation or interests in a corporation or in a commercial enterprise or profit-making venture and evidenced by a certificate, contract, instrument, whether written or electronic in character. It includes: xxx

(b) Investment contracts, certificates of interest or participation in a profit sharing agreement, certificates of deposit for a future subscription; xxx"
7. If it is indeed an investment contract, is it duly registered as mandated by Section 8.1 of the SRC[footnote]SECURITIES REGULATION CODE – CHAN ROBLES VIRTUAL LAW LIBRARY.  Chanrobles.com. Last retrieved on February 27, 2018[/footnote]?
Section 8.1 of the SRC states that:
"Securities shall not be sold or offered for sale or distribution within the Philippines, without a registration statement duly filed with and approved by the Commission. Prior to such sale, information on the securities, in such form and with such substance as the Commission may prescribe, shall be made available to each prospective purchaser."
Furthermore, section 3.1(G) of the SRC Implementing Rules and Regulations (IRR)[footnote]AMENDED IMPLEMENTING RULES AND REGULATIONS OF THE SECURITIES REGULATION CODE – REPUBLIC ACT NO. 8799. Chanrobles.com. Last retrieved on February 27, 2018[/footnote] defines an investment contract as:
"…a contract, transaction or scheme (collectively "contract") whereby a person invests his money in a common enterprise and is led to expect profits primarily from the efforts of others.

1. An investment contract is presumed to exist whenever a person seeks to use the money or property of others on the promise of profits.

2. A common enterprise is deemed created when two (2) or more investors "pool" their resources, creating a common enterprise, even if the promoter receives nothing more than a broker's commission."
If it is not registered and approved by the SEC, then my advice would be for you to just walk away. If I were you, I would rather wait for the Philippine REITs to become available.
Conclusion
I've said it before and I'll say it again, we all need a healthy dose of skepticism, while keeping an open mind.
Learn to discern and don't let yourself fall for "get rich quick" schemes.
If something does not feel right, or it sounds too good to be true, then it probably is.  But the only way to be sure is to do your due diligence.
Lastly, don't be afraid to ask the right questions!
~~~
To our success and financial freedom!
Jay Castillo
Real Estate Investor
PRC Real Estate Broker Registration No. 3194
Blog: https://www.foreclosurephilippines.com
Follow me in Twitter: http://twitter.com/jay_castillo
Find us in Facebook: Foreclosure Investing Philippines Facebook Page
Text by Jay Castillo and Cherry Castillo. Copyright © 2011 All rights reserved.
Full disclosure: Nothing to disclose.

PS: I would like to share this update dated June 2, 2011 – After much thought, I have decided to leave Trace Trajano's local coaching program and my role as one of the local coaches. I would also like to inform everyone that I am not part of Trace's other programs. For those who don't know, I was once a student of Trace, and I was also part of the RYP team which won his first apprentice challenge, although I decided to leave the RYP team last September 2010. I became one of the local coaches as part of the now defunct "Terrific Trio University". I also helped promote his seminars in the past including TRQ 1.0, TRQ 2.0, TRQ Cebu, his quick cash seminars, and the last one was TRQ 3.0.It has also come to my attention that some materials that Trace used in marketing some of his seminars might make it appear that I am one of his partners. I would like to make it clear that I am NOT a business partner of Trace Trajano. Things did not turn out as planned, but lessons have been learned, and I feel it is time for me to move on. ~ end of update ~
–