I suppose a lot of you out there might be wondering whatever happened to the Philippine REIT. Since our last post about the REIT Implementing Rules and Regulations (IRR) released by the SEC, a lot of time has passed and it seems there has been no further developments. Why is the REIT's implementation taking so long? Read on to find out.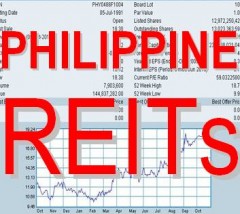 The Philippine Stock Exchange (PSE) has already released its Memorandum No. 2010-0460 on the Listing Rules for REITs, which shall take effect on October 8, 2010. The BIR also released Revenue Memorandum Circular (RMC) No. 58-2010 which circularized the pertinent provisions on tax matters of R.A. 9856 (REIT Law), and the draft BIR REIT IRR for comments.
The release of the BIR REIT IRR, however, is still pending due to concerns raised by the Secretary of the Department of Finance (DOF) Mr. Cesar V. Purisima and BIR Commissioner Atty. Kim Jacinto-Henares as reported by Business World Online and Business Insight.
Notwithstanding the pendency of the BIR REIT IRR, GMA News has reported that Ayala Land has already created Ayala Land Commercial REIT Inc. (ALCRI), which will have an authorized capital of P1.2 billion with P300 million already subscribed and paid up, signifying its serious intent to be a major REIT player.
I understand the concern of the DOF and the BIR. According to newspaper reports cited earlier, Mr. Purisima wants the SEC to increase the required public listing from 33% to 50% at the beginning, which would be increased to 67% in three years. With this, more people will be able to buy REIT shares and this can develop the capital market.
There is also a suggestion that a provision be included in the IRR that would require REIT companies to recycle 50 percent of their money within the first year while a significant amount should stay with the firms after three years to prevent its use for "deleveraging." You may refer to the article of Dennis Gadil in Business Insight for more information on "deleveraging".
I noted in the draft BIR REIT IRR that the dividends which the REIT is required to declare will be considered as a deductible expense for income tax purposes. Note that dividends are ordinarily not considered as deductible expenses. With this provision, I think there is a big possibility that REITs will have little or no taxable income, and this would bring about the revenue losses predicted by the BIR.
Understandably, unless the DOF is assured that the benefits from the stimulation of the capital market, among others, will outweigh the revenue losses, it will be hesitant to issue the BIR REIT IRR.
I am sure that the DOF is currently under tremendous pressure from major real estate companies to pass the BIR REIT IRR as soon as possible and I really think it is forthcoming, considering that Ayala has already gone ahead with the incorporation of its REIT vehicle.
The firm I'm working for has already conducted a briefing for staff and prospective clients so I can sense that the release will come soon. Worldwide, too, REITs are really booming, so the Philippines will definitely follow. Rest assured that we will post updates as soon as they are available.
Update: BIR has released BIR RR No. 13-2011, the IRR on REITs. You can read the summary here. There was also an amendment to the SEC Rules on REITs, SEC Memorandum Circular No. 2, Series of 2011.
Cherry Castillo
Text by Jay Castillo and Cherry Castillo. Copyright © 2010 All rights reserved.
PS. Don't be the last to know, subscribe to e-mail alerts and get notified of new listings of bank foreclosed properties, public auction schedules, and real estate investing tips. Inbox getting full? Subscribe through my RSS Feed instead!