Just a quick heads-up, I will be releasing in a few hours the fourth and final video of our series on "How to get started with real estate investing". Get more details after the jump.
I'm really sorry I haven't been able to publish any new articles lately because I have been very busy finishing the fourth and final video for the series. Video 4 covers the "Big Picture" of the real estate investing process. Here's a sneak-peak what you will see inside the upcoming video.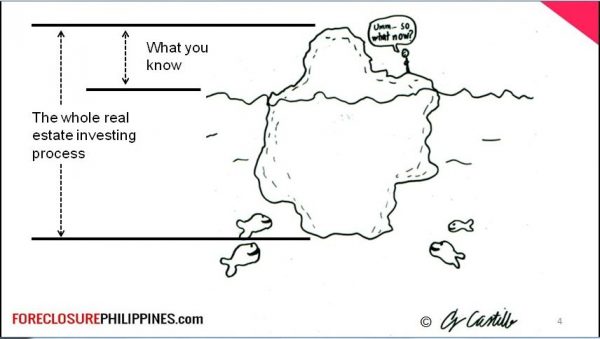 I hope most of you have been able to watch the first 3 videos as those are "required viewing" before watching Video 4. If you have not watched them yet, or if you want to watch any of them again, you can do so through the links below. Make sure to watch them NOW as I will be pulling them down very soon.


Click to view Video 1: How to start finding good real estate deals
Click to view Video 2: How to estimate Repairs, Taxes, and ROI for foreclosed properties
Click to view Video 3: How to do Due Diligence essentials
By the way, I'm also opening enrollment for my BUY FORECLOSED PROPERTIES online training today. You'll get more details inside Video 4.

I remember the last time I opened something similar last year, almost all slots were filled-up after just sending two emails,  Which is why I want to give all of you a heads-up as a lot of you have been waiting for this, and it's finally here after more than a year.
I'll send the a link to Video 4 once it's ready to "go live" in a few hours.
Best regards,
Jay Castillo
P.S. I'm serious! If you missed any of the 3 free training videos on how you can get started with investing in foreclosed properties, you need to watch them NOW, because I'm going to pull down the videos very soon. You can still watch them below: