The Money Summit and Wealth Expo 2010 promises to be the biggest wealth building and income opportunities conference in the Philippines, featuring 4 proven ways to build wealth and generate passive income. The Money Summit and Wealth Expo will be held on July 2-3, 2010, 8:30AM to 5:30PM, at the Carlos P. Romulo Auditorium, RCBC Plaza, Makati City.
But why should one attend? Let me try to give you 10 reasons…
Top 10 reasons to attend the Money Summit and Wealth Expo 2010
(in no particular order)
1. (Deleted)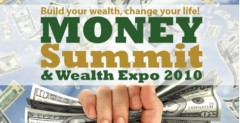 2. Eden Alemania-Dayrit – Eden will be talking about her real estate investing strategies. Eden is one of the Think Rich Pinoy Franchisees. Although I often see Eden as she is a classmate of mine in a real estate class we are both attending right now, I know I will learn a thing or two each time she speaks.
3. Jomar Hilario – Jomar Hilario is dubbed as the Timothy Ferris (author of the book "The Four Hour Work Week") of the Philippines who works only four hours per week and yet earns so much more than the monthly salary he used to get working for a big consulting company, and I want to be just like him. For those who don't know, I created this blog last October 2008 right after I volunteered and helped facilitate one of his internet marketing workshops just over 1 year and 7 months ago. Jomar always has something new to teach and I look forward to learning more from him.
4. I shall sharpen my saw – I believe that the moment a person thinks he knows everything, that person will get left behind. That is the reason why I consistently try to improve myself by attending seminars like this. I look forward to learning a lot of new things which are practical and actionable. Some people might even say that that I am a seminar junkie and they are right. If it were not for my being a seminar junkie, I'd probably be stuck in the rat race up to now.
5. I am really interested with the Business Track – Along with my teammates in the RYP Realty Team, we want to turn real estate investing into a real estate business where we are the business owners. We want to set it up in such a way that it would be like a turnkey business. I believe that the business track will really help us with this and should also help other attendees as well.
6. This is neither a get rich quick scheme nor a scam – The Money Summit & Wealth Expo features 16 real life successful entrepreneurs, top investors, best-selling business authors, sales superstars, and money experts, who walk the talk. They are already rich and successful and have been money experts for a long time.They are not professional speakers who make money through seminars, they are real money experts, real investors, real entrepreneurs, and real millionaires. Need I say more?!
7. I want to rub elbows with like minded people – Those who will be attending will obviously include people who also want to be rich and financially free, those who are already rich and financially free, and everything in between. It is always nice to be with like minded individuals as we can network with one another, synergize, and help each other succeed.
8. This will help enhance the entrepreneur in me – I truly believe that attendees like me will not only be inspired to take the path to entrepreneurship, we will also know how to start, and enhance the entrepreneur within us. With so many successful entrepreneurs sharing their knowledge, it would be hard not to find at least one entrepreneurial path that fits us. I intend to find multiple paths to help provide multiple streams of passive income.
9. Get a lot of free, legally downloadable e-books and audiobooks – By registering  through this link on or before June 12, 2010,  you will be able to get a lot of legally downloadable e-books and audiobooks, at absolutely no additional cost. These tools will help address the seven most common obstacles to success, and a whole lot more.
10. If you attend and use our link, you will be helping us win the Apprentice challenge – Yes, we are on the last leg of the apprentice challenge, and once again, we need your help. I believe that if we win, everyone wins, as we are committed to share virtually everything we will learn to those who are willing and are also committed to learn real estate investing. We believe being Trace's partners would really help speed up the learning process not just for us but for everyone else as well. I have said it before and I will say it again, if we win, no one gets left behind!
Full disclosure – Please read!

I would like to disclose that we will be earning 10% of the proceeds if you buy using our link, but we have decided to donate 50% of our net profit to Bo Sanchez' Anawim and Grace To Be Born.  Anawim is the home of 55 abandoned elderly plus a few orphans and physically and mentally handicapped persons. By signing up with us, you are helping us help the poorest of the poor. Grace to be born provides counseling and a halfway house for pregnant young women who are being forced to have an abortion.
With your registration to the Money Summit and Wealth Expo 2010, you are actually supporting a baby because we are donating part of the ticket proceeds to the Grace to be Born ministry of Bo Sanchez.
We are allocating the rest of our profit to those who may want to refer a friend, and earn 5% of the summit fee. That means if your friend avails of the VIP Pass, you get Php224.75. Refer 10 friends and earn Php2,247.50!
I hope to see you at the summit! Please  forward to your friends and relatives. Thank you!
To our success and financial freedom!
Jay Castillo
Real Estate Investor
Real Estate Broker License #: 3194
Blog: https://www.foreclosurephilippines.com
Follow me in twitter:http://twitter.com/jay_castillo
Find us in Facebook:Foreclosure Philippines facebook page
Text by Jay Castillo and Cherry Castillo. Copyright © 2010 All rights reserved.
PS. Are you a new visitor? Click here NOW to start learning more about foreclosure investing in the Philippines
PPS. Don't be the last to know, subscribe to e-mail alerts and get notified of new listings of bank foreclosed properties, public auction schedules, and real estate investing tips. Inbox getting full? Subscribe through my RSS Feed instead!