The Real Estate Brokers Association of the Philippines (REBAP) Marikina City Chapter shall be conducting Continuing Professional Development (CPD) Seminars on May 23-24, 2014. These CPD seminars includes notarized certificates of attendance.
Real estate professionals need the notarized certificates for the renewal of their licenses at the Professional Regulation Commission (PRC). More details below.
Registration fee, CPD credit units, inclusions,  and contact numbers
Registration fee for the CPD seminar is PHP1,800 per day, and only PHP3,500 if you attend both days.
Each day is equivalent to 8 CPD Credit Units
Seminar materials, morning snacks, Lunch, and afternoon snacks are also included.
For more details, please call:
Leila
0915-7894867
0932-5386466
Olive
Please see CPD flyer below: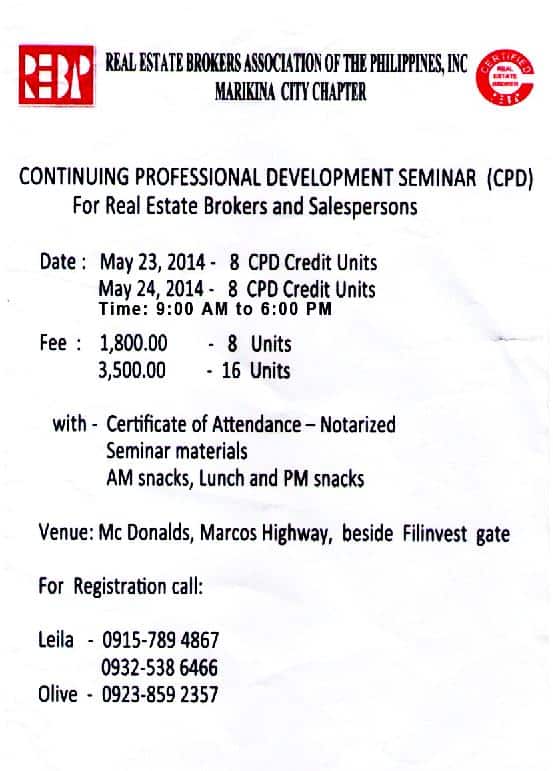 Topics and schedules
DATE

TIME

TOPICS

May 23, 2013 (Friday)
9:00am – 12:00pm (3hrs)
Legal Requirements of Real Estate Practice, Understanding RA 9646, Its IRR and the AIPO
12:00pm -1:00pm
LUNCH BREAK
1:00pm – 3:00pm (2hrs)
Code of Ethics & Responsibilities
– Professional rules of conduct & practice
– Responsibilities to Government, Public, Clients, Fellow Practitioners & AIPO
3:00pm – 3:15pm
BREAK
3:15pm – 6:15 (3hrs)
Documentation, Registration and Transaction
– Brokers activity in securing a listing, marketing, closing and registration.
– Basic Aspect of sales documents
May 24, 2013 (Saturday)
9:00 -12:00 (3hrs)
Real Estate Taxation
– National Internal Revenue
– Local Taxation
12:00pm – 1:00pm
LUNCH BREAK
1:00pm – 3:00pm (2hrs)
Real Estate Economics and Basic Appraisal
3:00pm – 3:15pm
BREAK
3:00pm –  6:15pm (3hrs)
Updates in Real Estate Industry and Condominium Aspects
– Condominium Concept & Standards & Air rights
– RA 4796 Condominium act
– RA 7899
–
Vicinity Map to the seminar venue (Googlemap)
Happy learning!
~~~
To our success and financial freedom!
Jay Castillo
Real Estate Investor
PRC Real Estate Broker License No. 3194 
Blog: https://www.foreclosurephilippines.com
Connect with us – Subscribe | Twitter | Blog RSS | Google +
Text by Jay Castillo and Cherry Castillo. Copyright © 2008 – 2013 All rights reserved.
Full disclosure: Nothing to disclose. I am a former member of REBAP Marikina, prior to moving to REBAP LMP.
P.S. – We will be posting CPD Seminar Schedules for REBAP LMP next. 
P.P.S. – Sorry if we have not been posting as often as we would want, we are very busy working on something that can help a lot of real estate investors out there.