After attending the "How to be Truly Rich Seminar" by Bo Sanchez last July 21, 2007, I saw a flyer about the Think Rich Pinoy Seminar that was to be held on the following month.
I was so excited and I hurriedly registered because my wife and I had already read the book "Think Rich Pinoy" by Larry Gamboa about 8 months earlier. We both believed that the book was like an outline on how to apply Rich Dad Poor Dad principles and do foreclosed real estate investing in the Philippine setting. I wanted to learn more!
August 18, 2007 came and it turned out to be a very stormy Saturday, but the flooded streets I encountered on my way to the seminar venue did not deter me from attending. I had a good feeling about this seminar.
I was not disappointed!
Although I was a bit late, I was still able to attend and I met Larry and the rest of the Think Rich Pinoy team.
I learned about the "desert experience" from Bo Sanchez and how important it is, not just for me, but also for the people around me, especially my son. I Also remember answering a questionnaire that Bo gave to all attendees. It gave an accurate picture of how financially literate I was back then, or the lack of it. Bo also talked about the true purpose of becoming rich. Awesome!
I also saw more examples of investing in real estate in the Philippines through real life real estate deals, not just from Larry, but also from the Think Rich Pinoy franchisees. I wanted to validate what I understood from the book, and I felt I was on the right track.
And then there was also this one thing that happened during the seminar that I shall never forget.
A preview of things to come?
In the afternoon session, seminar attendees played Robert Kiyosaki's Cashflow 101 board game. I remember that I had already played the board game before, but I was not able to get out of the rat race. (You can read more about cashflow 101 here: Top 7 lessons learned from playing cashflow 101)
That changed however during the game in that fateful day more than 3 years ago. Our team got out of the rat race, in record time(we were the second team to get out), when we simply grabbed an opportunity that came our way in the game and never looked back.
It also helped that the game card we picked was for a truck driver, which meant our expenses were very low, and this really helped us get out of the rat race faster.
It was exhilarating to hear game master Ronald Cagape announce that we got out of the rat race and later on I was congratulated by Larry Gamboa himself!
I shall never forget the words Larry said to me on that day.
"Great work Jay, now you just have to do it in real life." as he shook my hand.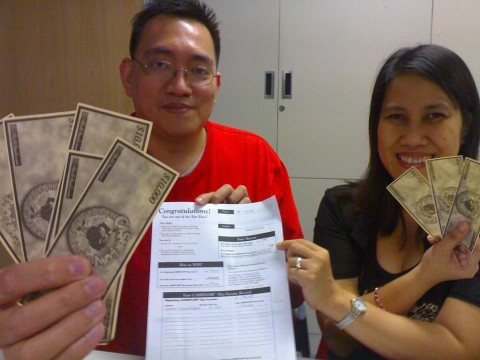 Was this a preview of things to come? Will I really be able to get out of the rat race for real?!
Of course, getting out of the rat race in the Cashflow 101 game is one thing, but doing it in real life is something totally different… or is it?
You see, last January 31, 2010, I got out of the rat race. But this time around, it was for real.
Yes, it really is possible!
As I look back, I truly believe It was just a matter of believing that it can really be done. Because of the seminar, I was off to a good start!
Now you know why…
Whenever I get the chance, I volunteer to help facilitate the Think Rich Pinoy Seminars. I even bring my own Cash Flow 101 board game to help make sure that there are enough boards for all to play.
I also actively promote the seminar here in Foreclosure Investing Philippines. I believe this is one seminar that I will never regret promoting.
Now I get to share my story
I was invited by Larry Gamboa to speak at the upcoming Think Rich Pinoy Seminar on May 28, 2011, and I look forward to sharing how I got out of the rat race for real.
Let me give you an idea of what I'm going to share. People are known to attend seminars and get to learn new ideas, and do nothing with them. I was also like that before.
But things happen and you just have to believe that it can be done, and you have to start taking charge of your life… and that's exactly what I did!
I look forward to sharing my story. See you at the seminar!
~~~
To our success and financial freedom!
Jay Castillo
Real Estate Investor
PRC Real Estate Broker Registration No. 3194
Blog: https://www.foreclosurephilippines.com
Follow me in Twitter: http://twitter.com/jay_castillo
Find us in Facebook: Foreclosure Investing Philippines Facebook Page
Text by Jay Castillo and Cherry Castillo. Copyright © 2011 All rights reserved.
Full disclosure: Nothing to disclose.