Let me start with what is sure – LRT Line 1 which ends at the Baclaran station will be extended southward to Cavite. In fact, four firms have already been pre-qualified last October 2012. Just yesterday, November 22, 2012, DOTC Secretary Joseph Emilio Abaya was quoted in a Business Mirror article to have said that the bidding is scheduled in January 2013 and the estimated awarding date will be in April 2013. Other information on the project may be found in the Light Rail Transit Authority (LRTA) webpage for the LRT Line 1 Cavite Extension Project.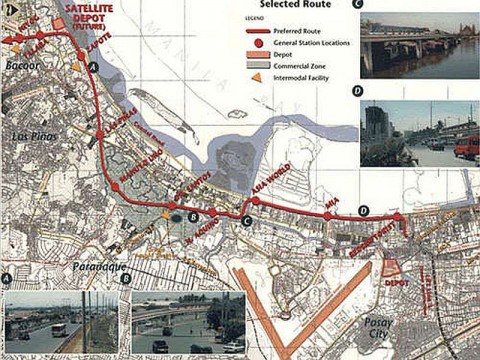 The LRT Line 1 Cavite Extension Project map. Source: LRTA website
According to the Department of Transportation and Communications (DOTC) website, the tentative stations are in the following areas:
Redemptorist Station on Redemptorist Road near Roxas Boulevard
MIA Station near the Coastal Mall along Roxas Boulevard
Asia World Station near Asia World Development (Roxas Boulevard)
Ninoy Aquino Station, east side of Ninoy Aquino Bridge over the Paranaque River
Dr. Santos Station, south of Dr. Santos Road
Las Pinas Station, east of Quirino Avenue and south of Las Pinas River
Zapote Station, north of the Alabang-Zapote flyover
Niyog Station, south of the Niyog Road bypass and Aguinaldo Highway intersection
The LRT 1 Extension project will make Cavite even more accessible, in addition to the Cavitex which has drastically cut travel time to Cavite. When the work on the Coastal Road is finally finished (I can see personally that work is being done in this area), and the E-TAP system is in place, Cavite will be even more competitive. It is thus reasonable to believe that property prices in the area are likely to increase.
Speculations…
And now, on to the speculative part – the location of the new San Miguel airport. Please note that we do not recommend engaging in speculation. This is, however, a very hot topic in real estate and worth knowing should you be interested in the areas being considered.
You may recall that I mentioned in my article on areas near MRT 7 stations that there is speculation that San Miguel Corporation (SMC), which acquired Philippine Airlines (PAL), will be building a new airport somewhere in Bulacan. Definitely, SMC is evaluating the possibility of building a new airport which will serve as the country's main gateway – this is according to its disclosure to the Philippine Stock Exchange (PSE).
It is expected that the prices of property where this airport will be located will increase so speculation is rife as to its possible location. A discussion on skyscraper city, a blogpost on Naic Cavite Online, and a blogpost on Manila Gawker provide interesting bases for speculation.
Bulacan is one of the frontrunners for the location of the San Miguel airport due in part to a report of the CIMB, a Malaysian investor of SMC's Bank of Commerce, which I presume will be financing the project and would have some knowledge about the proposed details. [I have searched for this "CIMB report" online but have unfortunately not been successful in finding it.
Interaksyon.com wrote the rationale for the Bulacan speculation (PAL eyes north, not south, of Metro Manila for new airport), but according to another article, however, Mr. Ramon Ang said that the new airport would be located "15 minutes away from EDSA Makati by car [and] not in Bulacan, kasi mabundok doon."
Recently, Mr. Emil Jurado, a columnist for manilastandardtoday.com, wrote that the San Miguel airport will be in Kawit, Cavite .  I read that there is a Public-Private Partnership (PPP) Project for the NAIA Expressway, which is projected to provide a link between the South Luzon Expressway (SLEX)/Skyway, the Manila-Cavite Toll Expressway (CAVITEX)/Roxas Boulevard/Macapagal Boulevard, and the PAGCOR Entertainment City. The tip of Cavitex is somewhere near Kawit based on Google maps, so this may be an option.
Recently too, a reader of ours, Mr. Will, pointed us to a PSE disclosure by BHI, which hints at the possible location of the proposed airport in Ternate, Cavite, as can be seen on the map below, which is from the last page of BHI's disclosure: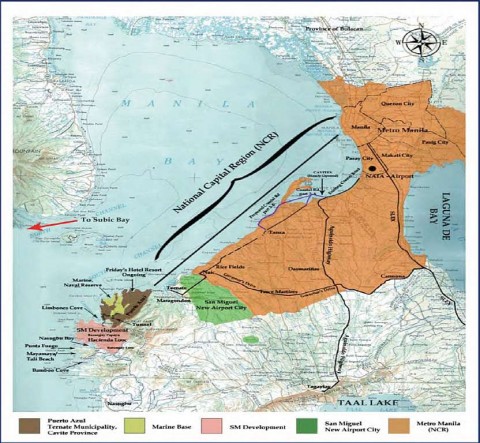 However, the purported location of the airport was later denied by SMC in its own PSE disclosure, which was also included in Mr. Will's comment.
Another rumored location, at the Entertainment City near MOA, fits the bill of 15 minutes by EDSA-Makati by car, but the area seems to be too small for the projected size of the international airport, and Cyber Bay Corporation (where Mr. Ang is a major shareholder) has issued a disclosure to the PSE that it no longer has a project in the Las Pinas, Paranaque, Bacoor area.
With all these reports, we cannot really conclude anything. This is what is difficult with speculation – it is really gambling and one may either win or lose in the end. You may opt also to wait since the announcement may be made early next year (barely 2 months' time). In any case, Cavite is really improving and I believe it's a good area to invest in whether the new airport is located there or not. Incidentally, for those who want to look, there are a lot of listings of foreclosed properties in Cavite.
~~~
To our success and financial freedom!
Cherry Vi M. Saldua-Castillo
Real Estate Broker, Lawyer, and CPA
PRC Real Estate Broker License No. 3187
PRC CPA License No. 0102054
Roll of Attorneys No. 55239
Text by Jay Castillo and Cherry Castillo. Copyright © 2008 – 2012 All rights reserved.
Full disclosure: Nothing to disclose.