Here's a list with 459 repossessed cars from EastWest Bank, as of August 25, 2023. Details below.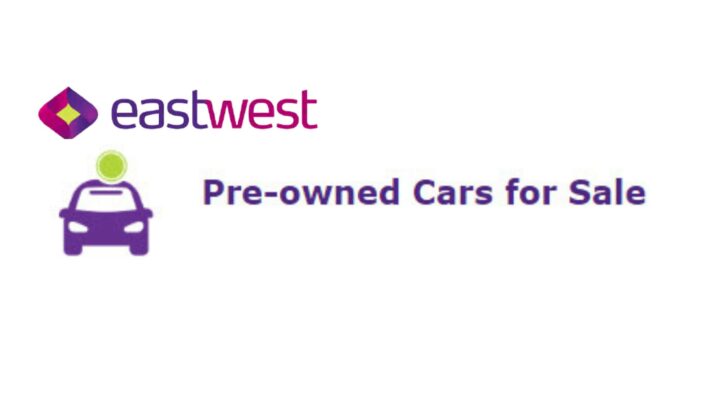 I found this list of pre-owned cars for sale when I was searching for the latest list of foreclosed properties from EastWest bank.
Auction vs Outright Sale
I noticed they sell these cars via auction or outright sale.
For the cars/vehicles for sale via auction, the deadline for bids is on August 30, 2023 (Wednesday) at 5:30pm.
==> Click here to view list with 328 cars for sale via auction
For the rest of the cars that can be purchased via outright sale, you don't need to bid, you just have to submit an offer. This is on a "first-come, first-served" basis.
==> Click here to view list of 131 cars available via outright sale
View EastWest Bank Repossessed Cars List
For easy searching and filtering, you may view the entire EastWest Bank inventory of repossessed cars in my "Classifieds Database" below:
==> Click here to view searchable list with ALL EASTWEST BANK REPOSSESSED CARS (Database)
EastWest Bank Repossessed Cars Warehouse list
To check the actual condition of the cars for sale, you will have to personally visit EastWest Bank's warehouses, located all over the Philippines.
You must first identify the car(s) you are interested in, and then take note which warehouse it is located at. Or, you can just choose from the available cars in the warehouse you can visit.
If you are interested in a car that is in a warehouse located far away from you, you will really have to spend time/money/effort to go there.
The list of warehouses and their corresponding locations (with links to google maps) and schedules for viewing are included with the guidelines below.
Can you test-drive the repossessed cars for sale?
No, you cannot test-drive any of the repossessed cars from EastWest Bank. However, you are allowed to inspect the car which includes starting the engine.
Let me quote the guidelines from EastWest Bank below: 
"During inspection, viewers may get inside the car, check trunk, hood, compartment box, and start the engine."
Furthermore:
"Viewers are allowed to bring their own fuel and/or battery in case the chosen unit's tank is empty or battery is discharged."
Lastly:
"In case of refueling, ensure that the correct fuel type (gas/diesel) is used"
I highly suggest that you bring a trusted mechanic with you when you inspect the car to help you check if the car is in good condition.
What are the payment terms? Is financing available?
As usual, you can either pay in cash or get financing through a car loan, which they also offer to winning bidders as mentioned on this page on EastWest Bank's website.
You can also check the auto loan interest rates and requirements on this page, which also states that the minimum downpayment required is 20%.
How to buy repossessed cars from EastWest Bank
Choose a vehicle to purchase from the List of Vehicles For Sale
Submit your offer/s or bid/s before deadline through Messenger (https://www.ewlend.com/auction) or via email @ EWB_Carbids@eastwestbanker.com
Wait for an email or SMS confirmation from EastWest Bank
What you see above is just a summary. See below complete info for viewing and how to avail.
Eastwest Bank guidelines
Source: EastWest Bank website
Eastwest Bank Contact Info
Contact Details:
Email:
ROPASales@eastwestbanker.com
Contact Nos.
0999-8857507 / 0998-5844940
Note: Monday – Friday, 8:30AM to 5:30PM, excluding holidays
Source:
Eastwest Bank Website