Almost a year has passed since Typhoon Ondoy devastated what used to be our home in Provident Village in Marikina last September 26, 2009. We have obviously moved on. However, my wife Cherry and I have come to realize a lot of things during the past year and we would like to share these lessons here. These are in addition to the lessons learned I posted right after the floods last year.
Lesson #1: Fire insurance is not enough
What used to be referred to as Acts of God insurance coverage is now referred to as Acts of Nature or AON insurance coverage. Consider having this to protect your house, its contents, and rental income (for your rental properties if any). I regret not having this because I already had plans to get AON insurance(plus coverage against burglary, etc.) for our house and its contents a few months before Ondoy struck, but I forgot about it.
The same goes for your car. Although my car was spared because I was not in Marikina during the flood, it had AON insurance.
Lesson #2: Properties under a Pag-IBIG housing have typhoon and flood damage insurance coverage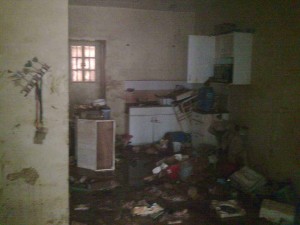 I was pleasantly surprised to learn that our house in Marikina had insurance coverage for both typhoon and flood damage. This is one advantage of having a housing loan under Pag-IBIG as compared to other banks or lending institutions. Not to mention they also have Mortgage Redemption Insurance (MRI) which means your loan balance will get fully paid in case something happens to the borrower (terms and conditions apply of course).
Lesson #3: Never store important documents in just one location
We lost a lot of pictures, important documents like transcripts, diplomas, pictures, certificates, and pictures, sigh… did I say pictures?! Definitely, it's best to scan important documents and pictures so that electronic copies can be stored safely in different secure locations.
You can have electronic copies with you in your laptop or with a portable hard drive, or you can even store them online. Another idea would be to have duplicates or photocopies which you can store in offsite locations.
Lesson #4: Always have updated offsite backups
It may sound geeky but I really advocate having offsite backups. After all, I was an IT manager once upon a time. During Ondoy, a lot of my important files and documents were not affected by the floods because I did not leave all of them at home. I had with me a lot of important documents, along with my old laptop that had a lot of my important files. I also had a lot of important documents inside my safety deposit box at the bank (more on this later).
I would like to reiterate the importance of having UPDATED copies or backups because I lost about 4 months worth of data in my desktop computer which got submerged at home because I did not sync its data with the data on my old laptop. Actually, I had an external drive that had updated files but I also left it at home, and it too got flooded, bummer.
Lesson #5: Consider renting a safety deposit box at your favorite bank
This saved all of my postdated checks, contracts, and other original copies of important documents. It only costs about 1,000 per year for a safety deposit box with a depth and width several inches bigger than a legal size folder. Just make sure the bank's premises is not in a flood-prone area to avoid what allegedly happened to a particular branch of a certain bank.
Lesson #6: Waterproof containers or plastic bags could help save your important stuff
Yes, I know it would not be practical to put all documents in a safety deposit box at the bank and a lot would have to be stored at home. I guess ziplock bags or maybe giant lock-and-lock storage containers would have helped protect documents against floods.
Lesson #7: Furniture made of plywood turn to pulp when submerged in water
Yes, our cabinets, bookcases, study table, even our bed from EDIA, all turned into pulp. The only things that withstood the floods were furniture made of narra, and monoblock chairs. I suppose if you decide to live in a flood-prone area, consider using monoblock furniture… hehe.  Right now, we are renting a semi-furnished condo so we still have time to shop around for flood-resistant furniture, which we think are worthy investments.
Lesson #8: Having waterproof stuff is a good idea
The only thing I was able to salvage was my waterproof Timex watch that I left inside my cabinet. Even though my cabinet disintegrated and turned into pulp, my Timex watch was perfectly okay, as it should be. Now we try to buy stuff that are waterproof, like our digital camera for example. We replaced our flood damaged Canon Powershot A40 with a Lumix TS2 that is waterproof and is obviously flood proof.
Lesson #9: Consider having a fireproof and waterproof safe at home
Now this can be quite expensive but the cost for a waterproof and fireproof safe would be negligible compared to the cost of replacing lost documents like Titles of properties. Reconstituting owner's duplicate copies of Transfer of Certificate of Titles (TCT's) or Condominium Certificate of Titles (CCT's) would cost at least PhP50,000(based on what I heard) so this might be worth considering, if you really don't want to rent a safety deposit box. Instead of a fireproof/waterproof safe, I just rented a safety deposit box, long before Ondoy.
Lesson #10: Have an emergency plan
Basic things like having an evacuation plan, what to do, where to meet, what things to have (like a rubber boat?), preparing a grab and go bag in the event that calamities like Ondoy would happen would be a big help. My wife is developing this for our family.
Lesson #11: Be proactive with where you buy properties
I've heard people say that Ondoy affected just about everyone and if we insist on finding a flood-free place to live or invest, we might end up with no options. But my point is, not everyone experienced 16-ft floods that could have drowned anyone that got trapped in the first and second floors of a house. This is the reason why we are not rushing into buying a property as we need to carefully consider this aspect.
Others say that the flood brought about by Ondoy was a 100-year flood and we would be long gone before the next one is upon us a hundred years from now. But think about it, climate change is evidently already here, so how sure are we that the next 100-year flood would not come tomorrow, next week, or even next year? God forbid!
While we cannot stop typhoons like Ondoy, we can always be proactive and choose to live or invest in flood-free locations, or at the very least, a location that did not experience killer floods in terms of flood height. The Typhoon Ondoy Maximum Flood Height interactive map in google maps can help us with this.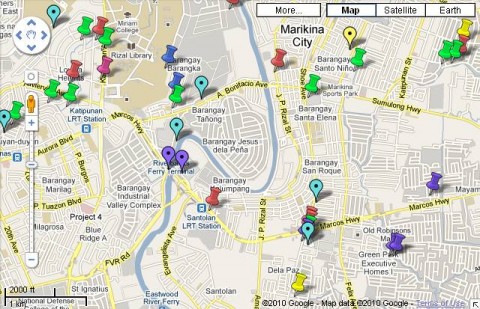 Lesson #12: Just because a property is near a river, it does not follow that it will get flooded
It may be hard to believe for some but there really are areas that were beside or very near a river, but were not flooded at all by Ondoy. One such place is DMCI's Riverfront Residences in Pasig, where we almost bought a unit.
Lesson #13: Just because a property is far from a river, it does not mean it will not get flooded
The opposite to Lesson 13 also holds true, there were also a lot of places in the Metro that also got flooded, even though they were far from any rivers or waterways. I guess this could also be one reason why they got flooded, water had nowhere to go to.
Lesson #14: Don't forget to consider elevation, sufficient drainage or waterways, and actual flood height during Ondoy when evaluating properties
Consider these factors when evaluating properties before you buy. I do my best to keep this in mind when I come across potential properties. And the importance is magnified if you are looking for a property where you intend to live.
Lesson #15: Listen to your gut feel, spider sense, instincts, intuition, etc.
I still vividly remember when my wife and I passed by the Riverbanks Mall last September 26, 2009 at around 7:30am and I noticed the river's rampaging waters, which I found to be odd and very out of the ordinary. We have lived in Marikina since 2004 and this was the first time I noticed the Marikina river to be this strong. However, I just shrugged it off, even if it didn't feel right.
I drove my wife to her office (she had a whole day seminar on a Saturday… GRRR!) and I proceeded to the DAP Building in Pasig City to attend a public auction of foreclosed properties by RCBC Savings Bank.
I was never able to make it back to our house that day, even if I tried to right after the auction(that was around 11:00am). The closest I could get was up to Green Meadows but I had to turn back as floodwaters were already as high as the top of the tires of my car.
Fortunately I was able to reach SM Megamall, and I waited there, not knowing what to do. Later I picked up my wife from Makati when she was finally dismissed from their whole-day seminar at around 4pm (GRRR again!), and we desperately tried to reach Provident Village. We were able to park at the foot of the flyover in Aurora Blvd, and we started walking. We had to stop just before Riverbanks Mall as barangay tanods stopped people from going any further.
I'm just glad that everything turned out well, our son CJ was safe and sound thanks to her Yaya and also thanks to our neighbors.
Lesson #16: Calamities can bring out the best in people
Our son CJ was saved by his yaya Em, and we shall forever be grateful to her. I still remember talking to Em over the phone when the flood was just rising while I was stuck at SM Megamall and I just told her to leave everything in the house, including my new laptop, and stay with our neighbor next door. Not only did Em save CJ (would you believe CJ never got wet with flood water, yes its true!), she also saved our dog Stacy, by pulling her up to the roof of our house, and also to the roof of the 2-story apartment behind our house (Stacy is an adult golden retriever so imagine how heavy she was), and Em also managed to save my new laptop, with laptop bag and all, even if I told her to leave it in the house.
I also remember how our neighbor, who I'll just call El-Kapitan, who helped save everyone that ended up at their house (including children, adults, and a few elderly people) by leading them all to safety. Everyone got to the second floor of El-Kapitan's house and then they moved to the roof of our house temporarily (our house was a bungalow and it eventually got totally submerged).
From there, El-Kapitan gave instructions to everyone so that they can use an airbed to cross the floodwaters and reach the 2 story apartment at the back of our house. They managed to do this successfully before the airbed got punctured and lost air. From the roof of the 2-story apartment building, they used a ladder to cross-over to another 3-story apartment building, which was the safest place to be, and everyone was able to reach it safely.
I also can't help but share how my brother-in-law faced just about everything to reach their house to ensure Mama and Papa were safe. He did this with the help of a group of men from a vulcanizing shop, and they used inner tubes and ropes. Imagine going through up to 20ft. deep flood waters, in total darkness, while it was raining, and with very strong water currents.
They used the Meralco posts throughout Provident Village as waypoints. My brother-in-law eventually reached their house although at times some homeowners from Provident Village threw rocks at them. They mistakenly thought they were burglars or looters that were apparently all over the place, even at the height of Typhoon Ondoy.
I'm also very thankful for all of the people who helped us with the cleanup and also with rescuing our dog that got stranded on the roof of the 2-story apartment. We rescued our dog a day after the flood receded with the help of some teenage boys who offered to help clean our house.
It wasn't easy to get a full-grown golden retriever (she was really so heavy!) from a roof 2-stories high. I'm just glad those boys came out of nowhere and helped me, even if they were quite scared of our dog. After all, she was very big and could bite them anytime if she wanted to. This was a day after some thieves tried to steal our dog(more on this later).
By the way, my wife and I were overwhelmed with a lot of people who wholeheartedly wanted to help us. There were people offering their homes as a place where we can temporarily stay, we also received help in cash and in kind and a lot of moral support. There was even this one internet shop in Katipunan Avenue where they allowed us to stay and recharge our phones for free. Calamities can really bring out the best in people…
Lesson #17: Calamities can also bring out the worst in people and everything in between
As stated above, there were a lot of looters and burglars running around Provident Village at the height of Ondoy, and this continued up to the weeks that followed. These thieves were targeting houses that were abandoned by their owners. Even before Ondoy, a lot of burglaries have been happening in Provident Village, I just never thought these thieves would actually take advantage of the floods caused by Ondoy to steal from the flood victims.
Remember our dog that got all the way up to the roof of the 2-story apartment building at the back of our house? She got stranded there when the flood waters receded the next day, and would you believe some people went there claiming she was their dog? The nerve of those people! Good thing those who lived at the 3-story apartment building where my son, his yaya, and our neighbors stayed, knew we were the owners and told the impostors and would-be thieves that they knew the real owners of the dog.
One last thing, I remember a friend of mine who shared to me how frustrated she felt because she learned that instead of directly helping employees like her that got affected by Ondoy, the company she worked for just gave a donation to the ABS-CBN foundation, and they even e-mailed "good deed" to everyone, including the employees that were directly hit by Ondoy's wrath. Although it was very commendable to donate to the ABS-CBN foundation to help Ondoy victims, I couldn't help but ask myself "What the heck were they thinking?!". It was like a slap on the face for their employees who were flood victims. I guess that company did not love their own employees.
Lesson #18: Calamities help family and friends get closer to each other
We eventually stayed at my sister's condo before we found our own place. A natural result of this was we got real close. I guess this was one blessing in disguise that happened because of Ondoy. My son CJ got to know his Tita beyond the weekly family dinners that we regularly had, and as expected, his Tita's fondness and love for him also grew each day we lived with her.
I also got a lot of calls and text messages from friends who wanted to help in any way that they could, and the mere thought just helped raise our spirits. In a way I found out who my friends really were, and  those who really cared. I guess that's just how Filipinos are. Having a calamity like Ondoy was a perfect opportunity to reconnect and help one another, and show that we really care.
Lesson #19: Calamities like Ondoy is the great equalizer
Everyone was a victim and there was no distinction between the rich and the poor, educated and not so educated, everyone was at the same level, and everyone needed help.  
Lesson #20: Getting attached to material possessions is futile
While material possessions are things that we all need to help us go through our daily lives, being attached to them is really not a good idea. It is a lot easier to move on without being attached, all material things can be replaced anyway.
We lost just about everything we had inside our house and we were able to move on quickly. It helped that most of our appliances and stuff were gifts to us on our wedding, which means they were more than 5 years old already :-).
Seriously, I believe this whole experience reminds all of us not to be too materialistic and attached to worldly possessions.
Lesson #21: Home is where the heart is
As real estate investors, we are often reminded not to fall in love with a property as it may cloud one's judgment. I just never thought that this would also help when it comes to one's own home, at least in our case. I realized that I myself was never really attached to our house in Marikina. I never had a problem leaving it, as I knew that what's important to me is my family and loved ones and wherever my family is, that is my home.
Lesson #22: Be careful with what you wish for
A few months before Ondoy, I also distinctly remember this thought of mine where I wished that there was an easier way for me to get rid of the clutter in our house because "junk" kept on piling up. Yes, I wanted to get rid of a lot of our stuff, and in an instant, everything was gone… wish granted… oops!
To be honest, I also wanted to dispose our house itself, not just the clutter in it, for a lot of reasons, but I never thought my wish would be fulfilled like this. So be very careful with what you wish for, be very specific, so that it won't be something you'll regret later on.
Lesson #23: Life is short so don't waste time on things that are fleeting and unimportant
Things like too much work, too much TV, being pre-occupied with things that really are not that important, are such a waste of time. Imagine if you were about to die, do you think you would have thought to yourself "If only I had spent more time at the office…"? I don't think so! Duh?!
Go ahead, try imagining the thoughts that would run through your head if the end is near, you will surely think of those which matter most… then focus and give more time for them NOW, WHILE YOU STILL CAN!
~~~
After almost a year, I'm happy and thankful that our family has moved on and things have turned out quite well. My wish and prayer for all of those who were also affected by Ondoy is for them to have the strength and courage to move on, just in case they have not yet done so, and I hope that everything will be better.
I know there are a lot more stories out there along with more lessons learned from Ondoy. Please share them here, I'm sure a lot of people would love to read them, me included. Thanks for sharing!
To our success and financial freedom!
Jay Castillo
Real Estate Investor
Real Estate Broker License #: 20056
Blog: https://www.foreclosurephilippines.com
Follow me in Twitter:http://twitter.com/jay_castillo
Find us in Facebook:Foreclosure Philippines facebook page
Text by Jay Castillo and Cherry Castillo. Copyright © 2010 All rights reserved.
PS. Are you a new visitor? Click here NOW to start learning more about foreclosure investing in the Philippines
PPS. Don't be the last to know, subscribe to e-mail alerts and get notified of new listings of bank foreclosed properties, public auction schedules, and real estate investing tips. Inbox getting full? Subscribe through my RSS Feed instead!