I was checking and updating our List of Philippine Bank websites with foreclosed property listings and stumbled upon this list from the Development Bank of the Philippines (DBP). It includes properties from provincial areas.
As stated on the listing, they "will entertain offers on a First-Come, First-Served basis at Acquired Assets, Ground Floor, DBP Head Office, Sen.Gil Puyat Ave. cor. Makati Avenue, Makati City, for the following properties…". The complete list can be downloaded below.
DBP foreclosed properties/acquired assets for sale as of October 30, 2012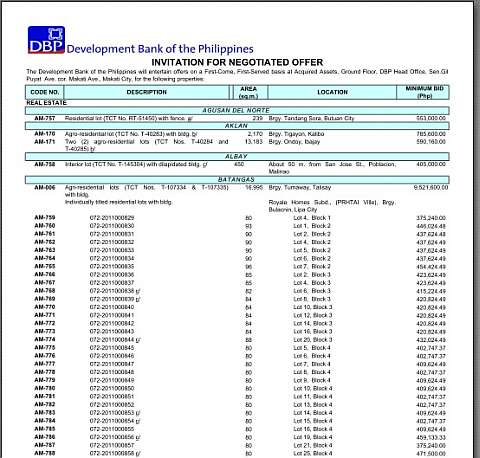 Just click on the image above to download the list in PDF format…
or just click on the following link:
Forms for negotiated offers may be obtained from Acquired Assets and DBP Branches
Source: This list is from the official website of DBP which is included in our Ultimate List of Philippine bank websites
For more information
Please contact DBP Acquired assets DIRECTLY through telephone numbers:
840-2783
893-7172
892-1566
818-9511 to 20 locals:

2117
2158
2159
2163
2166
2102
2167
2145
Disclaimer/disclosure
NOTE: Sale of property is on "as-is-where-is" basis to refer not only to the property's physical condition, its contents/inclusions at time of offer to sell, but also the condition of the pertinent title/tax declaration, the extent and state of whatever rights, interest, and participation over the property DBP may have at time of offer to sell. In addition, "as-is-where-is" shall mean the buyer's assumption of any and all claims, liens, assessments, liabilities and/or damages arising from any suit/litigation involving the property, accruing from the signing date of the Deed of Absolute Sale, to the total exclusion of DBP.
Happy hunting!
~~~
To our success and financial freedom!
Jay Castillo
Real Estate Investor
PRC Real Estate Broker License No. 3194 
Connect with us – Facebook | Twitter | Blog RSS | Google +
Text by Jay Castillo and Cherry Castillo. Copyright © 2008 – 2012 All rights reserved.
Full disclosure: Nothing to disclose.