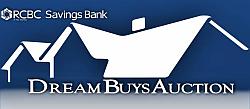 RCBC Savings Bank foreclosed properties from the Luzon and Metro Manila areas shall be up for grabs in their next Dream Buys Auction on November 24, 2012, Saturday, 9:00am, at the 6th Floor, Development Academy of the Philippines Building, San Miguel Avenue, Pasig City, Philippines.
We won't be able to attend this auction because we will be attending Bo Sanchez's Kerygma Conference 2012 on the same date, so please direct all your inquiries to RCBC Savings Bank. More details and the complete listing of foreclosed properties for sale can be found below.
RCBC Savings Bank foreclosed properties listing (November 24, 2012 auction)
How to inquire and get more details
To get more details about the auction and included foreclosed properties, please call RCBC Savings Bank directly through the following:
Telephone:
687-0839
555-8700 loc 4449
RED – 0908-8854803
ALEX – 0918-9511811
JOSEPH – 0918-9903744
Other Properties: VIC ORENSE – 470-9432/0908-9182781
Email:
rsbproperties@rcbcsavings.com
Disclosure and disclaimer
PRICES SUBJECT TO CHANGE WITHOUT PRIOR NOTICE
Misprints should not be construed as misrepresentation of the property. 
The bank reserves the right to withdraw any property for whatever reason.
All transactions are subject to bank approval.
Happy hunting!
~~~
To our success and financial freedom!
Jay Castillo
Real Estate Investor
PRC Real Estate Broker License No. 3194 
Connect with us – Facebook | Twitter | Blog RSS | Google +
Text by Jay Castillo and Cherry Castillo. Copyright © 2008 – 2012 All rights reserved.
Full disclosure: Nothing to disclose. Although I am an accredited real estate broker of RCBC Savings Bank, please contact them directly for this particular listing. Please be guided accordingly.