Did your car get flooded at the height of Typhoon Ondoy (International codename: Ketsana) or Typhoon Pepeng (International codename: Parma) and now you're still waiting for advice when it can be brought in for repair? What if your car was already under repair but it turns out you will have to wait for several months for spare parts like a computer box for example to become available? Maybe it's simply too expensive to have the flood damage to your car repaired because your car insurance doesn't cover Acts of God or flood damage?
Cheer up! Just remember to count your blessings and I hope the following listings of bank repossessed cars for sale can be of help or at least give you an option just in case you really need to have a car soon and you are looking for cheap cars. Just make sure that these repo cars were not flood damaged as well.
I have compiled listings of bank repossessed cars for sale from Robinsonsbank, United Coconut Planters Bank (UCPB), and Unionbank. Just refer to the details on each respective listing of repossessed cars for sale in case you are interested.
Robinsonsbank repossessed vehicles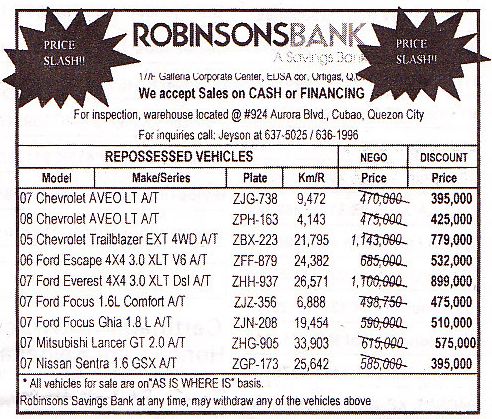 UCPB repossessed vehicles for sale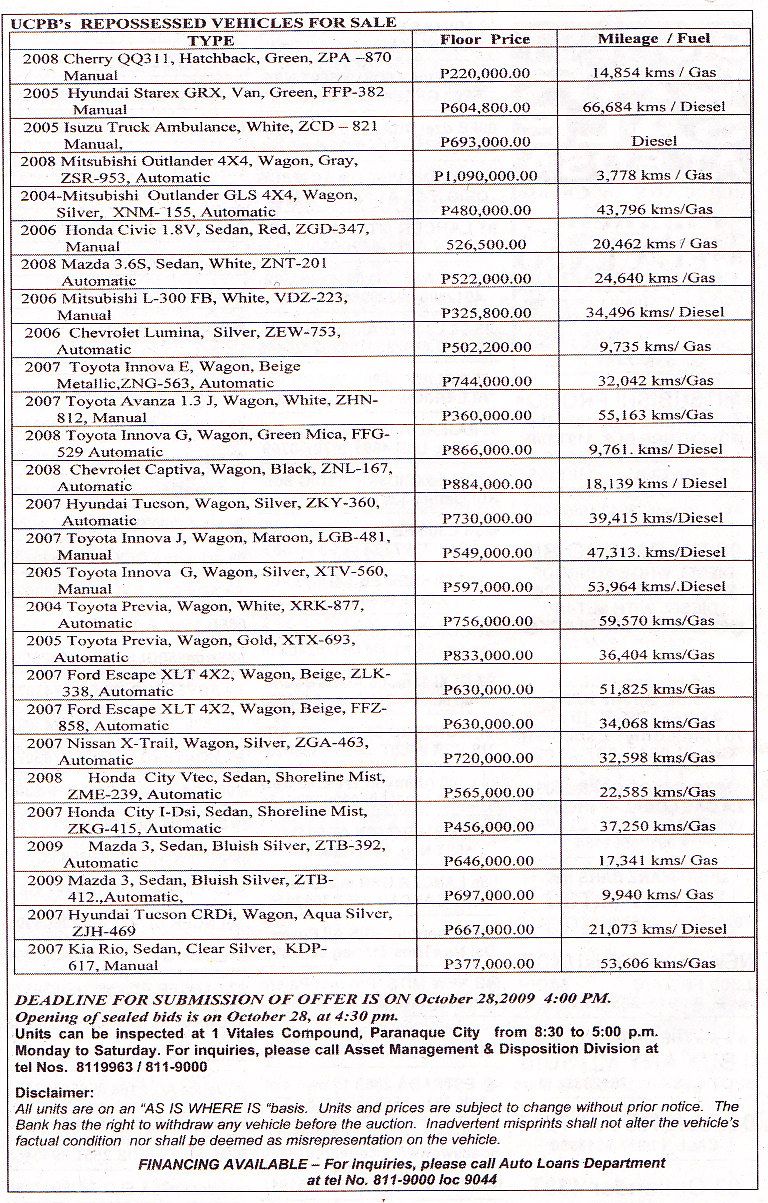 Unionbank repossessed cars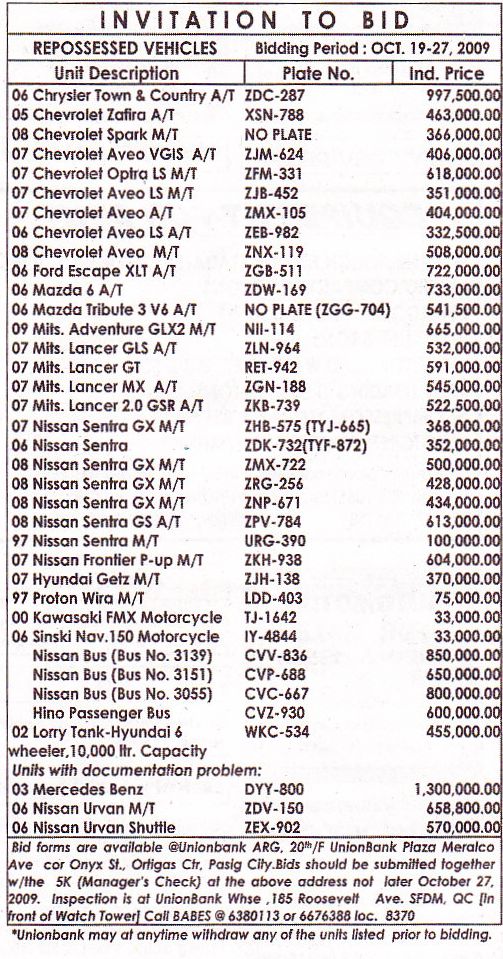 *Source: Manila Bulletin, October 18, 2009 issue, classified ads section
Goodluck and happy hunting!
—–
To our financial freedom!
Jay Castillo
Real Estate Investor
Real Estate Broker License #: 20056
Blog: https://www.foreclosurephilippines.com
Social Network: http://foreclosurephilippines.ning.com
Mobile: +639178843882
E-mail: ph.investor [at] gmail [dot] com
Text by Jay Castillo. Copyright © 2009 All rights reserved.
P.S. – If you are a new visitor, please start here to learn more about foreclosure investing in the Philippines.
P.P.S – If you feel that anyone else you know might benefit from this post, please do share this to them and don't forget to subscribe to e-mail alerts and get notified of new listings of bank foreclosed properties, public auction schedules, and real estate investing tips. If your inbox is getting full, you may subscribe instead to my RSS Feed.