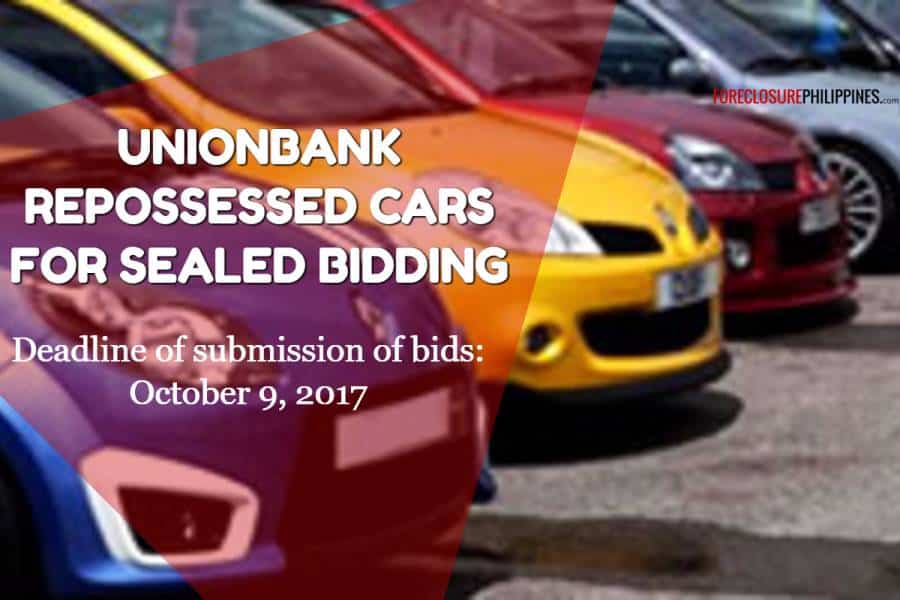 UnionBank of the Philippines shall conduct a sealed bidding of repossessed cars on Monday, October 9, 2017. A total of 90 repossessed cars are included in the bidding. Details below.
Sorry for the short-notice everyone, just found this list from Unionbank. Anyway, I remember quite a number of people have been asking for repossessed cars, so here's one.
Access UnionBank repossessed cars in our database
I already uploaded to our database this list of repossessed cars from UnionBank, and you may access them all through the button/link below:
Click to view/search UnionBank repossessed cars database
Tip: When you are browsing the repossessed cars database, you can filter by adding a keyword for your preferred car model, make, etc. Example, if you are looking for a Vios, then add the keyword "vios" in the keyword search box. (There are actually 6 Toyota Vios cars in this listing).
To inspect the cars, you may visit their warehouse at JACOB WAREHOUSE: Pasacola Rd., Brgy. Nagkaisang Nayon, Novaliches District Quezon City
Download Unionbank's list of repossessed cars
As usual, you may also download the list of repossessed cars below, in PDF format.
Click to download list in PDF format
Note: You will need Adobe Acrobat Reader to view PDF files, which is free to download at Adobe.com
Sealed bidding / contact details
The repossessed cars from UnionBank are for public sealed bidding and the deadline of submission of bids is on Monday, October 9, 2017. Refer to bidding and contact details below:
BID FORMS ARE AVAILABLE AT ASSET RECOVERY GROUP, 25TH FLOOR UNIONBANK PLAZA, MERALCO AVE. COR. ONYX ROAD, ORTIGAS CENTER, PASIG CITY.

BIDS SHOULD BE SUBMITTED TOGETHER WITH THE P20,000 (MANAGER'S CHECK PER UNIT) AT THE ABOVE ADDRESS NOT LATER THAN OCTOBER 09, 2017.

INSPECTION OF UNITS IS AT ABOVE ADDRESS.

CALL: 667-6388 local 8370 (BABES) / 8375 (DENIS) or Cell Nos. 0917-8127738/0932-8827738

Note: Office Hours is 08:30am to 05:30pm (Monday to Friday)

VISIT OUR WEBSITE @ www.unionbankph.com/personal/assetrecovery

THE BANK HAS THE ABSOLUTE RIGHT TO REJECT ANY OFFER/BID
Disclaimer / Disclosure
UnionBank may, at anytime, withdraw any of the units listed prior to bidding.

MISPRINTS ARE NOT MISREPRESENTATION OF ANY PROPERTY

UnionBank of the Philippines is supervised by Bangko Sentral ng Pilipinas. For concerns, you may contact UnionBank at (02) 841-8600 and [email protected] or the BSP Financial Consumer Protection Department at (02) 708-7087 and [email protected]
Source: UnionBank website