The Professional Regulatory Board of Real Estate Service (PRBRES) has released a Resolution dated October 2, 2015 which specifically states that this is the "last and final chance" for non-degree holders of the BS in Real Estate Management (BS REM), that is, both first-timers and repeaters, to take the real estate brokers' exam on February 28, 2016. I was able to get a copy of the Resolution thanks to the FB page of Netscore. With this Resolution, all those who are interested in taking the real estate brokers' exam without having to graduate with a BS REM degree, should take action NOW.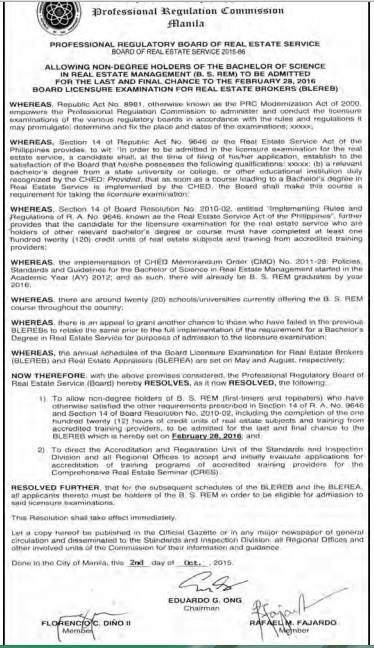 What is the best review center?
I get asked this question all the time. It's quite understandable since we all want to increase our chances of passing, specially now that this coming exam is the last one which does not require a BS REM degree.
Honestly, however, I always say that the best review center would depend on the circumstances of each reviewee. Success in the exam most definitely depends on the reviewee himself/herself and not on the review center (although of course, the review materials and lectures help). For practicality's sake, just choose the review center that is nearest to you and whose schedule fits your own. If you have friends who have passed the exam and took their review classes at certain centers, you can ask them about their feedback also. You may also want to look at the passing rate and number of topnotchers coming from each review center.
As for me, I always say to those who are curious that Jay and I are products of Eng. Enrico Cruz's Urban Institute (and we passed the exam). When I took the real estate brokers' exam, the location of the review was perfect for me since it was within walking distance from the office where I used to work, and the schedule was also good. Since Jay also passed the exam when he reviewed there a few years before, the decision on where to review was a no-brainer for me. An added bonus was the student population in Urban which was composed of fun individuals accomplished in their respective fields, and of course Engr. Cruz who is like a father to all of us. All in all, I would say I gained new friends and had a lot of fun so it was a very enriching experience for me.
I'm sure those who have reviewed in other centers also have a lot of nice things to say about them. For REBAP-LMP in particular (because it is our home chapter), I can say that the brokers there are really nice and knowledgeable. I love them! I consider myself very lucky to be a member of this chapter. I believe a lot of the reviewees of REBAP-LMP in the previous exam passed and are now members of the chapter. So the guidance from senior brokers continues after the exam – from theory to practice. If you are from the LMP area this is a great bonus.
Those in Cebu can take their review at REBAP Cebu which, I noted, has produced several topnotchers.
I have also had the privilege of meeting Mr. Sedfrey Lacsamana and Mr. Romy Lacsamana of PREVAIL and they are very nice people. The topnotcher (no. 1) in the recent appraisers' exam came from them, and so did many other topnotchers. I heard that their review materials are very good, and that their payment scheme is easy on the pocket.
In other words, any accredited review center will do! Maybe visit the center and if you have a good feeling about it, go for it.
List of Review Centers for the 2016 Real Estate Brokers' Exam
Based on the announcements I have seen in my newsfeed, the following review centers are conducting sessions for the said 2016 real estate brokers' exam. I have not seen their accreditation papers (and thus cannot assure you of this), though these are the "known" providers. You may want to ask them for a copy or confirm with PRC. Also, if you know of other providers, please let us know in the comments so we can add them to this list.
REBAP- LMP
The Real Estate Brokers' Association of the Philippines (REBAP)-Las Pinas, Muntinlupa, Paranaque (LMP) Chapter will be conducting a comprehensive seminar and training for the real estate licensure exam this 2016.
Schedule: Every Saturday and Sunday from November 7, 2015 to January 31, 2016
Venue: Rm. 205, 2nd Flr. Tia Maria Bldg. C.V. Starr Avenue, Philamlife Village, Las Pinas City
Fee: P18,000.00 (inclusive of food and materials); 10% discount on cash payment; Installment basis available. Only P3,000.00 to reserve!
Contact: 556-3929; 664-3329; 881-5495; 664-5516; 0908-8945899; 0998-5333903; 0917-8069881 (Please let them know you were referred by Cherry and Jay Castillo of foreclosurephilippines.com)
Info from: Mr. Jay Jamora
Poster:
2.   REBAP CEBU
Schedules:
(1) Mondays-Wednesdays-Fridays (MWF) Schedule 120 hours:
Time: 5:30 p. m. – 9:30 p. m., 30 days (4 hours/day)
Batch 1 November 9, 11, 13, 16, 18, 20, 23, 25, 27, 30, December 2, 4, 7, 9, 11, 14, 16, 18, 21, 2015, January 4, 6, 8, 11, 12, 13, 14, 15, 19, 20 and 21, 2016.
(2) Saturdays and Sundays Schedule 120 hours:
Time: 8:00 a. m. – 5:00 p. m. 15 days (8 hours/day)
Batch 1 November 14 & 15, 21 & 22, 28 & 29, December 5 & 6, 12 & 13, 19 & 20, 2015, January 9 & 10, 23, 2016.
Venue: REBAP-Cebu Chapter Office and Training Room, Rm. 201 Diez Bldg. F. Ramos cor. V. Ranudo Sts. Cebu City
Fee: Please kindly inquire with the organizers
Contact: Ninia at (032) 4029346; Leo at 0932-207-5879
Info from: https://www.facebook.com/RebapCebuChapter
Posters: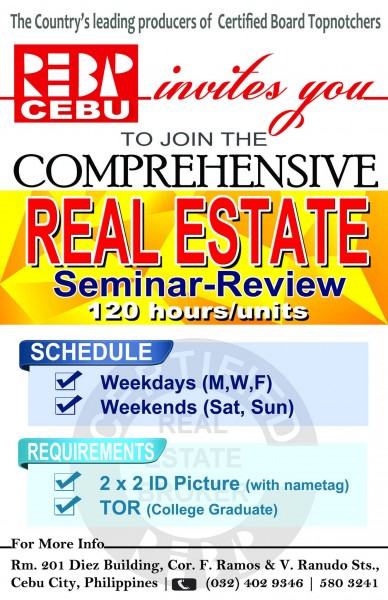 3. URBAN INSTITUTE
I have posted the schedules in my previous post and my understanding is that the slots are almost filled up (to think they already opened so many sections!). Please kindly check with Urban directly if there are still slots available, and how much is the fee.
Venue: Asian Institute of Management (AIM) Conference Center, Legaspi Village, Makati City or
Conference Room 5 & 6, Walter Hogan Conference Center, Institute of Social Order,
Ateneo de Manila University, Katipunan Ave., QC
Contact:  urbanet.ph@gmail.com
FB page: https://www.facebook.com/urban.institute.of.real.estate/
4. PREVAIL
Schedule: December 5-January 24 (8am-5pm)
Venue: Best Western Hotel La Corona Manila, MH del Pilar St. corner Arquiza St. Ermita Manila (near Ermita Church)
Fee: Reserve a slot (with advance copy of review materials) PLUS Avail our Early Bird Rate thru Special Installment Scheme [P1k/session]*
Inclusive of AM-PM Snacks+Lunch, Free-flowing coffee, Seminar Kit and Review Materials.
*Limited Slots Available
For more details, please contact:
PREVAIL Inc.
353-7892 | 400-7423
0908-4146328
0916-3588168
0923-9579482
Organized by:
Mr. Romeo Lacsamana, Jr.
Prime Real Estate Values and Integrated Learnings Inc.
PRC Accredited Service Provider No. 016
Info from: https://www.facebook.com/realestate.PREVAIL/
Posters: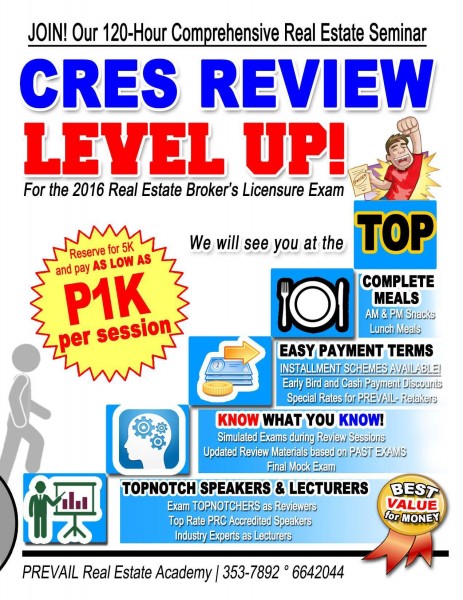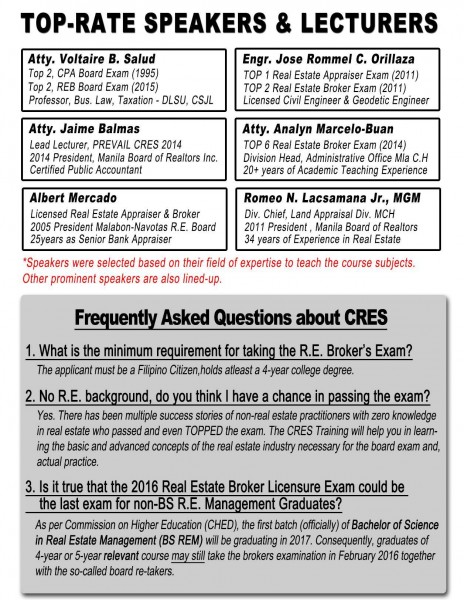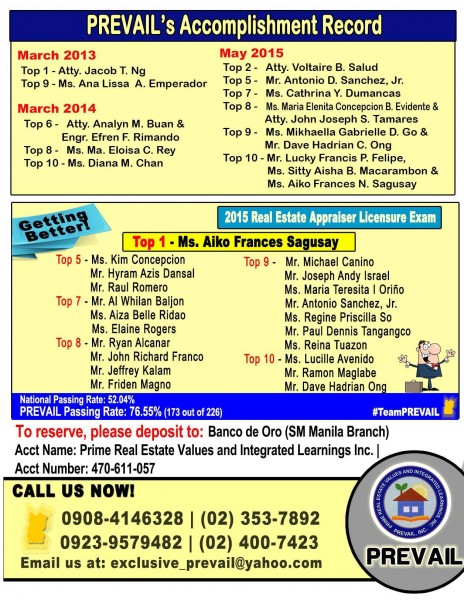 5. CESAR SANTOS
The CES Academy will be conducting review sessions in the following locations: (1) Cubao, Quezon City, (2) Santiago City, Isabela, and (3) Legazpi, Albay.
Info from: CES Academy website
(1) Cubao, Quezon City
Schedule: Fridays to Sundays, 8am to 5pm (Nov. 13, 2015 to January 17, 2016)
Venue: 3rd Flr., Edsa Hall, Regalia Tower, P. Tuazon, Quezon City
Contact: cesacademy@cesson.com.ph; Ms. Karen or Roal at 941-7929; 0917-4996544; 0905-5640811
(2) Santiago City, Isabela
Schedule: Fridays to Sundays, 8am to 5pm (Nov. 20, 2015 to January 24, 2016)
Venue: NFA FITS Center, Santiago City, Isabela
Contact: cesacademy@cesson.com.ph; Ms. Karen or Roal at 941-7929; 0917-4996544; 0905-5640811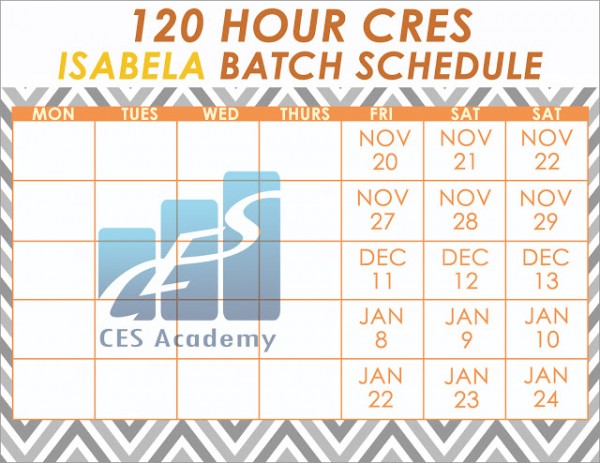 (3) Legazpi, Albay (Bicol)
Schedule: Fridays to Sundays, 8am to 5pm (Nov. 27, 2015 to January 10, 2016)
Venue: Ground Flr., People's Hall, Albay Provincial Capitol Bldg.
Contact: cesacademy@cesson.com.ph; Ms. Karen or Roal at 941-7929; 0917-4996544; 0905-5640811
6. PAREB DAVAO
Schedule: Saturdays and Sundays (Oct. 31, 2015 to January 10, 2016)
Venue: Brokenshire Resort and Convention Center, Madapo Hills, Davao City
Fee: P18,000 full price; Installment: P5,000 downpayment, P2,000 per week
Contact: (082)3006787; 0917-935-3253; 0923-903-0017
Info from: PAREB Davao FB page
Poster: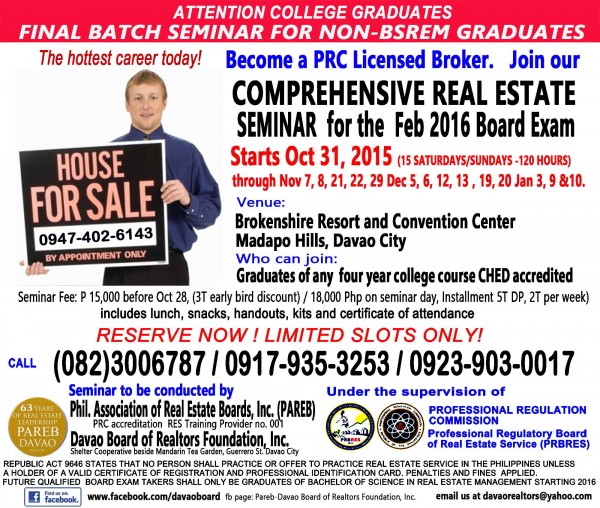 7. NETSCORE REsource Management & Training Center  (NETSCORE)
NETSCORE has announced its final offering of REBUILD (Real Estate Brokerage Integrated Learning & Development seminar), a 120-unit Comprehensive Development Program for prospective Real Estate Brokers planning to take the February 28, 2016 PRC Licensure Exam.
Schedule: Batch 3 Class – December 13, 2015 to February 20, 2016
Venue:  Makati Palace Hotel, P. Burgos cor. Caceres Sts., Makati City
Fee: Regular Seminar Fee is P22,500 but if you pay and register during the Pre-registration period (until Dec. 7, 2015), you can avail of the early bird discounted rate of P19,950 ONLY for installments of just P18,000 for one-time cash payment!! Group discounts for three or more persons and installment plans are also available.
Installment Options:( Applicable for Early Bird Qualifying Registrants only)
Weekly: Pay the P5,000 reservation Fee on or before Sept. 30 [Note: Please confirm if this should be Dec. 7 instead]; (Every Saturday: P1,000-weekly installment)
Contact : 0917-8820657(Globe); 0925-5204063 (Sun) or 414-5262; netscore1@gmail.com
Info from: NETSCORE FB page
Poster: