Congratulations to the new real estate brokers who passed the May 24, 2015 real estate brokers' examination!
I'm very happy to welcome you to the real estate profession 🙂 It's truly an exciting time to be a real estate broker, specially with the current real estate boom, improvements in the Philippine economy, and the ASEAN Integration. I wrote some tips for new real estate brokers way back, you may want to check it out here.
Incidentally, the Real Estate Brokers Association of the Philippines (REBAP), which we are members of, will be holding its 2nd National General Membership Meeting (NGMM) on June 26, 2015 at Le Pavillon, Pasay City. It is being spearheaded by REBAP LMP (Las Pinas, Muntinlupa, and Paranaque), of which we are members. Registration starts at 12:00 noon, fee is P600.
I am very interested in the topic which is "Real Estate Outlook In Light of the ASEAN Integration" so I am going to be all ears for the keynote speech and technical discussion. I heard that Ms. Marissa Benitez of Colliers will be speaking and I will surely be learning a lot since her conclusions will be backed up by data (she is a UP Statistics grad after all and a well-respected valuer). I believe you can ask May, the REBAP LMP secretary, about the details of the event at 0998 572 3308.
How to get your PRC license
The official pronouncement from PRC as of May 28, 2015 is as follows:
"Registration for the issuance of Professional Identification Card (ID) and Certificate of Registration will be on June 15 to 19, 2015. Those who will register are required to bring the following: duly accomplished Oath Form or Panunumpa ng Propesyonal, current Community Tax Certificate (cedula), 1 piece passport size picture (colored with white background and complete nametag), 2 sets of metered documentary stamps and 1 short brown envelope with name and profession and submission of Original Surety Bond, minimum amount of which is P 20,000.00, with the Professional Regulation Commission (PRC)/Housing and Land Use Regulatory Board (HLURB) as Obligee and to pay the Initial Registration Fee of P600 and Annual Registration Fee of P450 for 2015-2018. Successful examinees should personally register and sign in the Roster of Registered Professionals.
The date and venue for the oathtaking ceremony of the new successful examinees in the said examination WILL BE ANNOUNCED LATER."
As of June 2, 2015, the following is the schedule:
"Manila, June 1, 2015 — The Professional Regulation Commission hereby informs all those who passed the May 2015 Licensure Examination for Real Estate Brokers in Manila of the schedule of their initial registration at the PRC Ground Floor, Main Building:
JUNE 15
(Monday)
  ABADESCO, EDGARDO JOSEF JARDINERO
      –
  BUÑE, MARY JOAN ARMADA
JUNE 16
(Tuesday)
  CAALAM, MICHAEL JOCSON
      –
  DYKIMCHING, JAMIE LIM
JUNE 17
(Wednesday)
  EBIO, ROY ADAZA
      –
  LUZURIAGA, LOREN FUENTES
JUNE 18
(Thursday)
  MABALOT, MICHAEL TORREGOZA
      –
  QUIZA, JUSTINIANO JR. GARCIA
JUNE 19
(Friday)
  RABANG, APRIL JOY MATUDIO
      –
  ZYDA, EVANGELINE ACHA
The steps can be found here.
If you want to learn about my experience last 2011, you may refer to my old post.
Surety bond
For your surety bond needs, both for PRC and HLURB purposes, we would like to recommend Rex "Mr. Bond" Felicisimo who has his office just in front of the exit of PRC Manila. We met him when we renewed our real estate broker licenses. We found his rates of P1,500 premium for the P20,000 PRC surety bond and P450.00 premium for the P5,000 HLURB surety bond to be very reasonable. It's definitely a plus that his office is just in front of PRC and you can get your surety bond in minutes. Another plus is that he is also a licensed real estate broker so he understands our needs. I believe he can even send you the surety bond via LBC and you can pay via bank deposit (kindly confirm with him). You can reach him at telephone number +639097729500.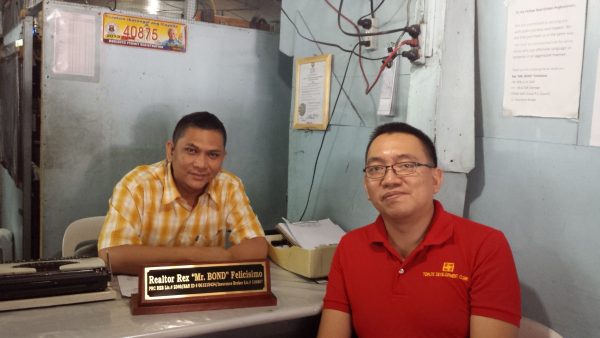 Verification of Rating
If you are interested to know your grades in the exam, you can verify your rating by putting the info in this link (Thanks Sis Eden Dayrit for the heads up!). Check your Notice of Admission for your application number.
I know of some people who I did not expect to fail the exam and I'm sure there are some people who are wondering how they fared. There may even be some who would want to see their exam papers and have them re-checked. Honestly, I don't know if there's a way to request this. If anyone is successful in doing this, please let me know in the comments so that others in the same boat may have a recourse.
Can those who didn't pass the May 24, 2015 exam retake the exam next year?
Since only 5,220 out of 10,370 who took the May 24, 2015 exam passed, it means that 5,150 didn't make it. Can they still take the exam next year even though they did not graduate with a real estate service degree?
Based on the RESA Law and its IRR, I think that if indeed there will be graduates of a Real Estate Service degree come March or April 2016, that will already be a requirement to take the exam. I don't think the law will be amended to accommodate those who didn't make it this year. The most the PRB-RES can do I believe, is to have another real estate broker exam prior to the graduation of the first batch of graduates of the BS Real Estate Management degree (maybe within 2015?). At this point, it seems that those who did not pass have already accepted their fate as I have not yet seen any petition to PRB-RES about another exam. I suggest that concerned parties start a petition with change.org. If a change.org petition was instrumental in prolonging Mary Jane Veloso's life, I believe there is a chance that it may also influence the PRB-RES to have another exam.
In any case, should there be no more exam this 2015, those who didn't pass may still use their knowledge from the real estate broker review course for their own real estate investing journeys. Its value will always be there, it needs only to be maximized.
If they still want to be a licensed real estate broker, they can take the Real Estate Management (REM) degree as a second course, and it is possible that some units from their current college degree will be credited so that the RE service degree will not take four years anymore. You may check the Commission on Higher Education (CHED) Memorandum Order (CMO) No. 28 Series of 2011 for the Policies, Standards, and Guidelines for BS REM, specifically the subjects and units required.
I think a second course is perfect for those who want to have a second career. In our association, I noted that a lot of our members are retirees and are pursuing real estate as their after-retirement career. With life expectancy getting longer, I think real estate as a second (or third, fourth, fifth, and so on) career is as good a career as any.
Other suggested options include:
1. Take the Real Estate Appraiser exam this August 30, 2015;
2. Attend the Build and Sell Mentoring course of Engr. Cruz; or
3. Be an accredited real estate salesperson. This is the best path in my opinion, specially since this doesn't involve additional costs and may enable you to earn immediately.