Here's good news, Pag IBIG has just lowered housing loan interest rates under their End-User Financing program. The new interest rates were shared through the official Pag-IBIG Fund (HDMF) facebook page. Check out the details below.
Based on the photo from their facebook page above, the new interest rates are as follows:
Fixed Period
Interest Rates
3-Year
6.500%
5-Year
7.270%
10-Year
8.035%
15-Year
8.585%
20-Year
8.800%
25-Year
9.050%
30-Year
10.000%
Applicable to End-User Financing Program (Effective June 1, 2015)
Note: The new interest rates shall take effect for new housing loans that will be approved starting June 1, 2015.
We also confirmed the new interest rates when we visited the official website of Pag-IBIG. You will see a banner on their homepage that leads to a PDF file with the new interest rates, as seen below.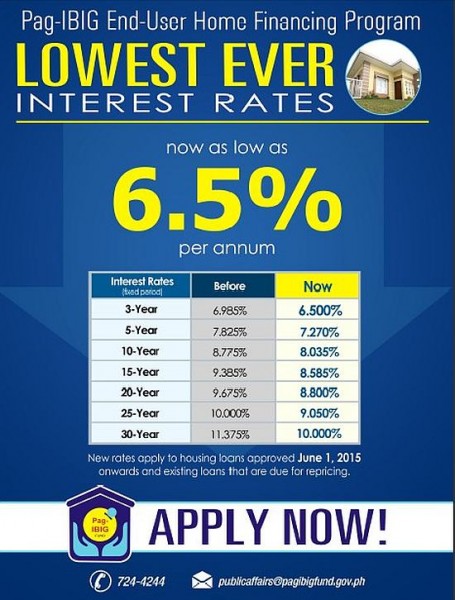 For more information:
If you need more info, please contact Pag-IBIG directly through the following:
Cheapest mortgage rates…
With this update, Pag-IBIG now has the cheapest mortgage rates when the payment term is 15 years and above.
Security Bank still offers the lowest rate for a 10-year fixing period at only 8% per year.
Anyway, you can compare the interest rates from Pag-IBIG and other banks by visiting our home loan rates comparison chart, which we have just updated.
Home loan rates comparison chart updated
With the new interest rates from Pag-IBIG, we have also updated our Home Loan Interest Rates Comparison Chart, which you can access below.
We are also in the process of updating the rates for other banks, so if you know of other banks/lending institutions that have updated their interest rates, please let us know by leaving a comment below. Thanks.
P.S. If you are wondering if It's possible to restructure existing Pag-IBIG housing loans with their lower interest rates, the answer is Yes (I have actually done this!). I will tackle this in another article… please watch for it!