The RCBC Asset Management Group will be having another Mega Property Auction of foreclosed properties located in Metro Manila and North and South Luzon. This will be held on June 25, 2011, Saturday, 9:00am, at the at the L.S. Virata Hall, 2nd Floor, Development Academy of the Philippines, San Miguel Avenue, Pasig City, Philippines.
Yes, this auction will be held at the same time and venue of the RCBC Savings Bank Dream Buys Auction, which means this is a joint auction of RCBC Savings Bank, RCBC, and JPL.
RCBC Auction details
Show money – Php25,000 show money is required per property in the form of cash or manager's check or MC.
Payment terms – Aside from cash, properties can also be acquired for as low as 10% downpayment, with the balance payable in 10 years, at a fixed interest rate.
Brokers / referrors – Brokers / referrors are welcome and are entitled to receive commission.
The "fine print" – "All properties are on an "as is where is basis". Properties and prices are subject to change without prior notice. The bank reserves the right to withdraw any of the property before the auction. Inadvertent misprints shall not alter the property's factual condition nor shall they be deemed as misrepresentation of the property. Please confirm attendance to ensure seats and parking."
Please refer to the auction announcement below for more details.
Download the complete list of RCBC and JPL foreclosed properties
Just click on the thumbnail image below to download a copy of the complete list of RCBC and JPL foreclosed properties for sale in the Mega Property Auction on June 25, 2011.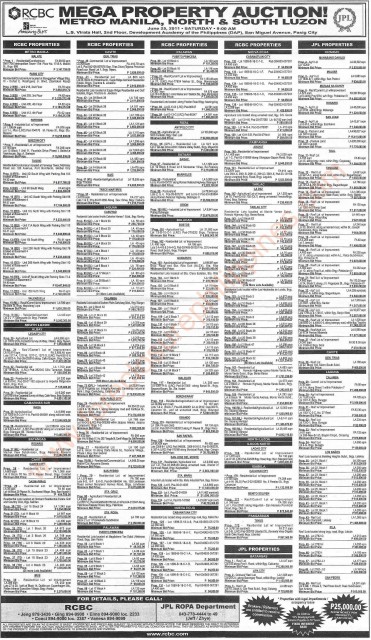 Source: Manila Bulletin, June 19, 2011 issue, page G-5
Interested?
For more details, please call RCBC or JPL directly through the following:
RCBC
Jeng 878-3436
Ging 894-9908
Elma 894-9000 loc 2233
Conci 894-9000 loc. 3387
Vanesa 894-9099
JPL ROPA Department
043-778-4444 to 49 (Jeff / Zhye)
Happy hunting!
~~~
To our success and financial freedom!
Jay Castillo
Real Estate Investor
PRC Real Estate Broker Registration No. 3194
Blog: https://www.foreclosurephilippines.com
Follow me in Twitter: http://twitter.com/jay_castillo
Find us in Facebook: Foreclosure Investing Philippines Facebook Page
Text by Jay Castillo and Cherry Castillo. Copyright © 2011 All rights reserved.
Full disclosure: Nothing to disclose.
PS. Facing foreclosure? Tired of being a landlord? Need to liquidate your proprty because you need money? Click here to sell your property fast!