Imagine this, because of blogging and income from Google Adsense, you were able to buy a foreclosed house. That would be amazing right? But what if I told you that someone has already done that for real? Now that would be awesome!
You may be thinking that it's me but no.  While I do blog about buying foreclosed properties, and my site also has adsense, my online income is not yet that big, and it was actually someone else who bought a foreclosed house through blogging. Please continue reading to find out who.
I first read about the house that blogging bought way back in December 2008. It was written by James of Pinoy Money Talk.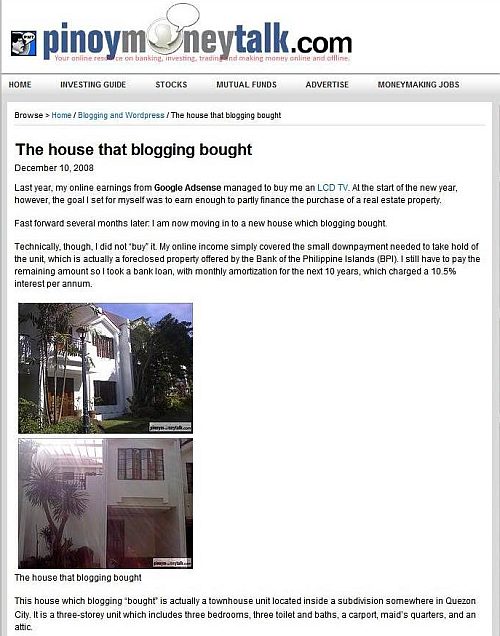 Checkout the entire post here!
As mentioned by James, the house that blogging bought was actually a foreclosed property from BPI.  He accumulated enough adsense earnings to acquire the townhouse. No, his adsense earnings were not enough to buy the townhouse in cash, but it was enough to cover the downpayment. Nice!
Come to think of it, if James had enough adsense earnings for the downpayment, then it's obvious he will have more than enough to cover the monthly amortizations.
The question is, how did he do it?
I guess the question running through your mind right now is – how did he do it? How did James earn enough money from Google Adsense to be able to make a downpayment for a foreclosed property?
Actually, Professor James Ryan Jonas, who is the founder of pinoymoneytalk.com, will be discussing how to make money online through Google Adsense and other income streams during the Money Summit and Wealth Expo 2011 on July 22-23.
This is just one of the reasons why I look forward to attending the Money Summit this year. I consider James as one of my mentors when it comes to blogging and earning online. Simply put, I am a big fan!
Who else wants to learn how to create another semi-passive income stream through blogging? Raise your hands!
I know I would!
In fact, I used a combination internet marketing (blogging and affiliate marketing to be exact) and real estate investing to help me "retire" from the corporate world.
This time around, I hope to learn more about making money online from James so I can level-up my online earnings.
Anyway, I will  really be at the Money Summit and Wealth Expo because, aside from wanting to learn from James, I will be part of a panel discussion on day 2 of the event.  If you are attending the Money Summit and Wealth Expo 2011, I look forward to seeing you there!
Who knows, we just might learn how to make enough money online to buy foreclosed properties!
Happy learning!
~~~
To our success and financial freedom!
Jay Castillo
Real Estate Investor
PRC Real Estate Broker Registration No. 3194
Blog: https://www.foreclosurephilippines.com
Follow me in Twitter: http://twitter.com/jay_castillo
Find us in Facebook: Foreclosure Investing Philippines Facebook Page
Text by Jay Castillo and Cherry Castillo. Copyright © 2011 All rights reserved.
Full disclosure: Nothing to disclose.
PS. I am also thankful to James for creating a list of the Top 100 Popular Blogs in the Philippines where www.foreclosurephilippines.com is currently at the 29th spot as of June 2011.
PPS. Today, July 15, 2011, is the last day to avail of pre-registered rates for the Money Summit and Wealth Expo 2011. Click here NOW to learn more and register.