Following their auction held last November 20, 2010, the Star Group will be having open auctions of their big ticket properties located in the Greater Manila Area (GMA), Luzon areas, and Visayas areas.
The GMA and Luzon Big Ticket properties open auction will be held on November 26, 2010, at the Mandarin Oriental Hotel, Makati City, Philippines. Registration starts at 10:00am and the auction proper starts at 11:00am.
The open auction for the Visayas Big Ticket properties will be on November 27, 2010, at the Crown Prince Hotel & Towers, 5th floor, Tower 1 Fuente Towers, Osmena Blvd., Sta. Cruz, Cebu City, Philippines. Registration starts at 10:00am and the auction begins at 11:00am.
Download the complete listing
Click here to download the complete listing of the Big Ticket Properties for open auction in PDF format or just click on the images below to download a copy in JPG format.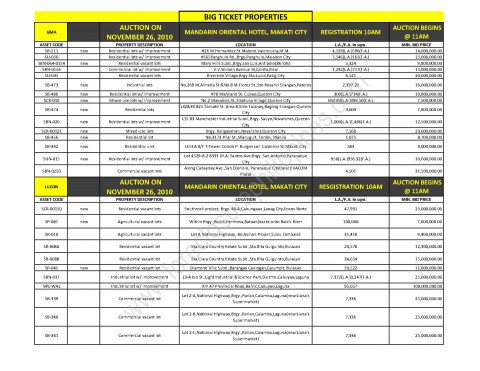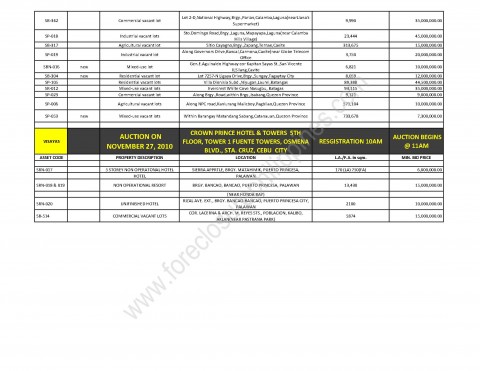 Other listings available
Here are other listings which are also from Star Properties
star-north-luzon-nov-27-2010(PDF)
star-visayas-november-27-2010(PDF)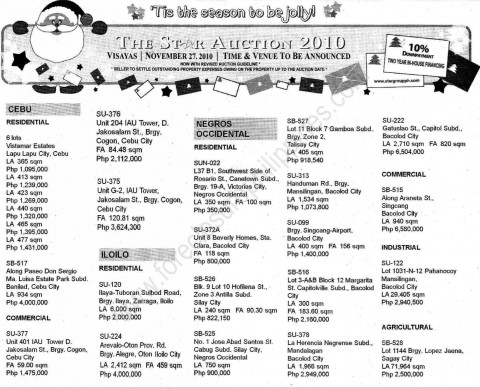 Happy hunting!
To our success and financial freedom!
Jay Castillo
Real Estate Investor
Real Estate Broker License #: 20056
Blog: https://www.foreclosurephilippines.com
Follow me in Twitter:http://twitter.com/jay_castillo
Find us in Facebook:Foreclosure Philippines facebook page
Text by Jay Castillo and Cherry Castillo. Copyright © 2010 All rights reserved.
PS. Don't be the last to know, subscribe to e-mail alerts and get notified of new listings of bank foreclosed properties, public auction schedules, and real estate investing tips. Mailbox getting full? Subscribe through my RSS Feed instead!