I still can't believe that as I write this, it has been more than 2 years since I last published a post auction listing. I was thinking to myself that since I have been attending just about every auction out there lately, I might as well start publishing post auction listings again. Let me start with the post auction listing for the 184th Special Public Auction of UnionBank foreclosed properties held last April 28, 2012.
What is a post auction listing?
If you have been following this blog early on, you already know what a post auction listing is. But for the benefit of those who don't know yet, a post auction listing is simply a blog post where I share an updated listing which includes the foreclosed properties that were not sold during the auction, and are still available for negotiated sale.
What happened during the auction
I was early this time as EDSA traffic was relatively light. It seems the MMDA and Maynilad decided not to do any road maintenance or diggings unlike past Saturdays… thank God!
Because I was early, I had a chance to chat with fellow real estate investor friends of mine, who just happened to be there as well, and were about to bid on a foreclosed property.
Tip: Always be early when attending auctions. There's no point in stressing yourself out because you were late. By being early, you also have spare time to mingle and talk to others who are also present (other bidders, real estate investors, real estate brokers, bank officers, etc.), aside from having ample time to register, review the auction guidelines, and get clarifications if needed.
I attended the auction mainly because someone inquired about a couple of properties in UnionBank's listing and I was there just in case he decided to attend and would need my assistance. Anyway, he wasn't able to make it to the auction, but I hope he gets to read the post auction listing below for his reference.
I also had a guest who attended as an observer to learn how a foreclosed property auction goes. Speaking of observers, I also noticed a number of TRP seminar attendees who were there to observe the auction proceedings.
I noticed this was a very well attended auction, the venue was quite full, and there were a lot of interested bidders. As usual, the auction went smoothly, it was very well organized, and it was finished in less than an hour. Nice!
List of remaining foreclosed properties
The list of remaining foreclosed properties can be downloaded below (just click on the image). Please take note that this list is based on my notes of the auction proceedings. Bear in mind that interested parties may have already submitted offers the following Monday after the auction. All are advised to confirm availability of the properties on the list.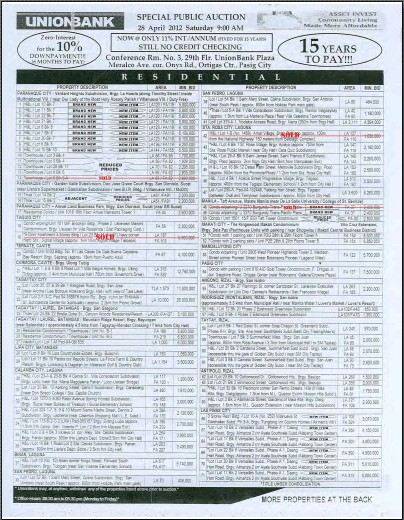 How to submit offers
If you are interested in submitting an offer for any of the available foreclosed properties on the list, you may submit your offer prior to the next auction of UnionBank (I am still waiting for the next auction date). All offers are subject to the bank management's approval.
I have a recommended template interested parties can use to submit an offer, but I cannot publish it here as I have not yet obtained permission to do so. If you need assistance with submitting an offer, or if you have any questions, just let me know by leaving a comment below.
The "fine print"
Keep these in mind when submitting an offer:
Commercial properties are subject to credit approval

CWT is for the account of the buyer

The sale is on an "as is where is" basis

Misprints are not misrepresentation of any property

UnionBank may, at anytime, withdraw any of the properties listed above
Happy hunting!
~~~
To our success and financial freedom!
Jay Castillo
Real Estate Investor
PRC Real Estate Broker License No. 3194 
Blog: https://www.foreclosurephilippines.com
Connect with us – Facebook | Twitter | Blog RSS | Google +
Text by Jay Castillo and Cherry Castillo. Copyright © 2008 – 2012 All rights reserved.
Full disclosure: If a buyer will acknowledge me as their referror when an offer is submitted, I may receive referral fees (at no additional cost to the buyer). Thank you in advance for supporting our hard work and this website!
P.S. – Thanks again to Mr. Mon Castro, Mr. Edzel Babas, Mr. Lance Yadao, Mr. Ronald Panganiban, Ms. Jennifer Manuel, and the rest of the nice people from UnionBank for the warm reception, as always.
P.P.S. – Don't forget to subscribe to get alerted through email when new and updated listings of foreclosed properties are published, just like this one. 😉