How do you buy/avail Pag-IBIG acquired assets under negotiated sale? I'll show you how in this step-by-step tutorial.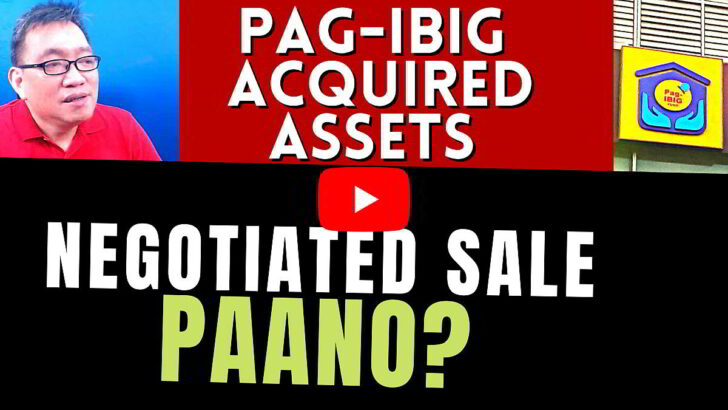 Note: The video language is in Filipino (Tagalog) but English closed captions/subtitles are also available. You can also refer to the video transcript in english below.
For more foreclosed property investing tips and updated listings, subscribe to my youtube channel:
👉 https://www.youtube.com/channel/UCY2hDvnNaJtxp-ZTjMhPIRw?sub_confirmation=1
Links mentioned in the video
Pag-IBIG Official website for their acquired assets/foreclosed properties for sale:
👉 https://www.pagibigfund.gov.ph/acquiredassets.html
My compilation for Pag-IBIG acquired assets/foreclosed properties listings:
👉 https://www.foreclosurephilippines.com/pag-ibig-foreclosed-properties-for-sale/
My Classifieds Database of foreclosed properties in the Philippines (with more than 20,000 properties):
👉 https://www.foreclosurephilippines.com/classifieds/
Search for foreclosed properties in the Philippines per City / Province
👉 https://www.foreclosurephilippines.com/locations/
Timestamps
00:00 Intro to process for buying Pag-IBIG acquired assets under negotiated sale
00:14 Step 1a – Search in Pag-IBIG's official website (PDF files)
01:20 Step 1b – Search using classifieds database of foreclosed properties
02:58 My goal: create a searchable database of Pag-IBIG acquired assets
03:12 Step 2: Inspect properties and more due diligence
04:21 Tip: Compare w/ similar properties for sale to know if the price is really cheap
04:48 Check arrears (unpaid utilities and HOA/Condo dues)
05:33 Check the title/tax declaration
05:42 Lis Pendens example
05:53 Pag-IBIG's listings often include the title number
06:03 Why/how to get a certified true copy of the title
06:19 What to do if a property is "Occupied"
06:28 "Unoccupied" properties can have illegal occupants
06:48 Step 3 – Submit offer at the designated dropbox – Need to register
07:28 Use official Pag-IBIG Offer to purchase form
07:47 Payment modes and the corresponding discounts
08:03 No need to pay reservation fee when submitting offers
08:21 A representative can submit offer for you
08:40 Step 4 – Determination of winning offers (opening of envelopes)
08:52 Witnessed by COA representative (buyer attendance is optional)
09:24 Criteria for winning offer
09:41 How to know if you won (SMS, email, website)
09:53 Winning offers – required to pay the non-refundable reservation fee
10:06 5% downpayment required with payment mode is cash/short term installment
10:14 Step 5 – Receipt and signing of Deed of Conditional Sale (DCS)
10:37 Step 6 – Submission of signed DCS
10:42 Who will shoulder the cost of notarization?
10:48 Tip for saving on notarization fee
10:56 Other requirements (pause the video to view)
11:04 Step 7 – Start of monthly payments
11:15 If cash payment mode, 30 days is the deadline to pay balance
11:26 Something is missing in the Steps: When can you Move-in?
11:55 Pag-IBIG will not assist buyers with moving-in
12:19 Importance of avoiding "Occupied" properties
12:34 When can you move-in?
12:56 Got questions? Ask them in the comments
13:04 How about properties for sale via public auction?
13:10 Full disclosure
13:14 Pag-IBIG no longer allows brokers/agents to sell their acquired assets
Transcript
So how do you really buy Pag-ibig's acquired assets under negotiated sale?
Let's go from start to end, when you to move-in.
So I'll explain the process to help you avoid problems, and you'll also know when you have cashout.
So let's start.
Step 1
Go to the official website of Pag-IBIG, this pagibigfund.gov.ph/acquiredassets.html
I will only discuss properties under negotiated sale. there it is …
Let's find the one in NCR, as if I'm the one looking … what is the latest in NCR right now?
I will open it and then I will see … Hey there's Metro Manila!
So I will look here. Here are the lists and when I find properties that interest me, I can move on to the next step.
But for example, I'm only looking for QC, there are many lists.
There is also another here, let's see.
So this one too, I have to check them all.
I will go through the PDFs one by one so that I can see all properties I want.
Actually I already downloaded a lot of PDF files for NCR. So think about that, I have to open all of them one by one just to find, my example, QC, It's difficult to search.
But as explained in a previous video, I have made an easier way to search for acquired assets from Pag-ibig. I'll make a quick demo.
So I am now on my website. I built foreclosurephilippines.com, this is the tool I am referring to.
It's like this … lets say a PDF file has clear text, and the tables have good formatting, I can upload its content to my database.
Let's see what's inside the database. Going back to my example, I only want properties in Quezon City. To find them, I'll just type "Quezon City" and then hit search.
There! Here are all properties in QC and for example, I want to avoid those that are "occupied", I have advanced search, "exclude with occupied / no possession status", I click search again … there you go, the occupied are gone …
Next, I want to see the cheapest. So I click on the "cheapest first" so I can them first. So here they are Violago Homes Parkwoods, Php474,000 only. This is for public auction …
Oh, it's public bidding. For these, I will cover them in my next video, so don't forget to subscribe.
This one is for negotiated sale, it's a condo in Smile Citihomes. I notice Smile Citihomes have cheap prices… but I'm not familiar with it … So there, that's how easy it is to search using the database I made.
Remember guys, the contents of the database will be change because I will add new properties and remove the old ones.
So when you search the database after a month, the results will be different. Now you see October listings. On the Pag-IBIG's website, they used to have searchable listings, you can even search according to Subdivision. My database is the closest I can do. Maybe in the future I can also categorize by subdivision.
So that's it, that's the tool I made, I hope you'll find it helpful, so let's go back to the next step.
Step 2
You need to inspect the properties to do what's referred to as due diligence. Always remember, the properties from Pag-IBIG are for sale on an "as is, where is" basis.
What does that mean?
There are no warranties, you cannot say "Hey Pag-IBIG, there's a problem with this property, you should fix it". You can't do that.
Or regarding the title or documents, if there's a problem, when you buy it, the problems come with the property.
If there are illegal occupants, you will have to eject them. That is difficult to do, so you really need to inspect the property.
Let me give you some tips when inspecting: Of course, in these times, it is necessary to use a face mask, face shield, observe social distancing, just common sense. So don't be careless, be careful.
Secondly, for Pag-ibig properties, you really need to inspect them if you're a serious buyer, there are usually no pictures, they rarely release pictures, except for those they call Prime properties.
Because their pictures look nice, they can be tempting, but even so, you still need to inspect them in person.
What do they really look like?
Are they just beautiful in the pictures?
You can estimate the cost to repair for those properties or or if they have to be demolished already, you will only know if you visit them.
When you inspect the property, not only do you inspect the house, you should also inspect the neighborhood.
Is it flood-prone?
What if you are familiar with fault-lines there… maybe the house is in the middle of a faultline.
Maybe at night, the place is so dark and very dangerous.
Or maybe it's beside a river, near the edge
Or maybe it's beside a slaughter house or funeral home, things like that.
You will only know that if you inspect the property.
How about the arrears?
What are arrears?
Are there any unsettled bills that must be paid from Meralco, Manila water or Maynilad, or the Home Owners Association, at the HOA. Because, for all of those, someone will have to pay, and usually it's the buyers.
I remember one time, I encountered huge HOA arrears, more than Php70,000 for a bank foreclosed property. It turns out the selling bank won't shoulder arrears at the time so I negotiated with the HOA myself. If I remember correctly, from Php71,000, I got it down to about half, they waived interest, surcharges, penalties … They waived them when I asked. You can do the same, just in case.
I believe Pag-ibig does not shoulder arrears, it will be the buyer. Next, this is very important, you also need to check the title, and the tax declaration, you call that … basics of due diligence.
You need to check if there are problems, is there a pending court case? They call it "Lis pendens". If there is a Lis Pendens annotated on the title, then there is a court case, and if you buy the property, you will takeover the court case.
Thankfully, with Pag-IBIG listings, there is usually a column with the title number. So, you can go to Registry of Deeds, armed with the title number, and the property address on the list, you can request for a certified true copy of the title. Check if there are problems.
Just like what I said, if you buy a property on an as is where is, any court cases will come with it. My advice, just avoid properties with title problems, just look for another property.
When it comes to illegal occupants, it should also be on the list Pag-IBIG. Just keep this in mind, if a property is occupied, just avoid it and find another property.
For those classified as unoccupied, it does not follow they are okay, you still need to inspect them to be sure.
Sometimes, even if a property is listed as unoccupied, they can become occupied down the road. Because they usually have no caretaker, illegal occupants may enter the property and live there, and if you buy it, you will have to eject them.
If I were you, I will just avoid them.
Step 3
Submit your offer to the designated dropbox. No, you cannot just drop the envelope. You need to register first. For eample, here in NCR, the registration is at the JELP Building on Shaw Boulevard.
I heard that with a lot of people submitting offers for properties under negotiated sale, there is already a queue early in the morning, so be early.
Because, in order to submit an offer, you must first register. And, there is a cutoff, usually only until 4PM.
The period of acceptance of offers last for several days. But what if it's last day, and it's past 4:00 pm, they will no longer accept your offer.
Of course, you should always use the official offer to purchase form of Pag-IBIG. I will open this for you on the screen so you'll see.
You can download it from pag-IBIG's website. Another option is to get a form when you register, for sure they will have forms available there, and you can fill-up when you register.
But it would still be better fill up the form before you go there so it will be faster.
Next, you will have to choose a payment mode. There are three payment modes.
Cash, Short Term Installment, and Long Term Installment.
If Cash, you get 30% discount.
For Short term installment, 20%.
For long term installment, it's 10% discount.
By the way, when you submit an offer, you are not yet required to pay the Php1,000 reservation fee for properties under negotiated sale.
When will you pay the reservation fee?
When you are declared the winning buyer by Pag-IBIG, then you will have to pay the reservation fee. So there is no cashout when submitting offers.
What if you can't go to regsiter and submit an offer? You have a job, you can't line up to submit an offer, a representative can do this for you.
All you need is an authorization letter or SPA … They also have an official form, include the requirements, photocopies of the buyer's valid ID, your ID, and your specimen signature.
Step 4
The determination of winning offers, so Pag-ibig will open the sealed envelopes to determine who the winner is.
This is witnessed by a Commission On Audit representative, to deter anomalies. Buyers' attendance was made optional due to pandemic. But if you ask me, go anyway if you want to know right away who the winner is.
It is also possible not to attend. Just wait for the Notice Of Award if you are the winner, or check Pag-ibig's website.
What I don't like with this is the waiting, unlike if you attended the opening of offer, you'll know right away.
If you win, okay. If you lose, just move on. Find another property.
Now how do they determine the winner?
The highest offer price will be declared the winner.
What if there are duplicates?
For example, two identical highest offers?
As per latest guidelines, it will be decided via toss coin.
If there are 3 or more identical highest offers, they will draw lots.
The winners will be notified via text message and email. They will also post the winners on Pag-IBIG's website, I'll show it to you on the screen.
When you win, that's the time you will have to pay the non-refundable reservation fee. The deadline is within 5 working days from receipt of the notice of award, which is the text message or email.
By the way for cash or short-term installment, a downpayment equal to at least 5 percent of the net selling price is required.
Step 5
Receipt and signing of Deed of Conditional Sale. So you'll receive it, if for example your offer won, they'll give you the Deed of Conditional sale …
Here is my advice, you before you sign, of course read it first. Read and understand, if you have a question, ask immediately before you sign. Don't sign it only to have problems later , "I wasn't aware of this".
Step 6
After signing, submit the deed of conditional sale to Pag-ibig. Of course, it has to be notarized.
I remember when we bought foreclosed properties from banks, after a signed contract, we, the buyers, have the contract notarized, and then we submit to the bank.
For Pag-IBIG, it should be the same, but you need to confirm. When you submit the deed of conditional sale, you will have to include all other requirements.
Depending on what payment mode you chose, the requirements will be different.
Step 7
You will start paying your monthly.
When?
30 days after you sign and submit the deed of conditional sale.
If it's a cash payment, 30 days will be the deadline for you to pay the balance in full.
So those are the 7 steps, which is based on the steps on Pag-ibig's website. But it seems something is missing.
When will you move in?
I was looking for this because it was not in the steps on the website… but I found it in the guidelines.
So here is what I found …
But before I forget, if you found this helpful, the step by step I made, please "Like" the video so that more people will see and get help from it, please share as well.
If you want more updates, subscribe, and click the bell to get notified when I upload a new video.
Okay, so how about move-in?
I found details within the guidelines, here's what it says
"Winning buyer shall take possession of the property without seeking assistance from the fund ".
It's actually surprising because that means, it's like they told you to move-in but don't bother asking for assistance from the Fund, Pag-IBIG.
This highlights the importance of what I always say when you find an occupied property, don't eve think of buying it, because, as it is written, you cannot expect any help from pag-IBIG.
You can buy if there is no occupant, you should have no problems with moving-in.
When can you move-in?
Based on the guidelines, after you submit all requirements and the signed deed of conditional sale, move-in follows.
Remember, it's up to you to move-in.
So when you move in, what will you do?
You can lock everything, if there is no door, you have to fix the door, and the locks, of course, so you can secure the property.
Got questions?
If you have questions, if you want to clarify something, just comment it below.
Either I'll answer here, or I'll make a new video.
Maybe your question is about properties for public auction, what are the steps?
How to buy? How to avail?
I will cover this in my next video.
Just full disclosure guys, I am not selling to you acquired assets from Pag-IBIG. Actually, they no longer allow it, whether licensed broker or agents, they are not allowed to sell their acquired assets.
When it was still allowed, we were able to attend an orientation when Pag-ibig was still looking for brokers to help sell their assets, so we're familiar with the process …