Just like the DBP acquired assets in my previous post, these bank acquired properties from the Land Bank of the Philippines are also for sale on CASH BASIS through a public sealed bidding. The deadline for the submission of sealed proposals will be on June 15, 2011, 1:00pm, at the Land Bank La Union-Ilocos Lending Center, San Fernando City, La Union, Philippines.
As stated on the Invitation To Bid, sealed proposals require a 10% bid bond. Furthermore,  the sale of the properties shall be on an "AS-IS-WHERE-IS" basis, and prospective bidders are enjoined to inspect the listed properties before entering their bids. In other words, interested parties are reminded to do their due diligence.
Invitation to Bid
Please refer to the Invitation To Bid below which contains a list of all of the bank acquired properties for sale, a list of LandBank branches where bidding forms are available, and other details.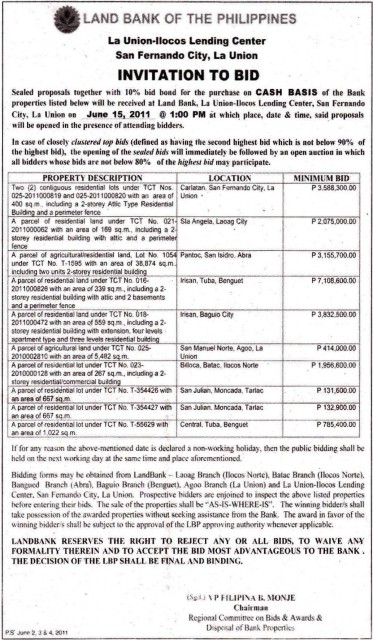 This invitation to bid was also published in the Philippine Star last June 2-4, 2011.
Reminders
Since the invitation to bid does not indicate any contact details, I suggest that interested parties direct all inquiries to the LandBank branches as indicated on the invitation to bid.
Happy hunting!
~~~
To our success and financial freedom!
Jay Castillo
Real Estate Investor
PRC Real Estate Broker Registration No. 3194
Blog: https://www.foreclosurephilippines.com
Follow me in Twitter: http://twitter.com/jay_castillo
Find us in Facebook: Foreclosure Investing Philippines Facebook Page
Text by Jay Castillo and Cherry Castillo. Copyright © 2011 All rights reserved.
Full disclosure: Nothing to disclose.
PS. Facing foreclosure? Tired of being a landlord? Need to liquidate your proprty because you need money? Click here to sell your property fast!