land bank foreclosed properties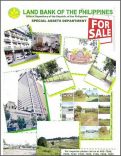 The Land Bank of the Philippines (LANDBANK) was one of the Government Financial Institutions (GFI's) who participated in the recently held Housing Fair 2013. The listing of LANDBANK foreclosed properties ...
Read More › Just like the DBP acquired assets in my previous post, these bank acquired properties from the Land Bank of the Philippines are also for sale on CASH BASIS through a ...
Read More › LandBank foreclosed properties/acquired assets are up for sale through a public sealed bidding on December 16, 2010, at the 30th Floor, LandBank Plaza, Malate, Manila, Philippines. Sealed bids and the ...
Read More › As promised, here is the first installment for listings of foreclosed properties that I got from the recent 4th Housing Fair (2009). For this installment, I will be featuring the ...
Read More ›