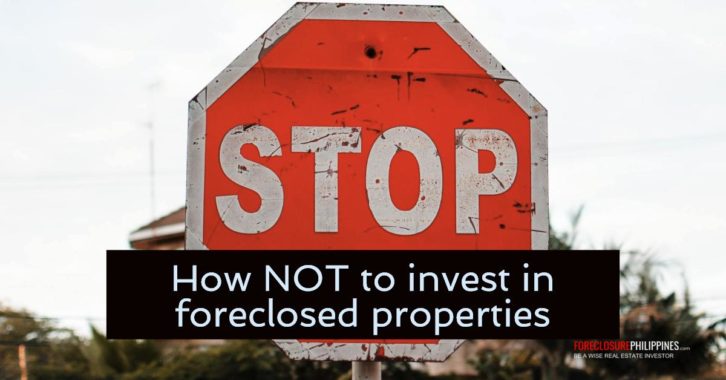 Trace Trajano recently posted a story about Anna, who bought a property in a foreclosure auction in the US. Take note that some of the things in the story might not be applicable here in the Philippines. Nevertheless, there are lessons here that are applicable to real estate investors  no matter where our locations may be. Before that, here's the story of Anna…
Update dated June 2, 2011 – After much thought, I have decided to leave Trace Trajano's local coaching program and my role as one of the local coaches. I would also like to inform everyone that I am not part of Trace's other programs.
For those who don't know, I was once a student of Trace, and I was also part of the team that won his first apprentice challenge, although I decided to leave the RYP team last September 2010. I became one of the local coaches as part of the now defunct Terrific Trio University. I also helped promote his seminars in the past including TRQ 1.0, TRQ 2.0, TRQ Cebu, his quick cash seminars, and the last one was TRQ 3.0.
It has also come to my attention that some materials that Trace used in marketing some of his seminars might make it appear that I am one of his partners. I would like to make it clear that I am not a business partner of Trace Trajano.
Things did not turn out as planned, but lessons have been learned, and I feel it is time for me to move on. ~ end of update ~ [/su_note]
The Story of Anna
Posted by Trace Trajano on October 15, 2009 at 8:31am

Let me tell you the story of Anna…

Anna excitedly attended a foreclosure auction because she read a book saying that you can get a good deal at auctions.

She bid at the auction and won – wow. "Now I am going to be rich", she told herself.

She needed 10% down – so she withdrew her life savings and use that as downpayment. Her credit is very good so she was able to qualify for a loan. She pulled it off.

Now it's time to rent out the property.

BUT, there is a problem. In FORECLOSURE auction, there is very limited time to inspect the property. In fact, she bought it because the outside looks good and she figured the inside should be in good condition also.

There is termite damage at the joints and it's an additional $5,000 repairs that she couldn't afford. She pulled out her credit card and got a cash advance – payable with 24% interest. She figured she can rent the property for $1,000 a month so that will more than cover it, right?

She got a tenant. She did not pre-screen her properly. She got a bad tenant. A tenant from hell in fact. Her tenant only paid the first month's rent and now does not return her phone calls. She optimistically said, "No problem – I'll get her evicted". Her tenant from hell is a professional tenant. He (the tenant from hell) accused Anna of being a slumlord. The eviction was delayed.

Two months of no income…then three months. Now Anna had to skip paying her credit card because she cannot even afford the minimum payments. Anna had to fire her eviction attorney because he couldn't handle the eviction against the professional tenant…
Real estate investing lessons learned
Let me try to dissect Anna's story and share lessons learned with regard to real estate investing.
1. Invest for the right reasons
After Anna won the auction, one of her immediate thoughts was "Now I am going to be rich".  There really is  nothing wrong with wanting to get rich, who doesn't! However, I can't help but feel that money was her biggest motivating factor.
Besides, once you win your first auction, becoming rich is usually the last thing on one's mind, at least that's how I often felt when I won on my bids during auctions.
I usually had thoughts like "Oh no, I won… what did I get myself into?", "Now you've got a lot of work ahead of you Jay…", and "I did my due diligence right, so this deal should work!". That's why I can't help but feel there's something lacking here based on the story because her focus was on the money.
Just remember that if you are going into real estate investing just for the money, something is definitely missing! Personally, I always try to keep in mind that my decision to go into foreclosure investing is not really just about the money, it's about financial freedom!
2. Don't risk everything when investing!
Anna withdrew her life savings and used that as down payment. Don't ever do this! It is never a good idea to risk it all just for one deal!
You should at least have an emergency fund intact somewhere safe. I don't believe in putting everything on the line like my entire life savings. I would rather set aside money for the specific purpose of investing and only use that.
I refer to this as my "Financial Freedom Account" or FFA which is just one of my "money jars" which I learned from T. Harv Eker. You can read more about it here: Manage your finances by becoming your own Chief Financial Officer.
Some of you may be thinking "But maybe Anna did not have enough money so she needed to use her life savings?". Just a word of advice, if you cannot manage your money to set aside enough money to put down for a real estate investment, then you are not yet ready to start investing.
There should really be no need to use your entire life savings if you are able to manage your finances well. I believe that financial literacy is a prerequisite to real estate investing.
3. Always do your home inspections as part of due diligence
Anna bought the property because the outside looks good and she figured the inside should be in good condition also.
Argh! Never buy a property without first doing a thorough inspection and getting estimates from reliable contractors.
I made this mistake once, but I was lucky that property's  after repair value (ARV) was more than enough to cover the actual repair cost that I underestimated by Php100,000.
In Anna's case, had she done her inspections well, she could have discovered the termite damage and avoided buying the property, since she would know she could not afford the termite damage repair.
Actually it would be okay to buy properties that have similar problems as long as they are discovered before purchasing the property, the costs are considered and justified after analysis, and the additional costs are reasonable and you can actually afford them.
With regard to the very limited time to inspect properties being sold in foreclosure auctions, this is very true, even here in the Philippines. This is the reason why I would rather buy bank foreclosed properties or bank acquired assets, which are also often referred to as ROPOA or ROPA.
In contrast, properties being sold in foreclosure auctions are those that have just gone through foreclosure proceedings, they are often for sale on cash basis only, it is hard to inspect these properties as they are often still occupied, and they still have a 1-year redemption period, just like tax foreclosures.
My point here is this, foreclosure auctions are different from bank foreclosed property auctions, although in general, both are often referred to as "foreclosures".
4. Always Pre-qualify tenants
Anna did not screen her tenants well. Without pre-qualifying tenants, you are inviting trouble. By Pre-qualifying tenants, you basically want to ensure that your tenants not only have the capacity to pay, but are also good payers. A simple interview or a questionnaire and some background checks would have helped her avoid that tenant from hell.
Anna's problems snowballed into something she could no longer handle, but the sad thing about it is, all of these could have been avoided had she done her homework. This is really one story which outlines how one should NOT invest in foreclosures. All real estate investors should learn from it as it contains perfect examples of what NOT to do.
Did I miss anything? Any reactions? Please share your comments below. Thanks!
—–
To our financial freedom!
Jay Castillo
Real Estate Investor
Real Estate Broker License #: 20056
Blog: https://www.foreclosurephilippines.com
Text by Jay Castillo. Copyright © 2009 All rights reserved.
P.S. – If you are a new visitor, please start here to learn more about foreclosure investing in the Philippines.
P.P.S – If you feel that anyone else you know might benefit from this post, please do share this to them and don't forget to subscribe to e-mail alerts and get notified of new listings of bank foreclosed properties, public auction schedules, and real estate investing tips.