 There will be another foreclosure auction sale of tax delinquent real properties in Quezon City on April 6, 2010, at 10:00am, at the main entrance of the Tax Payer's Lounge, ...
Read More ›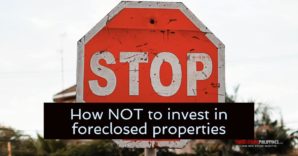 Trace Trajano recently posted a story about Anna, who bought a property in a foreclosure auction in the US. Take note that some of the things in the story might ...
Read More › The Office of the Provincial Treasurer of the City of Antipolo recently published a notice of sale of tax delinquent properties. The notice of sale for the tax delinquent properties ...
Read More ›