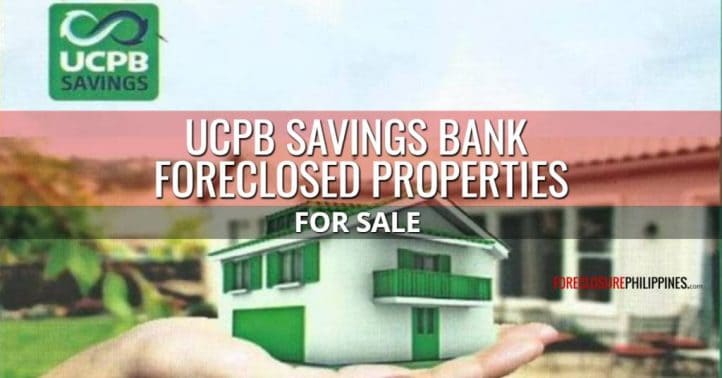 This is my first time to feature listings from UCPB Savings Bank, and this has a total of 83 foreclosed properties for sale. I received this last November 9, 2017. More details below.
Please take note that this list comes from UCPB Savings Bank, which is different from UCPB.
Anyway, these UCPB Savings Bank Foreclosed foreclosed properties are for negotiated sale, which means you just have to submit an offer (no need to go through a public auction). Keep in mind that offers are still subject to bank management's approval.
Refer and earn!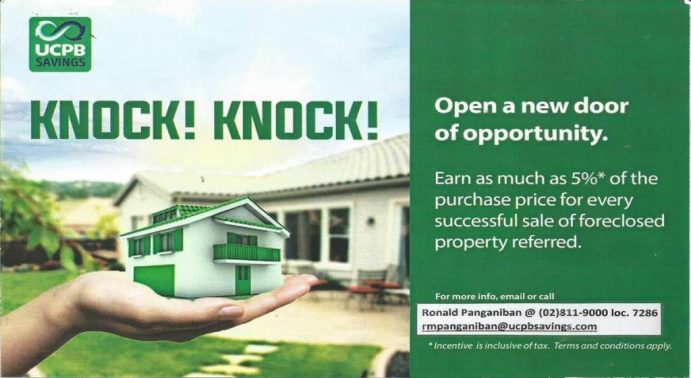 As seen on the flyer above, you can:
"Earn as much as 5% of the purchase price for every successful sale of a foreclosed property referred"
Just call Ronald Panganiban of UCPB Savings Bank to learn more.
View all UCPB Savings Bank foreclosed properties
You may access all of these foreclosed properties inside our database through the button/link below:
Click to view/search UCPB SAVINGS BANK foreclosed properties inside our database
Search directly here
Search by keyword and/or choose your preferred location, price range, and hit "Search Listing". If you don't enter the keyword "ucpb-savings" Search results may include foreclosed properties from other banks/entities that are already inside our database.
Tip: Let's say you only want condominiums in Metro Manila with a maximum price of PHP1Million, then just type the keywords "ucpb-savings" and "condominum", specify 1,000,000 as the maximum price, choose "Metro Manila" from the dropdown list of locations, then click the search button.
Bonus tip: If you want to compare the listings from all property sources, then don't enter any keywords related to the property source. Example, if you want to find and compare ALL condominiums in Metro Manila, then omit the "ucpb-savings" keyword when searching, and then you will find ALL condos in our database, not just those from BDO.
Download the list in PDF format
If you prefer the "old school" way of downloading listings, then you can do so below:
Click here to download the list in PDF format.
Note: You will need Adobe Acrobat Reader to view PDF files, which is free to download at Adobe.com
Listing details/contact info
To know the payment terms for this listing and contact details, please see below:
Properties can be purchased in CASH or on INSTALLMENT basis thru the bank's in-house financing scheme.

Minimum downpayment required for the installment option is 20% of the selling price/contract price while the balance can be paid over a maximum period of ten (10} years at a fixed rate of 11% per annum.

For further details/information, you may call RONALD PANGANIBAN of UCPB Savings Bank's Special Assets Management Team at landline number (02)811-9000 local 7286 or at mobile numbers (0917)829-1124 and (0920)981-4728 or via e-mail at rmpanganiban@ucpbsavings.com.

You may also visit UCPB SAVINGS' website @ www.ucpbsavings.com/real-estate
Disclaimer
Note:

THE PROPERTIES ARE BEING SOLD ON AN "AS IS WHERE IS BASIS". PRICES ARE SUBJECT TO CHANGE WITHOUT PRIOR NOTICE.

UCPB SAVINGS BANK MAY, AT ANY TIME, WITHDRAW ANY OF THE PROPERTIES LISTED ABOVE WITHOUR PRIOR NOTICE.

MISPRINTS ARE NOT MISREPRESENTATION OF ANY PROPERTY.
Source: Ronald Panganiban, Marketing Officer – Special Assets Management Unit, Credit Administration Division, UCPB Savings Bank, Inc.
Full disclosure
Nothing to disclose. We have stopped brokering foreclosed properties at the moment, so please contact UCPB Savings Bank directly to inquire. Thank you for understanding!
For real estate brokers/sales persons who want to market these properties, please refer to the image above for incentives and contact info for accreditation and/or more details.
Please feel free to share this listing to your friends and associates.