If you plan to visit the Housing Fair 2011 to get listings of acquired assets from participating Key Shelter Agencies (KSAs) and Government Financial Institutions (GFIs), this post might help you save some of your time because I already found some of the listings for you.
This post includes updated listings of acquired assets from the Banko Sentral ng Pilipinas (BSP), Government Service Insurance System (GSIS), Home Guaranty Corporation (HGC), Home Development Mutual Fund (HDMF) or Pag-IBIG, National Home Mortgage and Finance Corporation (NHMFC), and the Social Security System (SSS).
You will have to get the listings of the other KSAs and GFIs during the Housing Fair 2011 at the SM Mega Mall in Mandaluyong which started last September 30 and runs until October 2.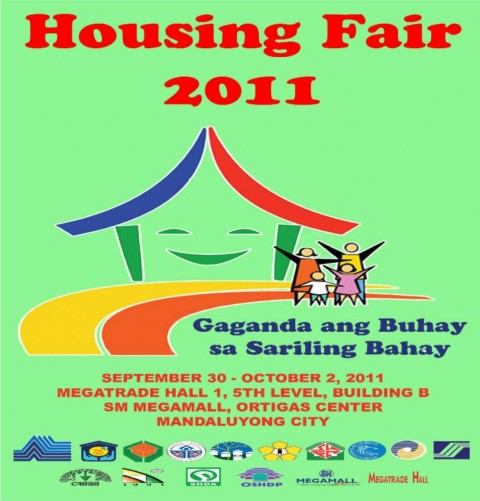 *More information about the Housing Fair 2011 can be found here and the Program of Activities can be found here.
Vacant /unoccupied acquired assets
For some of the listings, it is indicated that the acquired assets for sale are vacant/unoccupied, which is very welcome. I have said it before and I will say it again, if a foreclosed property is occupied, just walk away, especially if it is your first time to buy a foreclosed property. This will save you time, money,  and help you avoid a lot of sleepless nights.
You still have to do your due diligence
However, even if a listing says a foreclosed property is vacant/unoccupied, you still have to do your due diligence and confirm the physical and legal condition of the property. After all, all of these properties are for sale on an "AS IS WHERE IS" basis.
Acquired assets listings
Here are the acquired assets listings which you can click to view or right-click then save as to download.
Terms and conditions and other important information
The terms and conditions, interest rates, payment terms, applicable discounts, minimum down payment, requirements to buy any of the acquired assets, how to buy the acquired assets, and other important reminders for prospective buyers can be found in the Housing Fair 2011 fact sheet from the HUDCC which can be found below.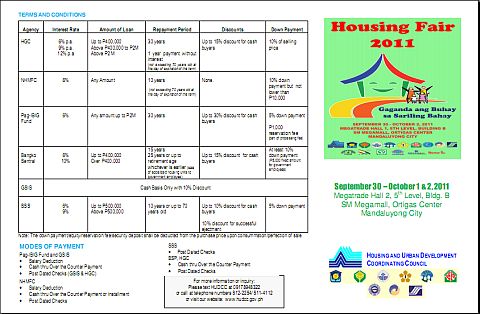 Source: HUDCC Website
Share a listing of acquired assets
If you want to share a listing of acquired assets from the Housing Fair 2011 in addition to those featured above, just leave a comment below. Thanks!
See you next year at the Philippine Housing Fair 2012!
~~~
To our success and financial freedom!
Jay Castillo
Real Estate Investor
PRC Real Estate Broker Registration No. 3194
Blog: https://www.foreclosurephilippines.com
Follow me in Twitter: http://twitter.com/jay_castillo
Find us in Facebook: Foreclosure Investing Philippines Facebook Page
Text by Jay Castillo and Cherry Castillo. Copyright © 2011 All rights reserved.
Full disclosure: Nothing to disclose.