My wife and I inspected a bunch of foreclosed properties in Las Pinas City included in an auction on February 4, 2012 and we are featuring the pictures and other details we have gathered through this post. We only focused on the properties that are unoccupied and have no legal impediments, based on the information we got from the bank listing.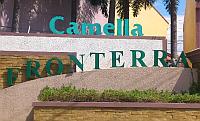 Only 4 out of the 13 properties located in the Las Pinas area are unoccupied and we inspected 3 of them. Inspecting them was quite easy because they were relatively close to each other and we had a "friendship sticker" on our car which allowed us to pass through certain subdivisions within Las Pinas.
We were done with our ocular inspection in about 2 and 1/2 hours, which included travel time, and about forty five minutes of this was spent having lunch… not bad right?
This is one advantage of focusing on a specific area or niche as mentioned in my article 4 steps to quickly analyze and shortlist foreclosed properties*.
*I really need to update this article because I wrote it prior to Ondoy, and I was still based in Marikina back then.
Please keep in mind that it is not a good idea to inspect ALL of the properties that you find on listings of foreclosed properties, it would be wiser to inspect only those that you have shortlisted. It just so happened that we  (my wife and I) are still familiarizing ourselves with the territory, and we simply want to get exposed and learn as much as we can about  the properties here in Las Pinas.
Our goal is to build our expertise in this niche and reach a certain level wherein we would start recognizing good deals faster.
Anyway, here are the pictures of the properties we inspected along with other details we have found so far.
1. (SOLD) No. 18 B10 L19 Anthem St.,Sta. Cecilia Village, Talon 2, Las Pinas City
We noted that this house was quite old and needs a lot of repairs, especially since most of its wooden structure has termites (please refer to pictures). The main house is a 3BR/2TB and has a garage. (Don't know what 3BR and 2TB means? Checkout this article about real estate acronyms).
There is a small house at the back which is a 2BR/1TB. The caretaker said this is where they stay and it was probably rented out before.

2. (SOLD) B4 L7 Camella Fronterra Subdivision, BF Resort Village, Talon 2, Las Pinas City
Before we visited this property, I thought to myself that this was probably too expensive because it had such a small lot area and floor area for the price. When we saw the inside of Camella Fronterra however, I no longer felt visiting this property was a waste of time because the place looked nice, safe, and secure.
The property itself is a single-attached unit, and reminded me of the houses in Maia Alta, Antipolo City. It is a 3BR/2TB house with 1PS, although the bedrooms would be quite small, obviously! We were not able to see the inside of 2 of the 3 bedrooms because the doors were locked and there was no caretaker who can unlock them for us.
Yes, the house had no caretaker and it was not locked at all (Maybe there was no need for a caretaker because the property is inside a gated subdivision? ). The property had a big opening for what I believe would be a french door, but it seems this was never installed, and the house was not finished.
Of the three houses we visited, this appeared to be the one that needed less repairs even if it was not completed, in my opinion. Anyway, just look at the pictures below and you be the judge.

3. (SOLD) No. 29 Francel St., Pilar Executive Vill., Almanza Uno, Las Pinas City
This one was the cheapest of all the properties we inspected based on the minimum bid price, but it also needs a lot of repairs. It is also the one nearest the Alabang area. It is a 2BR/1TB house with garage. It is very near SM SouthMall, and DMCI's Ohana Place condos.
The caretaker told us that this area got flooded during Ondoy and it was about chest-deep. We noticed what appeared to be very faint floodlines on the perimeter walls of the subdivision which can be seen at the extreme left of the panoramic picture below.
It has an unfinished concrete structure at the back of the house.

Reminders
As mentioned in the beginning of this post, the foreclosed properties above are included in the auction on February 4, 2012. If you are interested in any of these properties, I would be more than willing to assist you as I am an accredited real estate broker of the selling bank. Just let me know through the comments section below.
~~~
To our success and financial freedom!
Jay Castillo
Real Estate Investor
PRC Real Estate Broker License No. 3194 
Blog: https://www.foreclosurephilippines.com
Follow me in Twitter: http://twitter.com/jay_castillo
Find us in Facebook: Foreclosure Investing Philippines Facebook Page
Text by Jay Castillo and Cherry Castillo. Copyright © 2008 – 2012 All rights reserved.
Full disclosure: I am an accredited real estate broker of  the selling bank.