I attended the 3rd Philippine Real Estate Festival last July 24, 2009 and one of the banks that I found as a participant in the event was Chinabank. I was able to get a copy of their "Real Deals" publication which features hundreds of residential, commercial, and industrial properties for sale at below market values (as written on the front page). Aside from foreclosed properties, the Volume 1 May – June 2009 issue of Real Deals also features good condition second hand vehicles/bank repossessed cars. I am posting a copy of the publication here for the benefit of those who were not able to attend the Philippine Real Estate Festival.
The acquired assets featured in the Real Deals publication of Chinabank are from Las Pinas, Makati, Malabon, Mandaluyong, Manila Muntinlupa, Paranaque, Pasig, Quezon City, Valenzuela, Ilocos Norte, Pangasinan, Cagayan, Bulacan, Nueva Ecija, Pampanga, Batangas, Cavite, Laguna, Rizal, Albay, Camarines Sur, Capiz, Negros Occidental, Cebu, Leyte, Agusan Del Norte, Bukidnon, Misamis Oriental, and South Cotabato.
The repossessed cars included in the publication are described as good condition second hand vehicles. These pre-owned and foreclosed cars are currently parked at their warehouse located at No. 1 Shaw Boulevard corner Haig Street Kalentong, Mandaluyong City and at the China Bank Head Office parking area at Paseo De Roxas corner Villar Street, Makati City.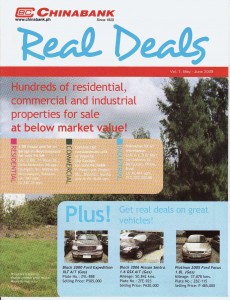 An OFFER TO BUY form is also included in the publication which interested buyers should use to submit offers. This implies that the properties are for negotiated sale. I can only speculate at the moment as I have not yet tried to submit any offers to Chinabank as of this writing.
Installment mode of payment is available where 30% downpayment is required, while the 70% balance is payable for a maximum of five (5) years, and interest rates are at 11.25% for years 1 to 3 and at 12.25% for years 4 and 5.   For more details, please refer to the last page of the publication which states the GENERAL REQUIREMENTS. Brokers are also welcome!
Click here to download Chinabank's Real Deals Volume 1, May – June 2009. (Source: Chinabank booth, 3rd Philippine Real Estate Festival)
For inquiries, interested parties may  call the China Bank Acquired Assets Division at: 885-5725 / 885-5739 / 885-5318 /885-5723 / 885-5706.
You may also visit their website: http://www.chinabank.ph
*Prices are subject to change without prior notice. Misprints may occur
—–
Happy Hunting!
To our financial freedom!
Jay Castillo
Real Estate Investor
REBL#: 20056
Blog: https://www.foreclosurephilippines.com
Social Network: http://foreclosurephilippines.ning.com
Mobile: +639178843882
E-mail: ph.investor@gmail.com
Text by Jay Castillo. Copyright © 2009 All rights reserved.