Here are 4 foreclosure prevention tips for those who are facing the foreclosure of their homes.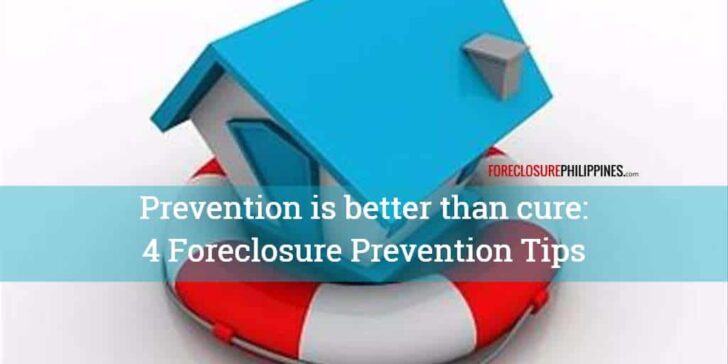 Before we dive into the foreclosure prevention tips, let me add that while it's true that I have been focusing on investing in foreclosures, I have never wished that anybody's home would be foreclosed so that I may buy it as an investment property.

I consider foreclosure investing as "making the most out of a bad situation" – that is, a property has already been foreclosed and there's nothing more we can do about it. Of course there are also other good reasons for foreclosure investing, aside from investing purposes, and these are:
We are helping people who can't qualify for bank financing to buy homes by providing housing they can rent or rent with an option to purchase with seller financing;
We are helping people buy homes at lower prices as compared to new and retail houses for sale; and
We are helping banks reduce their portfolio of non-performing assets, hence enabling them to have more money to lend to people who want to buy homes or start their own businesses, which in turn helps the economy.
But at the end of the day, I still believe that prevention is better than cure. In other words, once you realize there's a problem that can lead to missed mortgage payments and foreclosure down the road, you need to act fast, and act accordingly, before it's too late and nothing can be done anymore!
If you are asking "What can be done?…", here are just a few "suggestions" that might help you stop, or at least delay, the foreclosure of your property.
1. Keep the communication lines open
It is always good to let your creditors know of your current situation which prevents you from fulfilling your loan obligations. By letting your creditors know what's happening and keeping the communication lines open, you are showing them that you really intend to fulfill your obligations. You just encountered a temporary setback in your finances.
For sure, banks will appreciate your good faith and will try to help you. Bank officers have hearts too. Besides, banks and other lending institutions will also incur significant foreclosure costs if they foreclosed properties (like lawyers' fees, eviction costs, caretaker expenses, etc.) and they are required to have only a certain percentage of bad loans or non-performing assets so they may be willing to negotiate with you.
For example, I believe Pag-IBIG will not readily foreclose a property if the buyer sends a letter explaining his circumstances and offers to renegotiate his loan. I believe this can be done because I know someone who has done it. Pag-IBIG even went to the extent of waiving the interest that was due. So you see, it pays to come clean to creditors.
2. Restructure your loan
As earlier noted, foreclosure entails costs. Thus, creditors would rather go for a  loan restructuring than outright foreclosure. Getting longer payment terms would help lower one's monthly amortization while the creditor maintains a performing and earning loan.
Some institutions have come out with such programs that are meant to help stop the foreclosure of their borrowers' homes and one example would be the GSIS loan condonation program which the GSIS implemented last April 16, 2009 and will run for 18 months. This program intends to help borrowers get out of foreclosure and is very commendable.
In other countries like the U.S., they often refer to this approach as Loan Modification, if I'm not mistaken.
3. Refinance your loan
If you are not yet in default, you may opt to refinance your loan with another bank or lending institution. and go for longer payment terms and lower interest rates. These would translate to lower, more manageable monthly amortizations. This will work if you have enough time to do the refinancing.
If your property's market value has already appreciated, you may even get to earn some money when you refinance  a property as I have mentioned in my post about 9 ways to invest in foreclosures. Please note, though, that if you have already defaulted on your payments, this option may no longer be available.
4. Sell your property before it gets foreclosed
When a loan is in default, the entire loan amount becomes due and demandable due to the acceleration clause in the loan contract. In this case, the only remedy is to settle the entire loan. The obvious question of course is:
"Where can I get the money to pay my housing loan?"
In this case, as painful as it may be, you will have to accept that you have to sell the property. The proceeds of the sale will be used to pay the entire loan amount – that is, assuming that the property can be sold for an amount that would at least be equal to the entire debt.
There are real estate investors who focus in this area, which is also called pre-foreclosures. As I have often mentioned, in these situations, an investor should never take advantage of other people and their misfortunes, like someone who is facing foreclosure, and should offer a win-win solution for everyone.
If you have a property nearing foreclosure, due to time constraints, you may not have the option to wait for the best price. Most of the time, the property can only be sold for a price that is below market value because you do not have the luxury of waiting for the best cash offer.
Since full cash payment is needed, interested buyers also don't have the option to apply for bank financing and can only offer so much if they were to give an all cash offer, again due to time constraints.
If you wait too long however, foreclosure may overtake you, and you may end up with nothing. Better decide early on so that there would be enough time to salvage your equity or at least some of it, which can be used to start anew.
When there's nothing more we can do
You will be surprised to know that a lot of foreclosure situations happen when the homeowners are at a deadlock and will simply allow the foreclosure it to happen.
Take for example couples who have gone their separate ways due to a third party. The guilty party (let's say the husband, for example purposes only) wants to sell the property to prevent foreclosure but the other party (the wife, in our example) doesn't want to cooperate since she feels that the third party will benefit. Because of the deadlock, the foreclosure happens.
Another example is when a philandering husband or wife buys a home for his/her paramour and when things go awry, the benefactor ceases to pay the monthly amortizations. The paramour cannot sell the property to prevent foreclosure because the property is not in his/her name. The benefactor may choose to simply let foreclosure push through.
I also encountered situations where the owner simply has lost interest with the property and is willing to just let it go. This can be due to a number of reasons.
One example would be they are leaving for abroad for good and they have no time to dispose their property.
Others realize that they simply made a mistake in buying a property that they really can't afford, and they just cut their losses and let the foreclosure happen, especially if they have little or no equity.
Sometimes it is also not worth it to stop the foreclosure of a property because the house itself is not worth saving. It could have deteriorated so much and fixing it up would be too costly. It also might be located in a place that is no longer suitable as it might be prone to dangerous flooding (remember Ondoy?) or the place is simply crime infested.
In the above examples, there's really nothing we can do and we often learn about such properties after the property has already been foreclosed.
~~~
Do you have any other tips that may help stop foreclosure? Please share it here by leaving a comment. Thanks!
To our success and financial freedom!
Jay Castillo
Real Estate Investor
Real Estate Broker License # 3194
Text by Jay Castillo and Cherry Castillo. Copyright © 2010 All rights reserved.
PS. New visitor? Click here to get started with learning more about foreclosure investing in the Philippines.
Image courtesy of cooldesign / FreeDigitalPhotos.net