All interested parties are invited to participate in Star Properties' Sealed Bidding Auction of foreclosed properties where bidders can get up to 50% off from the previous minimum bid price (MBP). The deadline of submission of bids will be on October 4, 2013, 5:00 PM, at the Star Head office. An overview of the sealed bidding, the complete listing of foreclosed properties for sale, and contact details can be found below.
Sealed Bidding Overview
Sealed bids consisting of the duly accomplished bid form, bid deposit, and all required documents, must be personally submitted on or before 5:00 PM on the bid date, which is October 4, 2013.
Note: Those who want to get us as their real estate brokers are required to register on or before 1:00 PM of October 3, 2013. Failure to register means we can no longer assist you and represent you. Please contact us for more details.
Sealed bids for each property are required to include a minimum bid deposit equivalent to at least twenty percent (20%) of the submitted bid price, in the form of Manager's Checks (MC). Bid deposits of losing bidders shall be returned within 3 working days following the Bid Date.
Winning bidders shall pay the balance of the winning bid price, not later than sixty (60) days from the auction date through a Manager's Check.
We'll provide more details and copies of related forms to interested parties, just contact us through our contact details below. By inquiring through us, interested parties agree to acknowledge us as their real estate broker and this shall be duly registered with the selling entity.
Star Properties Sealed Bid Auction Listing
To view/download a copy of the complete listing of foreclosed properties included in Star Properties Sealed bid auction, please click on the image below.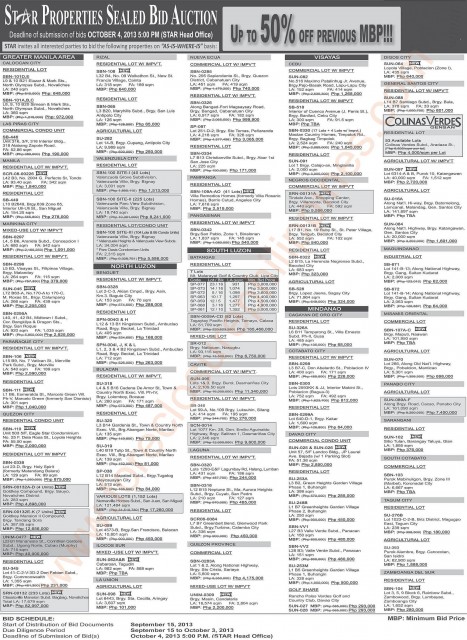 Alternately, you may download a PDF copy through the following link:
Disclaimer: All properties are offered on an "As-is, Where-is" basis. Titles of properties are either under Seller's name or under various stages of consolidation going to Seller's name. Interested parties are therefore advised to check the title, the physical, and legal condition of the property. Vicinity maps, lot and floor areas are approximates only. Property details (including the lot plan and pictures), prices, and terms are subject to change without prior notice. The seller reserves the right to pull-out any property anytime. Changes in prices are subject to the sole discretion of the Seller. Any misprint shall not alter the property's factual condition nor shall they be deemed misrepresentation of the property.
Contact us for more details
We are accredited real estate brokers for this auction. For more details, please contact our broker partners through the following:
Telephone:
(632) 534-6954
+63929-527-7777
Buyer inquiry form:
[contact-form-7 id="37986″ title="Property Forum Listings_star properties"]