It's wise to avoid occupied foreclosed properties, most especially if you are new to investing in real estate. To help you with avoiding those that are occupied, I have created a way for you to easily exclude them when searching our Foreclosed Real Estate Database. Details below.

Why should you avoid foreclosed properties that are occupied?
Before I share how this is done, I just want to make sure you know the reasons why you should avoid occupied foreclosed properties. If you have no idea why you should do this, then head on over to the following post, and then come back here.
With that out of the way, let me share with you how you can avoid occupied foreclosed properties when searching in our foreclosed real estate database.
Step by step
Step 1. Head on over to our database through the following link: https://www.foreclosurephilippines.com/classifieds/. You should see something like this: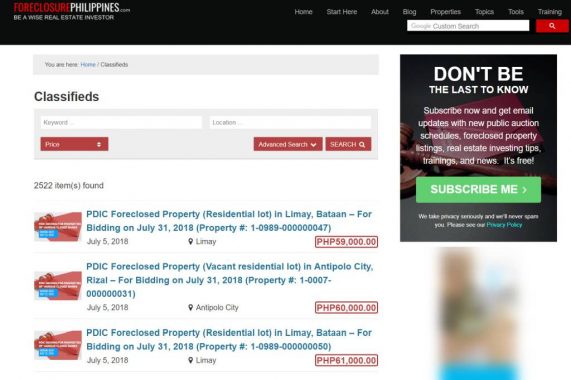 You should also see something similar when viewing listings from my latest blogposts that already point to the new database, like those for BFS foreclosed properties, and our compilation of Pag-IBIG auction schedules and listings, and the latest auction announcement from PDIC.
Anyway, more listings from other banks/lending institutions will be uploaded as I get new and updated listings.
Step 2. Click on "Advanced search"
After clicking, more search options will be revealed as seen below:
Step 3. Tick the checkbox that says "Exclude properties with "Occupied" status…" like in the image below:
Step 4. Add any other search options you want (keywords, city/province, lot and/or floor area, price range) and click on Search to proceed.
In my example below, I searched with the keyword "pagibig" to only include Pag-IBIG foreclosed properties that I have already uploaded to our database.
If I uncheck the "Exclude properties with "Occupied" status…" checkbox, you will notice the search results are significantly a lot more than when I excluded occupied properties. This should give you an idea how many occupied properties are there, which you should avoid.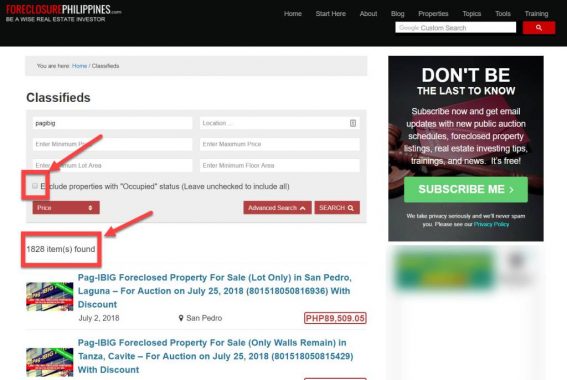 Reminders
We can only rely on the accuracy/availability of the occupancy status as indicated on the listings from banks/government financial institutions. Our standard site disclaimer applies.
It's possible that a property that has no "occupied" status is actually occupied. This can happen when a foreclosed property was inspected and had no occupants at that time, but was later "invaded" by illegal occupants. Sometimes there's simply no data available and so a property's occupancy status is also not available. This means that even if a property has no occupied status, you still need to verify this as part of due diligence.
Some foreclosed properties are occupied by the banks' caretakers, and that's okay. An "occupied" status usually refers to illegal occupants, which everyone should avoid,
As usual, always remember that foreclosed properties are for sale on an "as-is, where-is" basis. Learn more about what this means in the following article:
This also works for mobile devices like phones/tables. Since our website is mobile responsive, this works regardless of the device you use, although it will be obviously different. I am still working on improving the look and feel for mobile devices when it comes to font-size, spacing etc.
The database is a work in progress and I will share more details about its development in another post.
I hope you will find this tool helpful, more to come…
This is just one of the many tools I use that I am sharing with everyone here on my blog, and it's been awhile since the last time since I shared updates like this.
It wasn't easy trying to find the right solution for this (this is actually version 6 of the database), but I am quite happy with this one, and I look forward to developing it with more features that will be beneficial to real estate investors. I'll be sharing more info in the coming days.
Happy real estate investing!