The Philippine Housing Fair 2010 will be held on October 1-3, 2010, 10:00am to 9:00pm, at the SM Mega Trade Hall 2, 5th level, Mega B, SM Megamall, Ortigas Center, Mandaluyong City, Philippines. I learned about the housing fair through a poster which I saw at Pag-IBIG yesterday, and also through a heads-up from my wife Cherry.
I was a bit surprised when I saw the poster about the housing fair because it turns out that the 5th Philippine housing fair is just a few days away, and yet it seems no information about it can be found online or even on the popular newspapers I regularly read.
I have also been searching for information about the housing fair using Google for over an hour while writing this but I always ended up finding my own articles about last year's housing fair. Except for this pop-up notice from Pag-IBIG's website below, and the event schedule at SM Megatrade Hall's website, I was not able to find any more information about the housing fair.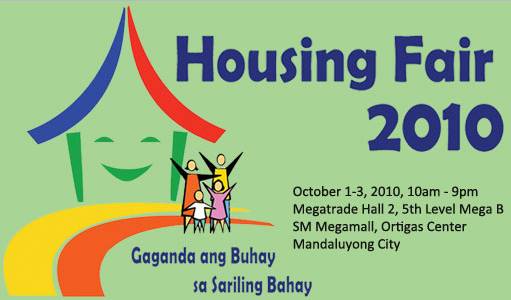 This makes me wonder if the housing fair was promoted or marketed at all. I just hope they did, otherwise not too many people would probably show up, except for people who chance upon it while they are malling. Who knows, maybe they promoted this over the radio, like they did before.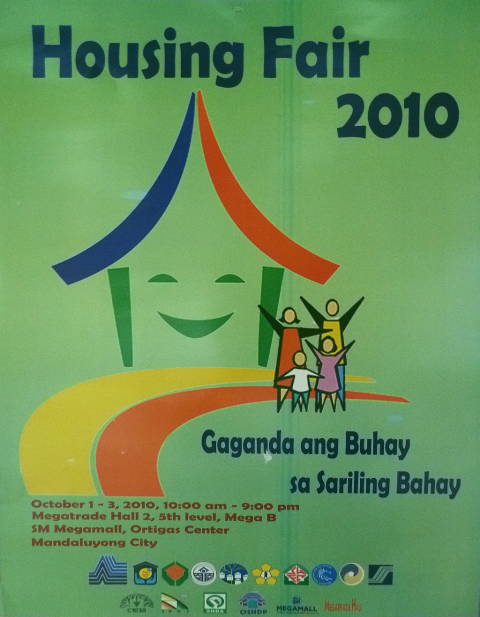 I'm just glad I visited Pag-IBIG's head office at the Atrium in Makati to get info for my tenant-buyer yesterday, where I noticed the poster above, hence I can at least inform all of you here who are looking forward the 5th housing fair.
Based on the logos near the bottom of the poster, participating key shelter agencies and government institutions in the fifth Philippine housing fair include the HUDCC, Pag-IBIG, HGC, BSP, HLURB, NHA, NHMFC, SHFC, GSIS, SSS, CREBA, SHDC, and OSHDP. Sorry I can't decipher and don't recognize the logo second from the left at the bottom. If you do recognize it, please leave a comment below.

Anyway, I'll just post more information that I will find about the housing fair in the coming days, if any. I believe that the information in my post about the Housing Fair 2009 still holds true and just needs a little update. You may read the article here: Philippine Housing Fair 2009
I'll definitely drop by the housing fair to check things out myself, and I will report here what I will find. I'd also appreciate any info anyone out there might be able to share, just let us all know through the comments section below. Thanks!
Happy hunting!
To our success and financial freedom!
Jay Castillo
Real Estate Investor
Real Estate Broker License #: 20056
Blog: https://www.foreclosurephilippines.com
Follow me in Twitter:http://twitter.com/jay_castillo
Find us in Facebook:Foreclosure Philippines facebook page
Text by Jay Castillo and Cherry Castillo. Copyright © 2010 All rights reserved.
PS. Don't be the last to know, subscribe to e-mail alerts and get notified of new listings of bank foreclosed properties, public auction schedules, and real estate investing tips. Inbox getting full? Subscribe through my RSS Feed instead!