Do you want to take the 2015 real estate brokers licensure exam on May 2015? If you are based south of Metro Manila, then this seminar is for you. The Real Estate Brokers Association of the Philippines – Las Pinas, Muntinlupa, Paranaque Chapter (REBAP-LMP), our home chapter, shall be conducting a Comprehensive Real Estate Seminar and Training (CREST) from October 25, 2014 to January 4, 2015 (Saturdays and Sundays only) for 8 hours each day. More details below.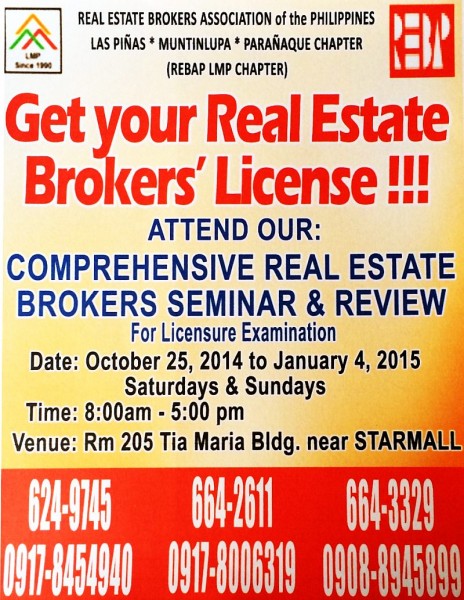 CREST Venue
The venue will be at Rm. 205 Tia Maria Bldg. CV Starr Ave. Philamlife Village, Las Pinas City. Since the seminar will be conducted 8-hours per day during Saturdays and Sundays, this is most suitable for those who are based in Las Pinas, Muntinlupa, Paranaque, Cavite, Laguna, or other nearby areas.
Seminar Fee, discounts, and installment payment terms
The fee for this 120-unit seminar is P18,000.00 but there's a 10% discount for the first ten who will enroll and pay in full.
There is also a 10% discount for REBAP-LMP kin up to the 2nd degree of consanguinity.
Installment payment terms are also available through the following scheme:
50% down upon enrollment, and 50% can be paid up to the 7th meeting or Php 1,500.00 per meeting.
If you wish to pay in installments, please contact Ms. Au Suerte, contact details can be found below.
Topics and schedules
For your reference, the schedule of discussion of topics is shown below. You can also use this outline as a guide when you are studying for the exam.
I. Real Estate Service Principles and Practice
Introduction to Real Estate Service (2 units)
Overview of Real Estate Market
Opportunities and Career Path
CREST Module in relation to Board Exam Table of Specs (TOS)
CHED Circular No. 28
Real Estate Economics (2 units)
Factors that Influence Real Estate Market and Values
Real Estate Service Act 9646 and IRR (4 units)
Extensive discussion of RESA and IRR (including PRC and PRBRES's resolutions)
Real Estate Brokerage Principles (2 units)
Real Estate Brokerage Practice (5 units)
Extensive and detailed discussion of ATS [Authority to Sell]
Starting Real Estate Service Business
Detailed discussion General Brokerage (to include work details/flow)
Detailed discussion Project Selling (emphasis on RESA provisions covering salespersons)
Code of Ethics (1 unit)
Principles/Cases/Sample Exam Questions
II. Legal Aspects
Fundamentals of Land Ownership (4 units)
Modes of Acquisition
Bundle of Rights, Capacity and Limitations (Legal Aspects)
Obligations and Contracts (4 units)
Extensive discussion of Obligations and Contracts
Sales (4 units)
Mortgage (2 units)
Lease (2 units)
Includes Rent Control Act
The Family Code and Law on Succession (4 units)
Procedures- Extra-judicial and judicial titling and Title Annotations and Remedies (4 units)
III. Land Use Planning and Development
The Housing and Land Use Regulatory Board (4 units)
Coordinating agencies
Emphasis on Laws, in general, enforced by HLURB
Support participants (agencies) in the National Shelter Program (SSS, GSIS)
Devolved functions to LGUs
Planning , Development and Zoning
Urban Land Use
Urban Land Reform (Salient points PD 1517- protection of tenants)
Conversion of land use (DAR Administrative Order 88)
Environmental Compliance Certificate PD 1586
Subdivision Development (4 units)
Kinds of Subdivision
Steps in Subdivision Development
Requirements for Approval of Simple Subdivision
Cases wherein license to sell is not required
Salient Points of RA 7279 (Modes of compliance and exemptions 20%)
Standards PD 957, PD 1216, and BP 220
Magna Carta for Homeowner's Associations (overview only)
Other Real Estate Development

Memorial Parks
Columbaries
Industrial Parks
Subdivision Development (Continuation) (8 units)
PD 957 and BP 220 (2 units)
BP 220 (2 units)
Maceda Law (1 unit)
Condominium Act (2 units)
Salient points Comprehensive Agrarian Reform (CARPer)/RA 6657 and RA 9700 (1 unit)
Review (Subdivision Development) (1 unit)
IV. TECHNICAL ASPECTS
Basic Principles of Surveying (2 units)
Surveys, Symbols, Map Reading , Plotting, Verification
Land Registration (2 units)
Basic Principles of Appraisal (4 units)
– Terminologies, Appraisal Methods, & Sample Computations
Joint Venture and Project Packaging (2 units)
REIT and RA 7653 Investor's Lease Act (2 units)
Green Rating System (1 unit)
Basic Principles of Ecology (2 units)
Terminologies/sample questions
Review (1 unit)
V. Taxation
Real Property Tax (3 units)
Local Government Tax Code
Taxes on Real Estate Transactions (4 units)
Review (1 unit)
Taxes on Real Estate Transactions (cont) (3 units)
Lease, Mortgage, Donation, Estate Tax
Documentation and Registration (1 unit)
Taxes on Real Estate Brokers (3 units)
Income Tax (IT), Optional Standard Deduction (OSD), Value-Added Tax (VAT), Withholding Tax (WT)
Review (1 unit)
VI. FINANCING AND PROBLEM COMPUTATIONS
Real Estate Financing (4 units)
Bank Financing, ULP, Pag-ibig, CTS financing, implications
Problem Computations (2 units)
Review (2 units)
Problem Computations (7 units)
Overview ASEAN Economic Community (1 unit)
General Review (Legal Aspects) (8 units)
General Review (8 units)
Resource Speakers
Resource speakers (subject to confirmation) include:
Mr. Roland Angeles
Engr. Virgilio Monge
Atty. Gabby Perez
Engr. Roberto Cruz
Ms. Eleanor Liganor
Contact details
For more details, please contact REBAP-LMP through our 2014 Internal Education Head, Ms. Aurora "Au" Suerte, at the following numbers:
0917-800-6319 (Globe)
0922-892-1951 (Sun)
(02) 829-3258; (02) 664-2611 (Wireless landline)
624-9745
664-3329
0917-845-4940
0908-894-5899
Location map of venue (Googlemaps)
Looking for other seminar venues?
If you are not based south of Metro Manila and would prefer other training venues, you may find other review centers/seminar schedules here: Where To Find A Real Estate Training Center For The 2015 Real Estate Brokers Exam – The Ultimate List!