The Housing and Urban Development Coordinating Council (HUDCC) approved HUDCC Resolution No. 2, Series of 2015 on June 8, 2015, increasing the Economic Housing loan ceiling from P1,250,000.00 to P1,700,000.00. The said resolution was published in The Philippine Star (print and digital edition) last July 14, 2015.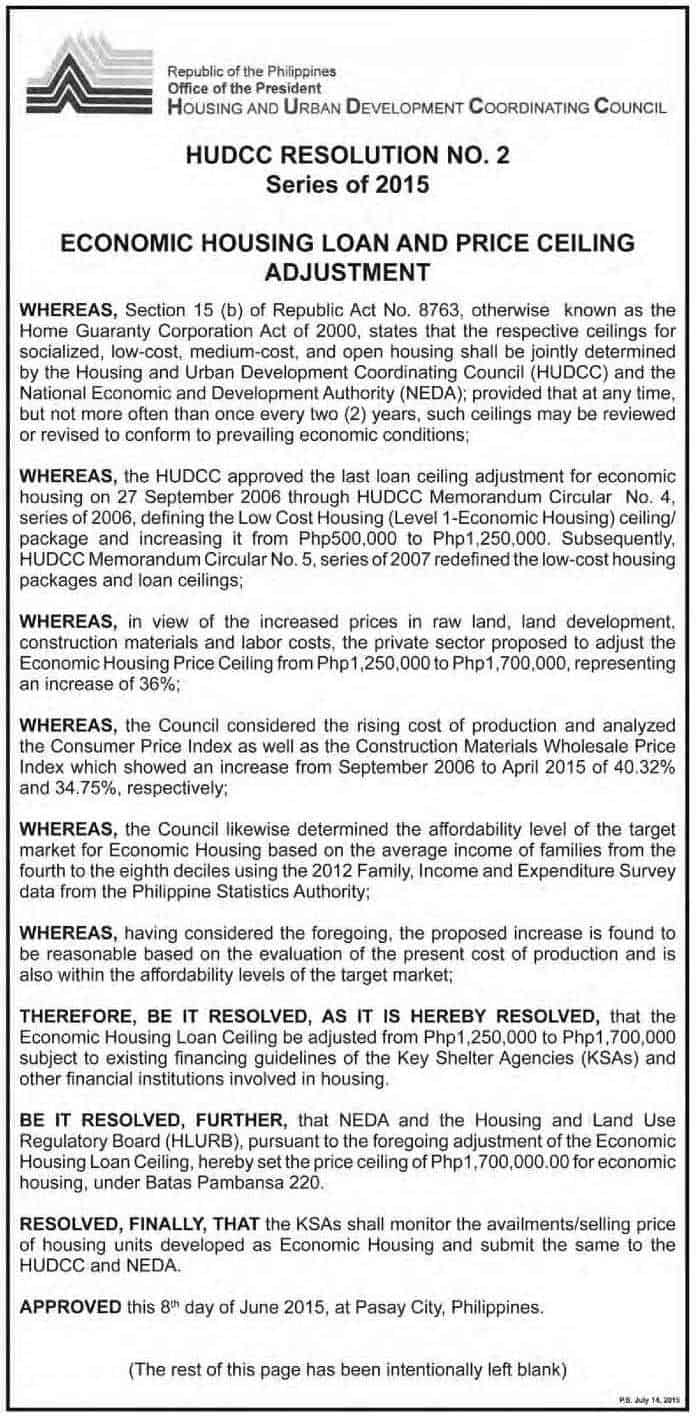 What are the implications of this increase in loan ceiling?
My first thought was that more developers would be willing to produce units under economic housing since the threshold is now P1.7M. According to this article, the Philippines has a housing backlog of 5.5 million houses, and 60% of the housing needs are for socialized and economic houses.
I found a link to the Philippine Housing Industry Roadmap: 2012-2030 prepared by the Subdivision and Housing Developers Association, Inc. (SHDA) and I was happy to know that developers are working towards filling the backlog.
Aside from responding to the people's housing needs, the developers will also be earning a handsome sum since socialized and economic housing projects are part of the 2014 Investment Priorities Plan (IPP) activities which may be granted an Income Tax Holiday (ITH) of 3 to 4 years. Considering that the corporate income tax rate is thirty percent (30%), the ITH incentive is significant. No wonder big developers all have their socialized and economic housing brands (like Amaia and Bella Vita for the Ayala Group).
I read the 2014 IPP again though and noted that socialized and economic housing for purposes of the IPP was above P450,000 up to P3M so it appears that the increase in loan ceiling as per HUDCC Resolution No. 2, Series of 2015 has no effect on the ITH.
With regard to construction standards for socialized and economic housing, the same standards under BP 220 will still apply.
What is the effect of a Home Guaranty Corporation (HGC) guaranty?
The above resolution quotes Section 15 of R.A. 8763 [HGC Act of 2000] so I took a closer look at it. It provides:
The Corporation shall guarantee accounts under this Act, as follows:

At least forty percent (40%) of guaranty accounts shall be allocated for socialized housing packages;
At least thirty percent (30%) of guaranty accounts shall be allocated for low-cost housing packages;
At least twenty percent (20%) of guaranty accounts shall be allocated for medium-cost housing packages; and
Not more than ten percent (10%) of guaranty accounts may be allocated for open housing packages.

For the foregoing purpose, the respective ceilings for socialized, low-cost, medium-cost, and open housing shall be jointly determined by the Housing and Urban Development Coordinating Council and the National Economic and Development Authority: Provided, That at any time, but not more often than once every two (2) years, such ceilings may be reviewed or revised to conform to prevailing economic conditions.
I then checked the Frequently Asked Questions (FAQ) page of HGC and learned the benefits of an HGC guaranty:
              What are the benefits of the HGC Guaranty?

It guarantees the payment of the guaranteed loan or investment balance outstanding and due on the principal obligation, plus interest yields of up to 11%;
It exempts the interests derived and other yields from the loan from all forms of taxes(up to 11% rate of interests);
For socialized housing, those with contract prices of P 400,000.00 and below are entitled to the maximum cover and tax-exempt interest of up to 11%, and;
The Government of the Republic of the Philippines guarantees the payment of HGC's obligations.
Home loan borrowers can borrow up to 90% of the appraisal value of collateral property.
Banks are exempt from the Banko Sentral ng Pilipinas (BSP) capital reserve requirement for HGC guaranteed loans
Banks are freed-up from administrative burden when a loan defaults
With the above, it dawned on me that since a big percentage of HGC guaranty accounts will be allocated for loans for houses costing up to P1.7 million, Pag-Ibig and other banks will have less risk should their borrowers default on their loans since they will be backed by an HGC guaranty. With less risk, they will have more incentive to lend and maybe even consider lowering their interest rates.
I tried to read more about securitization since HGC has something to do with that but right now my brain is not absorbing it (sorry!). Can anyone explain this?
What do you think are the effects of this HUDCC Resolution? Are they positive or negative?