The Buena Mano Greater Metro Manila catalog for Q3-2012 is here and you can now download a softcopy below. I have personally updated this catalog with information I have gathered directly from the bank with regard to property availability as of August 1, 2012.
I could have posted this sooner but it seems the rains caused by the storm-enhanced "habagat" or the southwest monsoon affected my internet connection, particularly with uploading huge files like the catalog below. Speaking of the rains, I hope all of you are safe and sound.
Checkout the catalog and details below.

Location of acquired assets
The Q3-2012 Greater Metro Manila catalog includes bank acquired assets from the following areas:
Metro Manila
Caloocan
Cavite
Laguna
Las Pinas
Makati
Malabon
Manila
Marikina
Muntinlupa
Paranaque
Pasay
Pasig
Quezon City
Rizal
San Juan
Taguig
Valenzuela
Others
Payment terms
Properties can be purchased with the following payment modes:
Cash
Bank financing (housing loan)

Through BPI, BPI Family Savings Bank or any major domestic bank
Terms are subject to separate credit approval by the lending bank
Minimum Down Payment
The minimum downpayment which can also be referred to as the buyer's equity would depend on the loanable amount that will be approved by the lending bank that will provide the housing loan.
For example, if a loan amount equal to 80% of the total purchase price is approved by the lending bank, then the minimum down payment or buyer's equity will be 20%.
Once an offer is approved, the buyer will be required to pay 10% of the total purchase price as earnest money (this is usually due in ten (10) calendar days upon the buyer's receipt of a letter advice from Buena Mano Property Sales and Leases).
The buyer will also be advised through the letter when the balance of the downpayment should be paid, terms and conditions, and other fees. The 10% earnest money will be form part of the downpayment.
Interest rates
If you choose to finance the purchase with a housing loan from BPI or BPI Family Savings Bank, it will be through a mortgage contract, and the prevailing interest rates at the time of loan availment will apply.
To get actual interest rates, you may visit your nearest BPI or BPI Family Savings Bank branch.
For the fastest loan approval, I would suggest that you go directly to the BPI Family Bank's Housing Loans group located just across the office of Buena Mano Property Sales and Leases in Paseo de Roxas corner Dela Rosa streets, Makati City. We can also assist you with this as we provide free housing loan application assistance to property buyers as I am also accredited with their housing loans group.
Download the Buena Mano Q3-2012 Metro Manila catalog
You may now download a soft-copy of the Buena Mano Q3-2012 Greater Metro Manila catalog in PDF format. Just click on the image below to view/download the catalog (requires adobe acrobat reader).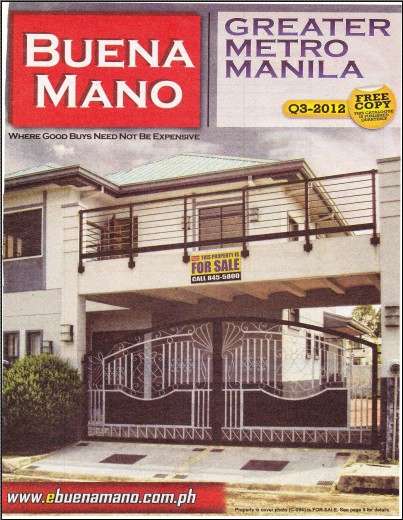 or just click on the following link: BUENA-MANO-Q3-2012-GREATER-METRO-MANILA-CATALOG-UPDATED-AUGUST-2012 – PDF
How to make an offer
To submit an offer, you just need to fill-up the OFFER TO PURCHASE FORM which can be found inside the catalog. You can download it separately through this link: OFFER TO PURCHASE FORM – BUENA MANO Q3-2012.
Please remember to sign both pages of the OFFER TO PURCHASE FORM.
NO RESERVATION FEE IS REQUIRED UPON SUBMISSION OF AN OFFER TO PURCHASE!
How to inquire
The best way to inquire would be by filling up the inquiry form below. It captures all the essential information needed so we can serve you faster. We answer all valid inquiries on a "first come first served" basis.

*For general inquiries, please leave a comment below.
The "fine print" – PLEASE READ!
ALL PROPERTIES ARE FOR SALE ON "AS IS WHERE IS" AND "FIRST-COME, FIRST SERVED" BASIS. PROPERTIES MAY BE WITHDRAWN WITHOUT PRIOR NOTICE.

Prices are not applicable to buyback transactions with former owners. Please call for buyback prices

PRICES ARE SUBJECT TO CHANGE WITHOUT PRIOR NOTICE. ALL OFFERS ARE SUBJECT TO MANAGEMENT'S APPROVAL.

Misprints and other errors are unintended and do not constitute acts of misrepresentation, intentional non-disclosure, fraud or withholding of accurate property details and pricing.

PLEASE CONFIRM ENTRIES BY CALLING OUR HOTLINES OR SENDING AN EMAIL TO BUENAMANO@bpi.com.ph
As your real estate broker, we shall confirm the availability of entries for you and this is at NO ADDITIONAL COST!
*For general inquiries, please leave a comment below.
Also available: Luzon and Visayas/Mindanao Q3-2012 catalogs
If you are looking for the Q3-2012 Luzon and Visayas & Mindanao catalogs, you may also download them through the following links:
Happy hunting!
~~~
To our success and financial freedom!
Jay Castillo
Real Estate Investor
PRC Real Estate Broker License No. 3194 
Blog: https://www.foreclosurephilippines.com
Connect with us – Facebook | Twitter | Blog RSS | Google +
Text by Jay Castillo and Cherry Castillo. Copyright © 2008 – 2012 All rights reserved.
Full disclosure: I am an accredited real estate broker of Buena Mano Property Sales and Leases. If you learned about this list of foreclosed properties through www.foreclosurephilippines.com, kindly acknowledge me as the accredited broker who referred you (at no additional cost to you). Other real estate brokers, agents, referrers are welcome, just call us for details!
Disclaimer: The properties on the catalog above are for sale on an "as is where is basis". All are advised to do the necessary due diligence before entering into a binding commitment financially or otherwise in relation to any of the listings of foreclosed properties published in www.foreclosurephilippines.com. Inadvertent misprints shall not alter the factual condition of any property published in www.foreclosurephilippines.com, nor shall they be deemed as misrepresentation.