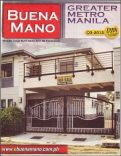 The Buena Mano Greater Metro Manila catalog for Q3-2012 is here and you can now download a softcopy below. I have personally updated this catalog with information I have gathered ...
Read More ›
The much awaited Buena Mano Q2-2012 Greater Metro Manila Area (GMMA) Catalog has been released and a soft-copy is now available for download. As usual, the Buena Mano Q2-2012 GMMA ...
Read More ›
Foreclosed properties might seem attractive at first. But if you are not careful, you might end up buying a property that is actually overpriced and not worth buying. You might ...
Read More ›