Barely a month after their foreclosed properties auction last March 2012, UnionBank will be having another one with a lot of new items and also some old listings at reduced prices in their 184th Special Public Auction which will be on April 28, 2012. The auction venue will still be at the at the 29th Floor, UnionBank Plaza, Meralco Avenue corner Onyx Road, Ortigas Center, Pasig City, Philippines. The auction proper starts at 9:00am so please come earlier to have ample time to register.
Up for grabs are properties from Metro Manila and Luzon areas. More details can be seen on the complete listing below.
Interested?
Interested bidders only need to bring Php20,000 show money in the form of cash or manager's checks to qualify to bid, per property.
UnionBank still offers the most "affordable payment terms" for bank owned properties which can be seen below:
Downpayment: 10% DP (6 months to pay, zero-interest)
Interest: 11% per annum (fixed for 15 years)
Term: 15 years (maximum) thru in-house guaranteed financing
Discount for cash buyers: 5% (for example, cash buyers will get a Php50,000 discount for a property priced at Php1,000,000)
Download the complete list of UnionBank foreclosed properties!
Just click on the images below to view, then right-click to save. The listing of foreclosed properties has been split into 2 pages.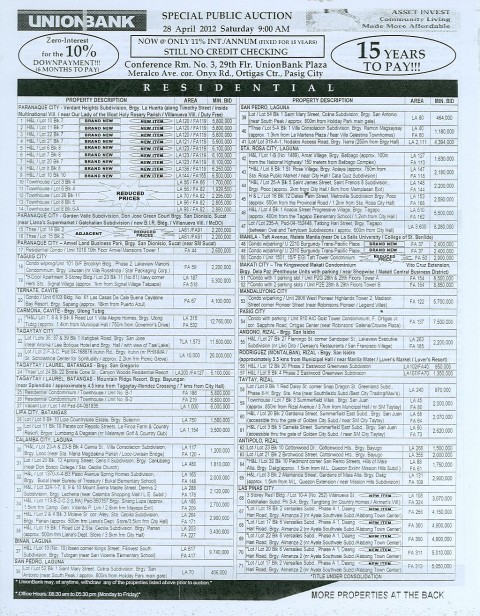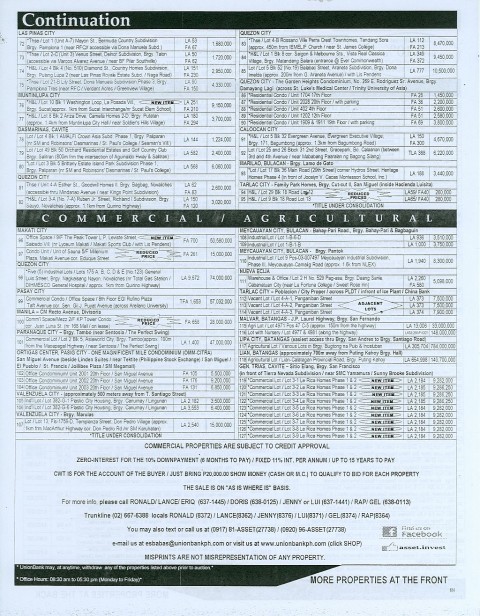 Need more details?
For inquiries, please contact UnionBank through the following:
Mobile Nos. 0920-96 ASSET (27738) / 0917-81 ASSET (27738)
LANCE: 637-1445 or 667-6388 local 8362
ERIQ: 638-1445 or 667-6388 local 8373
DORIS: 638-0125 or 667-6388 local 8358
RAP: 667-6388 local 8364
RONALD: 637-1445 or 667-6388 local 8372
GEL: 667-6388 local 8374
JENNY: 637-1441 / 667-6388 local 8376
LUI: 637-1441 / 667-6388 local 8371
Need assistance from me?
If you are planning on attending the auction this coming Saturday, I would be more than glad to assist you as I will also be attending.
I believe there is a need to give bidders a quick "briefing" about the auction procedures which are strictly followed and I will explain very important points before the auction starts. So please be early, thanks! (I am also saying this to myself as it has been a challenge to make it through EDSA during Saturdays as it seems this is the designated day for unexpected road works by the MMDA and Maynilad!)
The "fine print"
Commercial properties are subject to credit approval

CWT is for the account of the buyer

The sale is on an "as is where is" basis

Misprints are not misrepresentation of any property

UnionBank may, at anytime, withdraw any of the properties listed above prior to auction
Happy hunting!
~~~
To our success and financial freedom!
Jay Castillo
Real Estate Investor
PRC Real Estate Broker License No. 3194 
Blog: https://www.foreclosurephilippines.com
Connect with us – Facebook | Twitter | Blog RSS | Google +
Text by Jay Castillo and Cherry Castillo. Copyright © 2008 – 2012 All rights reserved.
Full disclosure: If a buyer will acknowledge me as their referror, I may receive referral fees (at no additional cost to the buyer). Thank you in advance for supporting our hard work and this website!
P.S. Thanks again to Lance and Ronald for sending this listing. By the way, I attended their auction last month and I would like to thank Mr. Mon Castro, Mr. Edzel Babas, along with Lance, Ronald, and all the nice people from UnionBank for the very warm reception (as always). It was my first time to attend an  auction with my wife and son. 🙂