Update as of October 23. 2013:  The Importance Of Earthquake-Resistant Homes And What We Can Do About It
In line with my article on Earthquakes, Faultlines, and Real Estate Investing, I will now be discussing Geohazard Maps and how they can be useful for real estate investors.
Would you want to invest in a property that is in the middle of an area considered to be very susceptible to floods and landslides?

Floods and landslides are just some of the geohazards we all want to avoid. But what really is a geohazard?
What is a geohazard?
According to www.macmillandictionary.com,
"A geohazard is a harmful event caused by the earth, for example, an earthquake, a tsunami, or a volcano."
What is a geohazard map and why is it useful?
A geohazard map indicates areas that are susceptible to floods and landslides, as determined by the Mines and Geosciences Bureau (MGB). The website www.irinnews.org has an excellent article about the launch of the geohazard maps for public use last January 2012.
In a sunstar.com.ph article, former senator Juan Miguel Zubiri noted that  the geohazard maps should be used as guides by the Local Government Units (LGU's) on how they should plan their municipalities. The construction of housing settlements should be banned in high-risk areas as shown by the geohazard maps. He also noted that although typhoons and other natural disasters may not be prevented or avoided, we may mitigate the destruction if we use the information and technology available to us.
In this inquirer.net article, it was stated that the Cagayan de Oro local government was already warned about its susceptibility to flood as determined in the geohazard map and geohazard assessment provided by the MGB, prior to the destruction brought about by Sendong.
The local government said that they already warned the people but they did not listen, but the people said they were not informed. So, now that these geohazard maps are available to the public, people may do research by themselves. These tools can help us get out of the way of disasters and/or be prepared for them.
For real estate investors, of course, you need to veer away from those with high susceptibility to flooding and landslides. This may seem so "common sense" but of course that's not so common, and we are the perfect example – clueless former residents of Provident Village in Marikina City.
Color-coding of geohazard maps
The legend (or color-coding, if you like), is as follows: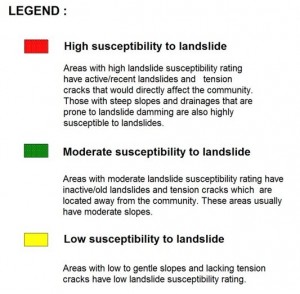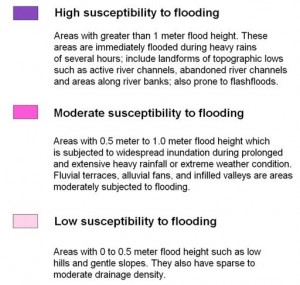 Where can we download the geohazard maps of the different areas in the Philippines?
The geohazard maps may be downloaded at the website of the Mines and Geosciences Bureau (MGB), www.mgb.gov.ph, specifically on this page.
Just zoom in the Philippine map using the zoom function on the left side of the screen. The Philippines is divided into squares and you just need to choose which square the area you are interested in belongs to, or you can just use the search function.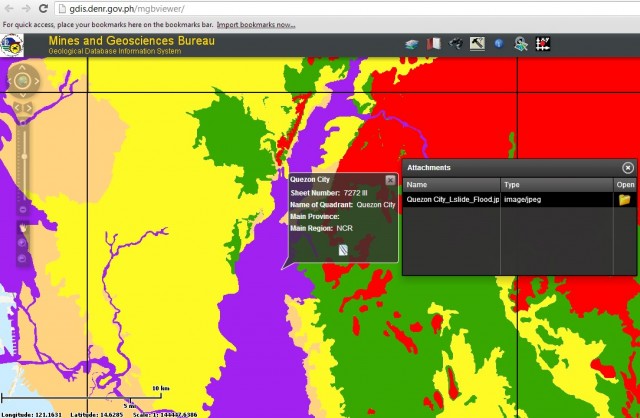 For example, below is the Landslide and Flood Susceptibility map of the Quezon City quadrangle. This is what I got after I clicked on the folder icon in the attachments window shown above.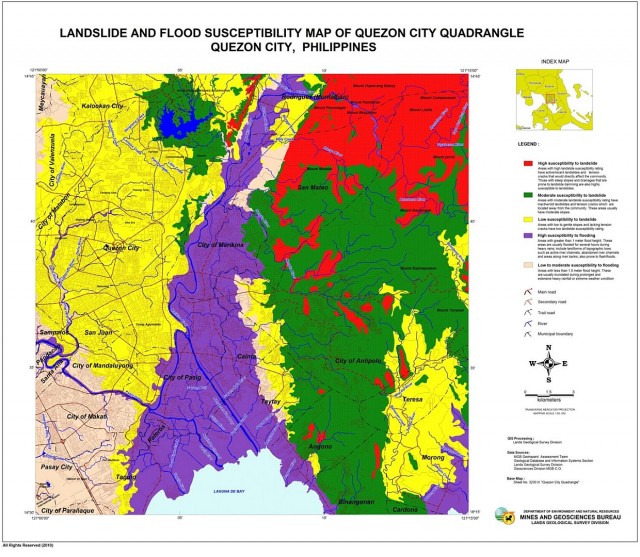 Another site which you can use to download the maps is http://geohazard.essc.org.ph/. According to the said page, the map download facility is a collaborative effort of the Mines and GeoSciences Bureau (MGB-DENR) and the Environmental Science for Social Change (ESSC).
Landslide Preparedness
Of course, the next step that you need to do, after being aware of where the landslide-prone areas are located and the possible disasters that may occur (which we pray will not happen), is to leave the unsafe place if you live there and move to a safe location. If that cannot be done, the next best thing is to be prepared for such an event should it happen.
The MGB (Mines and Geosciences Bureau, not Magandang Gabi Bayan ha) has prepared an informative three-page pamphlet about landslide preparedness which you can read below. Feel free to download and share: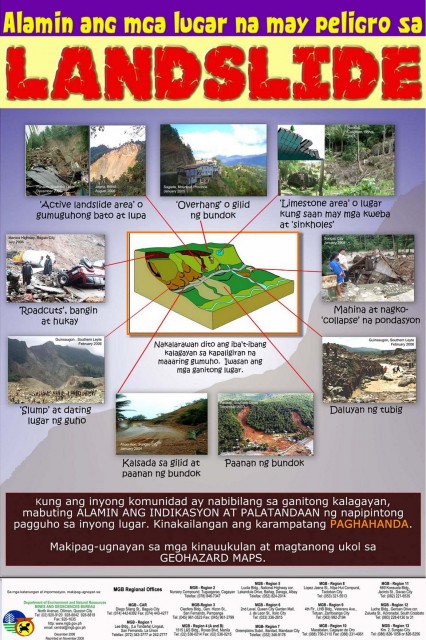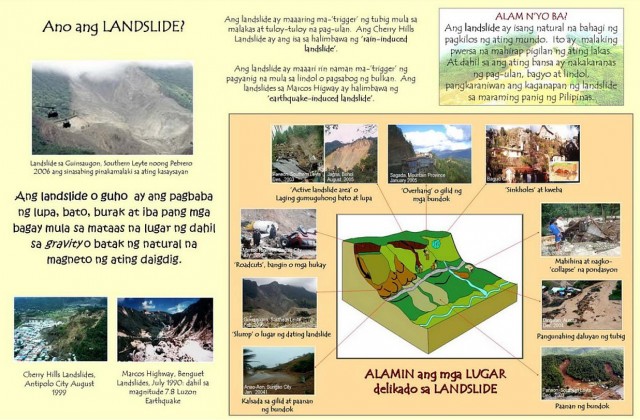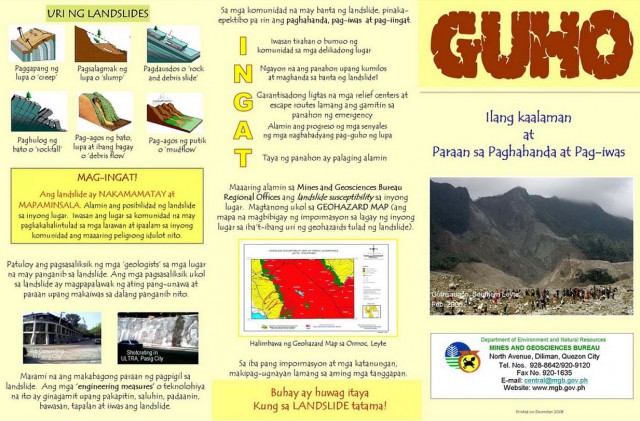 Source: Landslide Awareness guide from DENR-MGB
Flood Preparedness
If you are in a flood-prone area, similar to what I said earlier, the first option is to transfer to a safe place. If that cannot be done, be prepared for such an event.  The MGB has likewise prepared an informative three-page pamphlet about landslide preparedness which you can read below. Please download and share.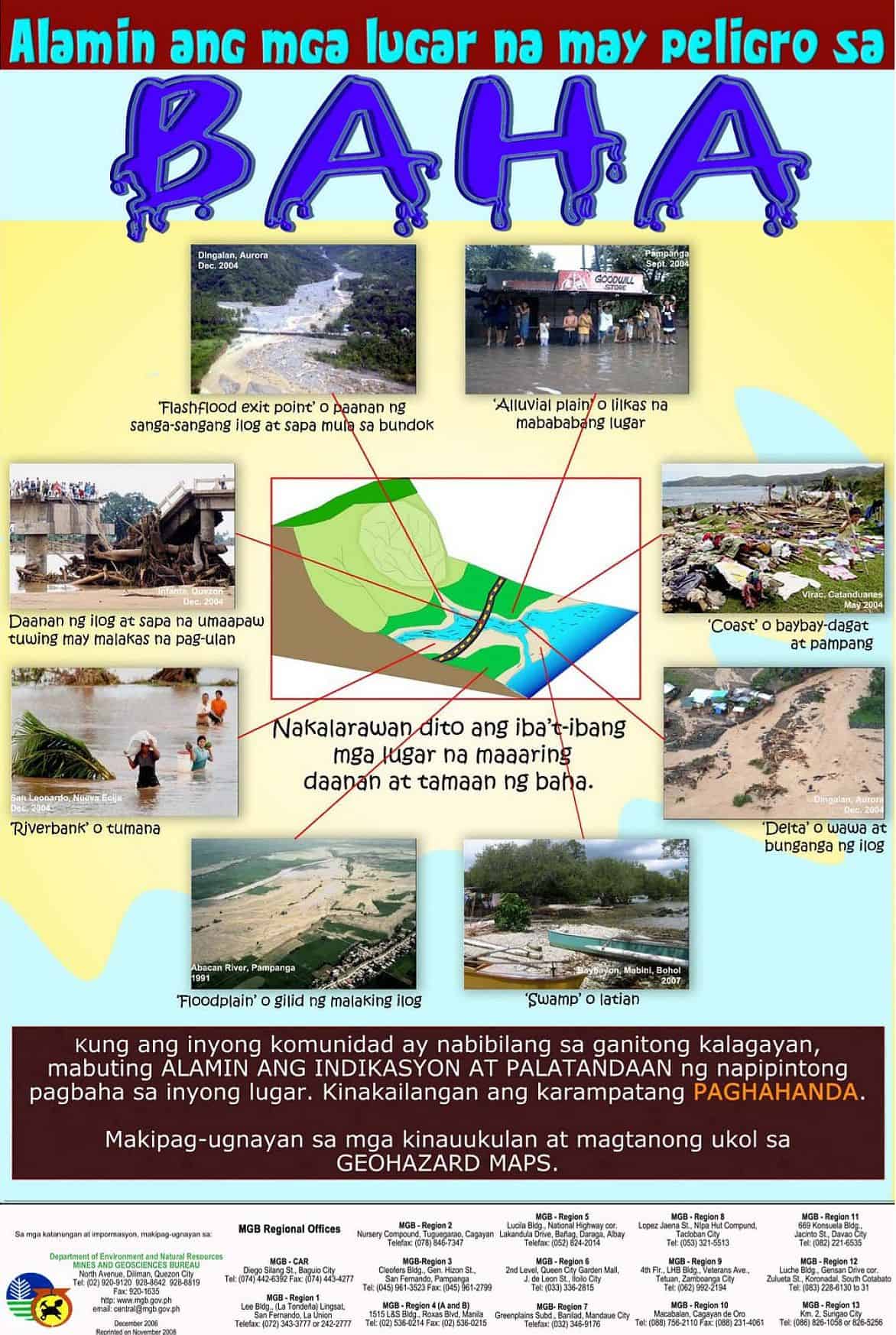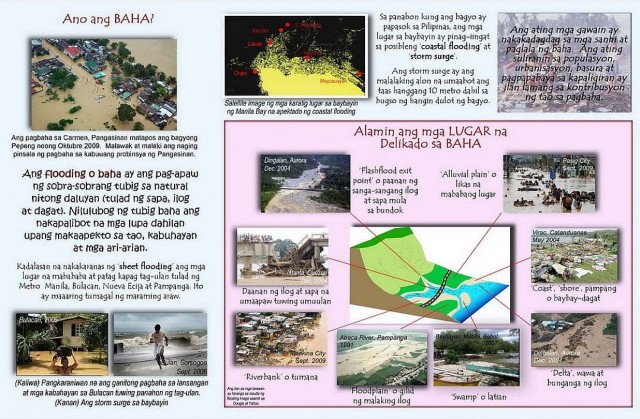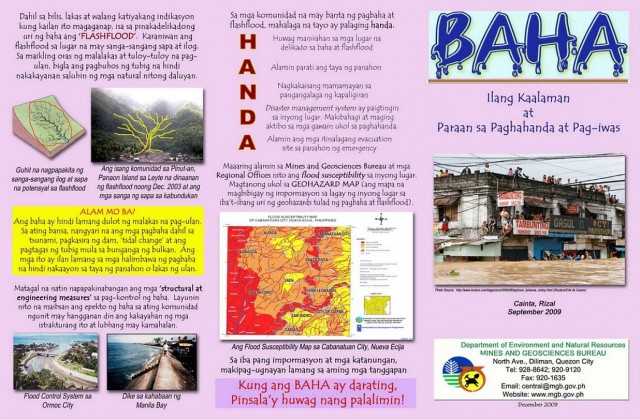 Source: Flood Preparedness guide from DENR-MGB
Emergency Plan and Emergency Kit
A family emergency plan and family emergency kit would be helpful in times of calamity. Hay, I really need to prepare these!
How about you, are you prepared for disasters? What can you say about the geohazard maps?
~
Cherry Vi M. Saldua-Castillo
Real Estate Broker, Lawyer, and CPA
PRC Real Estate Broker License No. 3187
PRC CPA License No. 0102054
Roll of Attorneys No. 55239
2013 Internal Education Head, REBAP-LMP
Text by Jay Castillo and Cherry Castillo. Copyright © 2008 – 2013 All rights reserved.
Full disclosure: Nothing to disclose.