If you've been waiting for a new listing of repossessed cars for sale, the long wait is over. Through RCBC Savings Bank's Dream Buys Car auction, interested buyers looking for cheap, second hand, pre-owned, repossessed cars, might just find what they are looking for. The auction will be on April 26, 2012, 1:00pm, 18th floor, unit 1806-A Tektite Building, West Tower, Ortigas Center, Pasig City, Philippines.
"Pay the spot price, no need to bid" option
Interested car buyers also have an option to forego the auction and just "Pay the spot price, no need to bid". To avail of the "spot price", buyers must pay a Registration Fee of Php25,000.00 per unit prior to the auction. Please refer to the auction announcement.
To attend the auction…
For the auction, a refundable registration fee of Php5,000 per unit is required. The auction will be through a sealed bidding.
Inspection dates
Prior to the auction, interested car buyers can inspect the repossessed cars for sale on April 23 – 25, 2012, during office hours. Make sure you have a trusted mechanic or someone who knows how to inspect cars properly with you during the inspection of these repossessed vehicles as part of due diligence. Just like foreclosed properties, foreclosed cars and vehicles are also for sale on an "as is, where is" basis.
Directions to their Pasig warehouse, where all 62 cars on the list below can be inspected, can be seen on the auction announcement below.
Who to call for more details
I have posted the contact details of RCBC Savings Bank's customer contact center below. Please contact them DIRECTLY if you have any inquiries. (click to enlarge)

Download the list of repossessed cars
Just click on the image below to view then right-click -> "save as…" to download the complete list of repossessed cars from RCBC Savings Bank that are scheduled for public auction on April 26, 2012. (click to enlarge)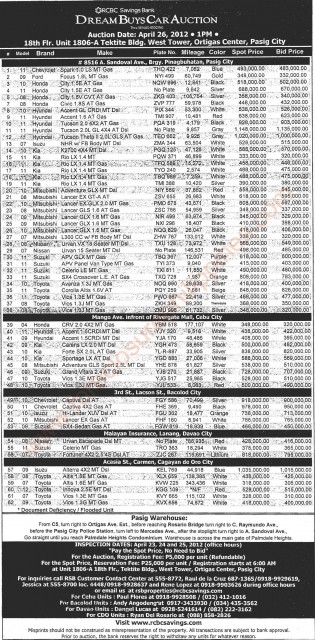 PDF version also available: RCBC SAVINGS BANK REPOSSESSED CARS AUCTION – April 26 2012.PDF (click to download)
The fine print
 Misprints should not be construed as misrepresentation of the property. All transactions are subject to bank approval. Prior to auction, the bank reserves the right to withdraw any units for whatever reason.
~~~
To our success and financial freedom!
Jay Castillo
Real Estate Investor
PRC Real Estate Broker License No. 3194 
Blog: https://www.foreclosurephilippines.com
Connect with us – Facebook | Twitter | Blog RSS | Google +
Text by Jay Castillo and Cherry Castillo. Copyright © 2008 – 2012 All rights reserved.
Full disclosure: Nothing to disclose.