Yes, it is now possible! You can now access more than 3,496 foreclosed properties from 15 banks, with a total combined selling price of over 15.8 Billion pesos, located all over the Philippines, all in one place, thanks to our foreclosed properties database!
No more searching through several listings from several banks, as they are all inside one database where you and I can easily find properties that fit our needs. Check out the details below.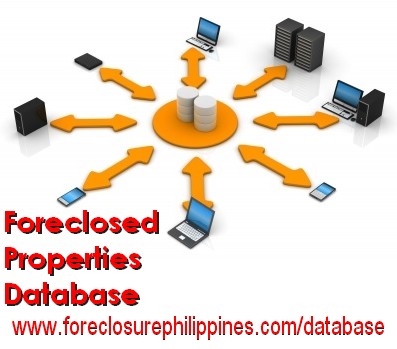 Bank listings uploaded as of June 30, 2013
So far we have uploaded listings from the following banks in our database:
Real Bank
Philippine National Bank or PNB
ChinaBank
Postal Savings Bank
United Overseas Bank or UOB
United Coconut Planters Bank or UCPB
Bank Of Commerce
UnionBank
Banco De Oro or BDO (due for update)
Sterling Bank of Asia
Equicom Savings Bank
Philmay/Maybank
Philippine Savings Bank (due for update)
RCBC Savings Bank (due for update)
RCBC
To access the listings, visit our database through the following link:
Please note that some listings are already due for update as some of the banks on the list have already released updated listings and will be uploaded as soon as possible.
One more thing, some listings are pre-filtered to exclude properties that have "special issues" that can be too daunting for newbie real estate investors or first time home buyers. Anyway, we can include all properties in a future update once we have deployed a way for  users to filter these kinds of properties by themselves, just like how we enabled exclusion of "Occupied properties" from search results.
Blood, sweat, and tears
Working on the database has literally cost me blood, sweat, and tears. After speaking at the Manila Real Estate Forum 2013, I got sick, but the stubborn me would still stay up late to work, and I would end up with a bloody nose the next day. This is why I "disappeared" for two weeks to get some much needed rest.
Nevertheless, I still worked when I am well enough, even while lying on the bed (though I don't stay up late anymore). It also keeps me from getting bored.
Working also helps me get through episodes of grief (almost a year has passed since we lost our angel Mira).
Anyway, It was worth it. I mentioned before that we are scheduled to upload listings from 29 banks through a status update in our Facebook Page last June 17, 2013, and uploading more than half (15 out of 29) in 2 weeks means we are on schedule. 15 down, 14 to go.
On the functionality aspect, my wife and I are so glad we finally have the database. It literally takes us just a few seconds to find all foreclosed properties in a certain area that meets requirements we define (I'll publish a demo/tutorial for this soon). Nevertheless, I still have a lot of work to do…
Database developments and pending issues
Minimum price input field added – When I first deployed the database, I only included a search field to input the Maximum Price. This however can result in too many search results. Imagine if you were searching for foreclosed properties with a maximum price of Php 2 Million – If no minimum price was entered, that would result in 1,580 foreclosed properties nationwide! Specifying a minimum price would greatly refine search results into a more manageable number (it would also help to include a specific location, property type, etc).
Exclude occupied properties by default – The exclusion of "Occupied" properties is now set as the default option in advanced search. To include occupied properties, you will need to choose it in the drop-down list.
Price Per Square Meter for Condominiums w/o parking slot(s) and Vacant lots – This feature has been tested and deployed and helps you compare vacant lots and condos based on their price per sqm. By the way, we exclude condos with parking slot(s) because the price per square meter of a parking slot is usually different from the price per square meter of the condo unit, and most condos that include parking are priced inclusive of the parking slot(s), so If we use the total floor area of the condo unit (including the parking), the price per square meter becomes skewed or inaccurate.
Sorting feature removed temporarily – A few weeks back, I test deployed sorting of search results so that you can easily sort search results according to the selling price (lowest to highest/highest to lowest) but I had to remove it because the sort results were incorrect as it was being sorted as characters instead of numbers. I can explain about this more, but I'll spare you all the details. Sorting will be re-enabled once the problem is sorted out, pardon the pun. 🙂
Location hierarchy to be deployed soon – If you will notice at the database homepage, the locations of all foreclosed properties are listed alphabetically in three columns, which is messy and disorganized. I will be updating this so you can see it in a hierarchy or a "tree view" where the top branches can be "Luzon", "Visayas", "Mindanao", and "Metro Manila" and the sub-branches can be the provinces and/or cities. This should be ready very soon!
Demo/tutorial on how to use the database to find properties faster – This is in the works, but I would want to finalize certain aspects of the database before finalizing the demo/tutorial.
Individual listings per bank – I am still thinking of publishing listings of banks individually, although it kinda defeats the purpose of having a database. But some are asking me to retain this so I am thinking of a way to continue doing this with the least effort in my part (It's much easier for me to deploy updates to a database, than publishing individual listings). Maybe PDF files on a page will do.
Actually, I have a lot more developments in the pipeline but the above should do for now.
Challenges
One of the major challenges we are facing right now is answering inquiries. We expected to get more inquiries when we deployed the database, but we did not expect it to be as much as we have been getting lately, and because of this, I would like to apologize if our team has not been able to answer your inquiries as fast as we would want to.
I would like to make it clear that we are doing our best to address this challenge (in fact, we already have partner brokers to help us) but we still have a lot of things to work on, and changes we want to happen cannot be done overnight, so I ask you all to bear with us at this stage. Thank you for understanding!
Feedback and suggestions
As always, we value feedback and suggestions, but please bear in mind that we have limited time to answer ALL of them, although we do our best to respond to each and everyone (This is the reason why we are going to deploy a forum where we plan to help each other through "crowd-sourcing". The forum is scheduled for deployment later today, but only for volunteer moderators, public deployment is to be announced at a later date).
Happy hunting!
Text by Jay Castillo and Cherry Castillo. Copyright © 2008 – 2012 All rights reserved.
Full disclosure: Nothing to disclose.