A post by Cherry Castillo
I have been very curious about the UP Open University since it started. Unfortunately, I have not found a course to my liking, until now. I am currently very interested in taking up the Continuing Professional Education Program on Land Valuation (CPEPLV) which is being offered by the University of the Philippines Open University (UPOU). Check out the details at http://www.upou.edu.ph/academic/programs/lamp.html. Anybody here wants to be my classmate?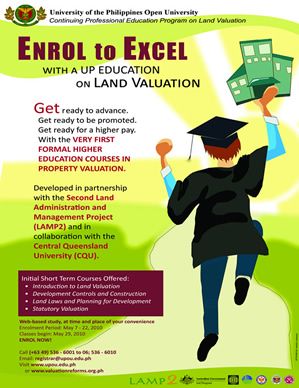 In relation to RA 9646 or the RESA Law…
The Program Goal, which is related to the RESA Law which everybody is talking about in the real estate industry, is as follows:
"The Continuing Professional Education Program on Land Valuation (CPEPLV) aims to develop technically competent, responsible and respected professional appraisers or valuers whose standards of practice and service shall be globally competitive and will promote the growth of the real estate industry. This program goal is adopted from the Declaration of Policy of the Real Estate Service Act (RESA) of 2009, otherwise known as RA 9646, Art. I, Sec. 2."
I really like it that this course is very professional and is being conducted by the UPOU no less. Furthermore, based on the news in http://www.upou.edu.ph/news/news2010/lamp.html, this program is the first formal land valuation course of international standard in the Philippines. According to the said news article, the program is supported by the Australian Government Aid Program and the World Bank, and is the result of a collaborative effort between Australia's Central Queensland University, the UPOU, the Department of Finance, and the Department of Environment and Natural Resources through the Land Administration and Management Program Phase 2 (LAMP2). Sounds big time! I love it! 🙂
I e-mailed valuationeducation@upou.edu.ph to inquire, and I received a response promptly. For everybody's reference, the standard reply is as follows:
"Dear All,

Thank you very much for your interest in the UP Open University's Continuing Professional Education Program on Land Valuation (CPEPLV).

The Program consists of four (4) stand-alone courses, each totaling 48 hours of instruction. These courses focus on key areas of real property valuation/appraisal such as (i) Introduction to Land Valuation; (ii) Development Controls and Construction; (iii) Land Laws and Planning for Development; and (iv) Statutory Valuation. A certificate of completion will be awarded for each successfully completed course.

CPEPLV targets new entrants to real property valuation profession and current practitioners, such as government and private appraisers, and local government assessors, as part of their continuing professional development. Those applying to enroll in any of the CPEPLV courses must have a Bachelor's degree in any field as minimum qualification.

The certificate courses will be initially offered on May 29-September 18, 2010 via online mode. Registration will be on May 7-22, 2010. Fee is PhP 6,000.00 per course (inclusive of PhP 500.00 application).

Should you wish to join this year's initial offering, please accomplish and submit the attached application form on or before 16 April 2010. (click here to download the application-form)


We look forward to having you as one of our CPEPLV enrollees.

Truly yours,

Valuation Education Team
Faculty of Management and Development Studies (FMDS)
UP Open University (UPOU)
Los Baños, Laguna, Philippines
Telefax: (049) 536-6010
Trunkline: (04 536-6001 to 6006 local 821
valuationeducation@upou.edu.ph
http://www.upou.edu.ph"
In the application form, you may only enroll in two courses at most. Since the first two courses are pre-requisites for the last two courses, interested applicants may only check (1) Introduction to Land Valuation and (2) Development Controls and Construction.
Deadline for filing of Application Form: April 16, 2010
Since the deadline for application is very near (the application form must be received by the  Faculty of Management and Development Studies, UP Open University, Los Baños, Laguna on or before 16 April 2010) anyone interested must act immediately!
Cherry Castillo
Cherry is my wife. She is a certified public accountant (CPA) and lawyer.
—
My thoughts about this online course on land valuation
Personally, I would like to see how this online course stacks up against the Buy and Sell mentoring course by Engineer Enrico Cruz that I am taking right now, which also has a portion about land valuation. (Sorry, I can't tell much about the seminar as per the General Conditions which all students must agree to and sign)
What I can say however is I prefer live seminars as I get to interact with fellow students and the lecturer. I can also network with fellow investors/mentors and I get to ask questions that get answered right away. Anyway, let's just wait and see how it goes for my wife if ever she does enroll for this course on land valuation, which would be her first related to real estate.
I just hope this would help her help me with our real estate investing activities, especially with determining property market values  and finding great deals, not just from foreclosed properties but also from properties that are for sale by owners or FSBO's.
By the way, she says I should attend this so that I can at least say that I have studied in UP. Yeah right! 😉
Happy learning!
To our financial freedom!
Jay Castillo
Real Estate Investor
Real Estate Broker License #: 20056
Blog: https://www.foreclosurephilippines.com
Click here to contact me via E-mail
Mobile phone (Call/SMS): +639178843882
Follow me in twitter:http://twitter.com/jay_castillo
Become a Fan in Facebook:Foreclosure Philippines fan page
Text by Jay Castillo. Copyright © 2010 All rights reserved.
PS. Are you a new visitor? Click here NOW to start learning more about foreclosure investing in the Philippines and don't forget to subscribe to e-mail alerts and get notified of new listings of bank foreclosed properties, public auction schedules, and real estate investing tips.