If you are looking for cheap Batangas real estate and Laguna real estate for sale, you just might find what you are looking for in this listing of Batangas and Laguna foreclosed properties. This public auction happens on April 29, 2010, Thursday, 2:30 p.m., at Linda Pe's Restaurant, J. Corona St., Mount View Subdivision., Tanauan City (opposite Mercado Hospital).
It appears that this is a joint auction of RCBC and the President Jose P. Laurel Rural Bank, Inc.
Only Php25,000 show money per property is required, in the form of cash or MC.
Foreclosed properties can be acquired with a minimum downpayment of 25%, with the balance payable in 7 years, at a fixed interest rate(please call them up directly for more details)
Foreclosed Properties/acquired assets for public auction are from the following areas:
Batangas foreclosed properties
Batangas City
Lemery
Lipa City
Malvar
Mataas na Kahoy
Padre Garcia
Rosario
San Juan
Sta Teresita
Taal
Tanauan City
Laguna foreclosed properties
Pila
San Pedro
Santa Rosa
Click here to download the complete listing of foreclosed properties or just click on the image below: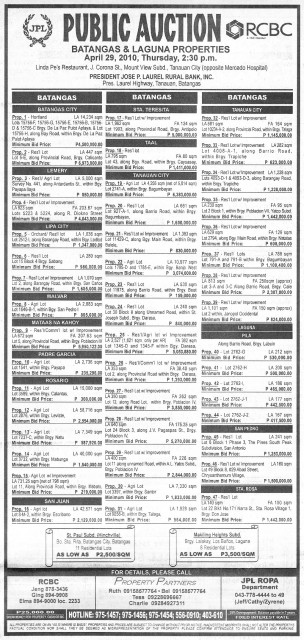 Source: Manila Bulletin, April 11, 2010 edition, page G-3
For more details about these foreclosed properties
Please remember to call up the concerned banks and designated contact persons directly through the following:
Property Partners
Ruth 09158577764
Bel 09158577764
Tess 09228696667
Charlie 09284927311
RCBC
Jeng 878-3436
Ging 894-9908
Elma 894-9000 loc. 2233
JPL ROPA Department
043-778-4444 to 49 (Jeff/Cathy/Zyrene)
Hotline:
975-1457
975-1456
975-1454
556-0910
403-610
Happy hunting!
To our financial freedom!
Jay Castillo
Real Estate Investor
Real Estate Broker License #: 20056
Blog: https://www.foreclosurephilippines.com
Click here to contact me via E-mail
Mobile phone (Call/SMS): +639178843882
Follow me in twitter:http://twitter.com/jay_castillo
Become a Fan in Facebook:Foreclosure Philippines fan page
Text by Jay Castillo. Copyright © 2010 All rights reserved.
PS. Are you a new visitor? Click here NOW to start learning more about foreclosure investing in the Philippines and don't forget to subscribe to e-mail alerts and get notified of new listings of bank foreclosed properties, public auction schedules, and real estate investing tips.