A big number of repossessed cars are for sale at up to 10% off in Maybank's Yellow Garage Car Sale (YGCS) for their Ugong (Pasig) and Calasiao warehouse inventories. Promo runs from September 1 to 30, 2014. Checkout the details and complete pricelist below.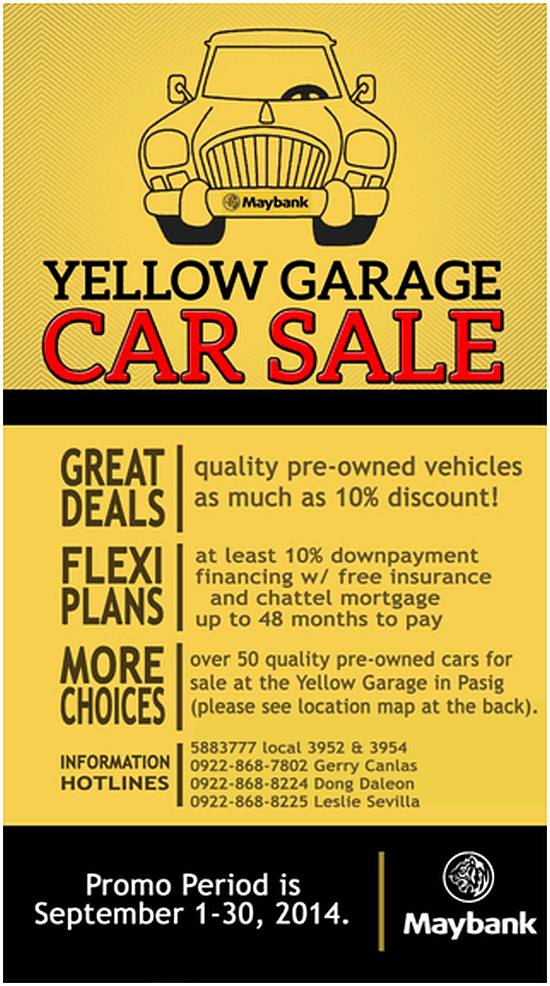 Based on the flyer above, over 50 repossessed cars are available in their Pasig warehouse. The pricelist includes more than 20 repossessed/foreclosed cars from their Calasiao warehouse.
I checked and noticed that the listings also includes newly foreclosed cars. However, 2014 model cars are not discounted.
Anyway, Maybank's Yellow Garage Car Sale promo for their Pasig and Calasiao warehouses ends on September 30, 2014. With the promo, up to 10% discount is available, and interested buyers can avail easy financing schemes with freebies (see flyer above). The promo prices can be seen in the yellow column of the pricelist below.
Download list of repossessed cars, official bid form, location maps
Pricelist of repossessed cars, official bid form, and location maps to the warehouses can be downloaded below.
Download Maybank Yellow Garage Car Sale Pricelist (Pasig and Calasiao warehouse)
Download Maybank Official Bid Form (Yellow Garage Car Sale)
Location Maps to Ugong and Calasiao Warehouses
Source: Mr. Leslie V. Sevilla, PPI Sales and Marketing Officer
Reminders
* No discount for all trucks, buses and 2014 model vehicles.

Note:
1) Prices are subject to change without prior notice.
2) Sale shall be on "as-is, where-is" basis.
3) Submission of offer to buy is on a "first come, first serve" basis.
4) All new foreclosed non-running units as marked in the pricelist is on " first come best offer basis".
5) MPI reserves the right to conduct sealed bidding in the event that offers are received simultaneously.
6) Mere submission of an offer does not construe a right of "first option" by the offeror.
7) All sales transactions are subject to the final approval of the Management of MPI.
8) For details, please feel free to contact Maybank DIRECTLY.
For inquiries and availability of units, please feel free to contact Maybank directly through their contact details in the pricelist/flyer.
Up next: Cebu, Iloilo, and Davao
We also received listings for Maybank's Yellow Garage Car Sale for Cebu, Iloilo, and Davao, and these will be featured next…
Update: Click here to view the Cebu, Iloilo, and Davao listings of repossessed cars