Tag: foreclosed cars for sale
As promised in my post about Maybank repossessed cars for sale in Pasig, here are the details for their Yellow Garage Car Sale in Cebu, Iloilo, and Davao. Promo runs ...
Read More ›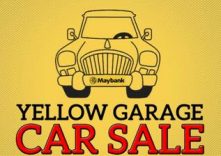 A big number of repossessed cars are for sale at up to 10% off in Maybank's Yellow Garage Car Sale (YGCS) for their Ugong (Pasig) and Calasiao warehouse inventories. Promo ...
Read More › It's been a long time since I last posted a list of bank foreclosed cars for sale (also referred to as repossessed cars), and I hope this listing will not disappoint those ...
Read More › We take a breather from the usual listings of foreclosed real estate and give way to this list of foreclosed cars for sale from AMA Bank. The opening of the ...
Read More ›