September 1, 2023 – Here are the latest listings of Maybank foreclosed properties updated for September 2023. This nationwide list contains a total of 443 foreclosed properties for sale from all over the Philippines. More details below.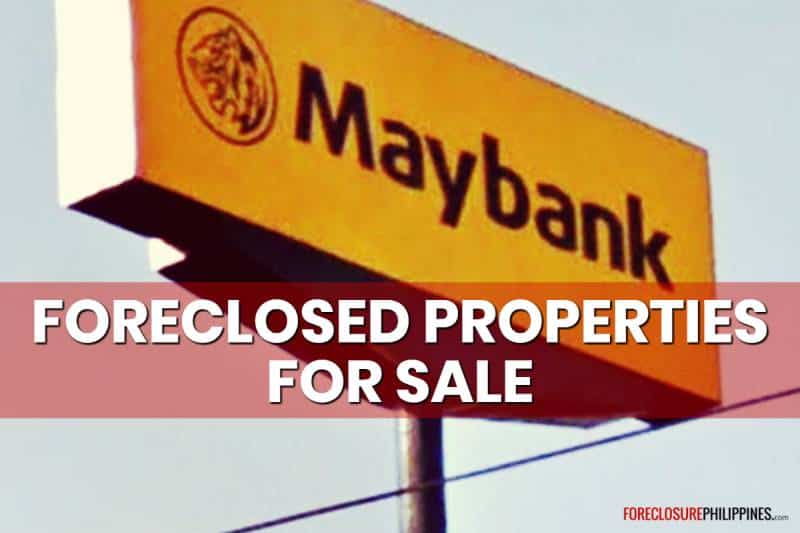 I thought this list was outdated
At first glance, I thought this list from Maybank's official website was outdated because the heading indicated it was "as of July 31, 2023".
Further down the list however, I noticed a few newly foreclosed properties where the acceptance of offers is from "August 31, 2023 to September 21, 2023". This means it is a newly updated list.
Maybe they forgot to update the heading that said it was updated last July 2023.
Anyway, you'll see this on the complete list below.
View/download Maybank foreclosed properties list for sale
Here's the entire list of Maybank foreclosed properties for sale in searchable PDF format. You can view this online below (downloading is optional).
If you prefer, you can also download a copy of the PDF file below (you will need adobe acrobat reader or a similar app/software to open PDF files)
==> Maybank foreclosed properties for sale as (September 2023)
Note: I will upload this list to to my foreclosed real estate database as soon as possible.
Payment terms
Based on past listings from Maybank, here are the payment terms available
Cash
Installment:

20% minimum downpayment is required.
80% balance shall be payable up to 10 years. Longer payment terms (for example, 15 years) is possible, subject to approval.
Please contact Maybank directly for confirmation/more details. Contact info can be found below.
How to avail (Summary)
Contact Maybank directly for property availability and other details/requirements
Do your due diligence (inspect property, check documents, etc.)
Choose your preferred payment terms
Submit offer form and requirements

Download a copy here: Offer Form w/ list of requirements
(* The above is just a summary, please contact Maybank directly for more details. Contact info can be found below)
Contact info
Telephone:

1. Mr. Leslie Sevilla (0998-588-3893)

2. Mr. Julius Antonio (0998-588-3895).

Address: Maybank Corporate Centre – Annex, 4/F C2 Building, 7th Avenue corner 28th Street, Bonifacio Global City, Taguig City
Reminders
Prices are negotiable
Prices are subject to change without prior notice
Maybank reserves the right to amend the terms, conditions, and withdraw/replace any and all properties anytime for whatever reason Management may deem appropriate
All sales shall be on an "as-is, where-is" basis, no warranties and "no recourse" basis. Status and condition of the properties are not comprehensive or complete: Buyers are therefore advised to conduct their own due diligence prior to submission of an offer to buy
Please confirm availability of property from sales officers, Mr. Leslie Sevilla (0998-588-3893), Mr. Julius Antonio (0998-588-3895)
Submission of offer to buy is on a first come, best offer basis. Maybank reserves the right to conduct private bidding in the event of multiple offers received on the same property subject to the bidding policy of Maybank
Mere submission of an offer does not construe a right of "first option" by the offeror
The creditable withholding tax up to the agreed purchase price shall be for the account of Maybank. Any fractional cost or excess shall be for the buyer's account
Prices are not applicable to buyback of the former owners or relatives up to 1st degree of consanguinity. Please confirm with Maybank any buyback price
Brokers or agents are not allowed to accept any payment from prospective buyers
Taxes and required fees due from buyer must be settled on time during documentation to avoid penalties
Source: Maybank official website
What happened to listings from Philmay Property Inc.?
Since early this year, I noticed they no longer include any listings from Philmay Property Inc. or PPI. I'll update this when I get more information regarding this.
–
Happy hunting!