Here's another housing fair for you – NHMFC's Online Housing Fair 2021 with over 500 foreclosed properties for sale via public bidding! The bidding period is from October 25 to November 26, opening of bids shall follow on November 29. Details below.
I really appreciate that the National Home Mortgage Finance Corporation (NHMFC) has a long bidding period, which means interested bidders will have enough time to do proper due diligence!
I hope other institutions that sell foreclosed properties/acquired assets will follow NHMFC's example because due diligence can take a lot of time to do. (Ex. For Pag-IBIG NCR, they will usually announce a new schedule/listing a week before the acceptance of offers/bids starts, which ends after 5 days… so you only have 2 weeks in total to do your due diligence).
Going back to the NHMFC Housing Fair 2021, to get an idea of what it is all about, please see the following video overview…
NHMFC Online Housing Fair 2021 Video Overview
If you are interested in joining NHMFC's online housing fair, please refer to the short video below which includes the requirements to join the bidding, the 3 Steps join/participate, etc.
How to join the NHMFC Online Housing Fair 2021
Step-by-step video
Please refer to the step-by-step video on how to join the housing fair below:
Source:
NHMFC Official Facebook Page
If the video does not play properly for you, please refer to a quick summary below:
3 Steps and Requirements for Joining NHMFC's Online Housing Fair 2021
Step 1: Check NHMFC Acquired Assets For Sale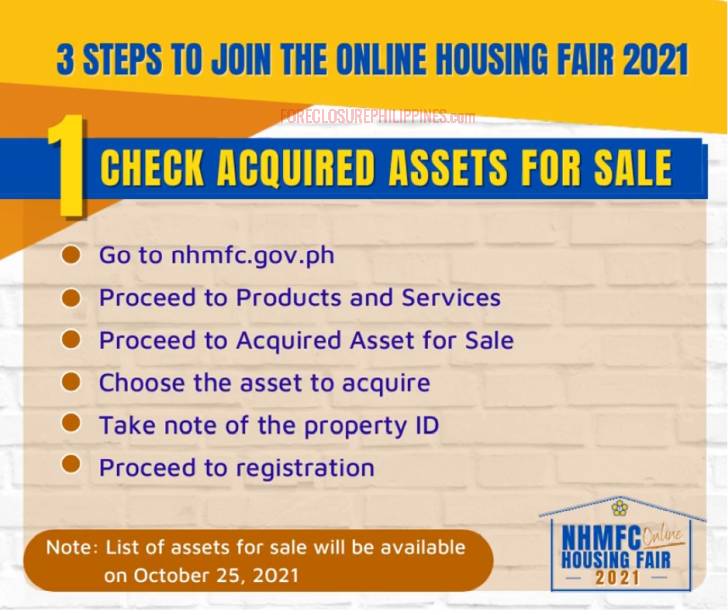 Step 2: Registration (free!)
Step 3: Payment (Only for bidders)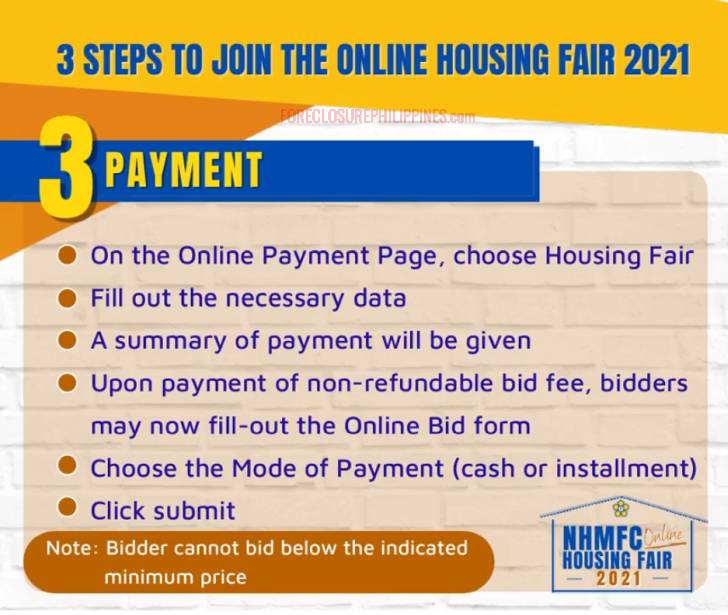 Note: You only need to pay the non-refundable bid fee if you are going to bid for a property.
I already checked and the non-refundable fee for bidders is Php500.00 (see housing guidelines below for other details).

Let me repeat, you only need to pay the "non-refundable bid fee" if you are joining the bidding and you are actually submitting a bid for a property.
~Jay Castillo
Opening of bids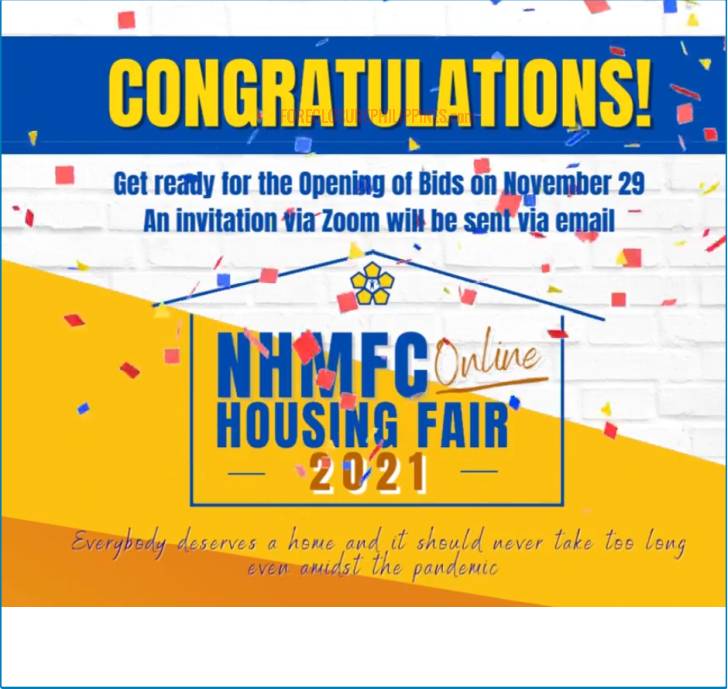 List of NHMFC Foreclosed Properties/ Acquired Assets For Sale
After you register for the online housing fair, you will receive a confirmation email with a link to more than 500 foreclosed properties from NHMFC. Here's a direct link to the foreclosed properties on NHMFC's official website:
==> NHMFC foreclosed properties/ acquired assets for sale (Housing Fair 2021)
https://housingfair.nhmfc.gov.ph/foreclosedPropertyforSale.php
Payment terms
The same confirmation email you'll receive after you register will also include a link to the housing fair guidelines on NHMFC's website which is available to the public. According to the guidelines, payment terms are as follows:
10% option money and processing fee

"The most responsive bidders have five (5) working days upon receipt of notice to pay the 10% option money of their responsive bid, and processing fee of Php3,000.00."
Cash payment

"For cash payments, the buyer shall be notified in writing and shall be requested to settle the balance of 90% within thirty (30) calendar days upon receipt of the Notice of Approval of the sale by the NHMFC President."
Installment payment

"For installment sales, the winning bidder shall be notified to sign the Contract to Sell (CTS) upon approval of the sale by the NHMFC President. The notification shall also include the following:

1st Installment payment due date and the amount due.
6% interest rate per annum
Maximum term of ten (10) years, provided, the said term shall not exceed the difference between age seventy (70) and the present age of the buyer.
In case of delayed payment of monthly installment, penalties equivalent to 1/15 of 1% shall be charged for every day of delay."
Please refer to the housing fair 2021 guidelines for more details.
Here's a direct link to the guidelines on NHMFC's official website:
==> NHMFC Online Housing Fair 2021 Guidelines
https://housingfair.nhmfc.gov.ph/housingFairGuidelines.php
How to contact NHMFC to inquire
Here's a compilation of NHMFC contact info in relation to their online housing fair 2021:
1. Email and landline:
Para sa iba pang katanungan tungkol sa Online Housing Fair, maaring mag-email sa aad@nhmfc.gov.ph o tumawag sa (02) 8892-5191

Source: NHMFC Official Facebook page
2. Official website of NHMFC:
3. Ask a question by leaving a comment on their FB post about the online housing fair:
4. Send a message via NHMFC's Official Facebook page:
https://www.facebook.com/NHMFC.ph/
Search our foreclosed properties database…
Wait, there's more! You can also search from over 20,000 foreclosed properties in our database that includes multiple banks and lending institutions that have foreclosed properties for sale. Quickly search using the link below:
==> Click for foreclosed properties database
All locations with foreclosed properties by Province/City
You can also browse all locations within the Philippines with foreclosed properties available from ALL banks/lending institutions inside our database, grouped by Province/ City, on this page:
==> Click to browse all foreclosed property locations
Note: The "Foreclosed Properties Database" is a work in progress. If you have comments/ suggestions, please do let me know by leaving a comment below.
Full disclosure
We have nothing to disclose. We are not selling foreclosed properties from NHMFC (you should contact/transact with NHMFC directly).
This is NOT a sponsored post. We are just sharing this as a public service announcement for those interested in foreclosed properties.
Disclaimer and Reminders
All foreclosed properties are for sale on an "AS IS, WHERE IS" basis. Interested parties are reminded to conduct proper due diligence prior to the purchase of any foreclosed property.
Availability, prices, and property status are subject to change without prior notice.
Misprints should not be construed as misrepresentation of the property.
Our standard site disclaimer applies.
Good luck and I hope you will find what I shared above helpful! ~ Jay Castillo