Thinking of buying your own home? Join Pag-IBIG's virtual housing fair entitled "HANAPBAHAY" on October 30 – 31, 2021. This is an online event and registration is free. Details below.
This virtual housing fair shall be conducted in partnership with the Department of Human Settlements and Urban Development (DHSUD) and the Subdivision and Housing Developers Association (SHDA).
Sorry for the short notice, I just saw the invitation from Pag-IBIG's facebook page which they shared the other day (October 27, 2021):
Why attend?
If you are planning on buying your own home, then this will be a good venue to find many options.
I already registered and had a sneak peek… I found 66 "virtual booths" from over 40 developers / companies offering real estate.
This obviously includes Pag-IBIG foreclosed properties/ acquired assets from all over the Philippines.
From each "virtual booth", you will find links to video presentations, downloads and galleries (these include soft-copies of flyers and other details) for the various real estate projects featured, and you can even chat with some of the property developers and/or schedule a meeting.
Please see screen-shot of the virtual booths below:
How to register (Registration is free!)
To register for free, simply visit the following page on SHDA's official website:
https://shda.events/events/shdanatcon2021
(Note: In case you can't see the button to register, it's probably blocked by a popup that has links for customer support. Simply close that popup using the "X" at the upper right corner).
If you are using a desktop/laptop, you should see something like this:
If you are using a mobile phone, you should see the following. Simply choose "Pag-IBIG Housing Fair Guests and click the button "Join Event" and follow instructions to register.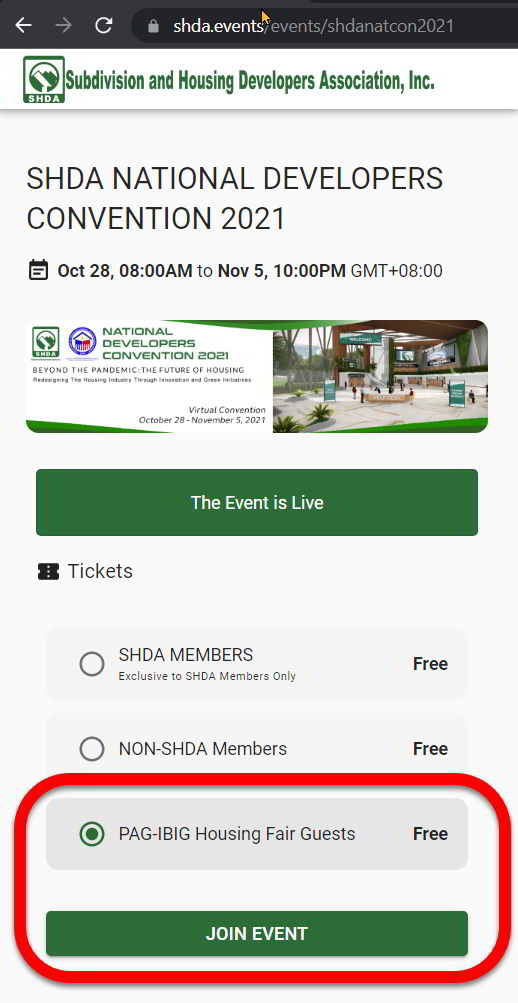 Pag-IBIG Housing Fair Schedule
Here are the schedules for October 30 and October 31, 2021: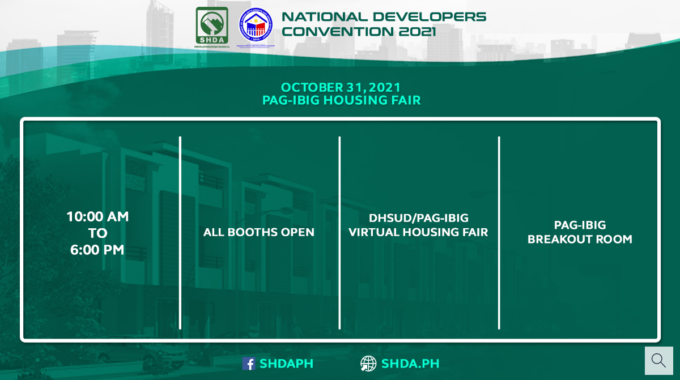 Sorry but I can't find any info on what will be the topics covered in the Pag-IBIG breakout rooms.
As usual, if I find any listings of foreclosed properties and other helpful info during the housing fair, I will also share in my next blog posts. Make sure to subscribe to email alerts so you'll get notified when I publish them.
Note: The Pag-IBIG virtual housing fair appears to be just one of the events included in SHDA's National Convention for 2021. More details can be found on the same registration page linked above.